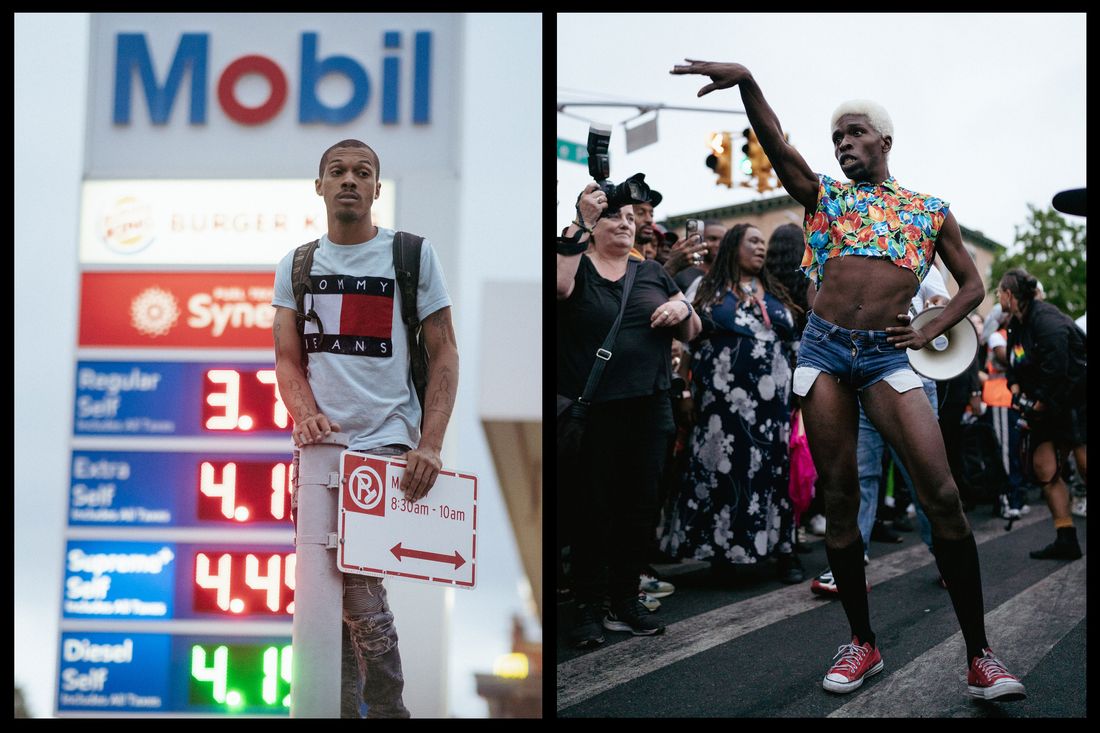 There were still bloodstains outside the Midwood Mobil gas station on Friday night; a fresh sign taped to a lamppost read "A Hate Crime Happened Here." This is the place where, less than a week prior, 28-year-old O'Shae Sibley, a gay Black dancer and choreographer, made a pit stop with friends after a Jersey beach day. They were filling their gas tank and voguing to Beyoncé's Renaissance when a group approached, yelling homophobic and anti-Black slurs; after an argument, a 17-year-old, who has since turned himself in to police and been charged with second-degree murder as a hate crime, stabbed Sibley to death. Hundreds of friends from the ballroom scene, LGBTQ+ activists, and Black queer New Yorkers gathered to mourn Sibley — and vogue in his honor. "It's Friday and we are here for O'Shae," Qween Jean, a costume designer and the founder of Black Trans Liberation, told the crowd while wearing a white fascinator. "So if your energy is low, wake up, because they have taken the life of a young powerful Black human who deserved to live."
The first hour of the vigil was an exorcism of grief. Speakers — most of them queer activists and fellow dancers — reflected that this is the city of the Stonewall riots, a space where the queer community is "supposed to be safe." "For real," the crowd answered. Two attendees near the steel barricades hugged, remembering Philadelphia native Sibley as the "queen's queen," while a security volunteer looked for a friend's grandmother, hoping for "some geriatric voguing tonight." Strangers embraced during a moment of silence; one woman handed out tissues. "What shame," Qween Jean admonished. "We are done dying in silence. We are done being killed by homophobia, by transphobia, for the color of our skin." "Shame," the crowd repeated prayerfully. Beyoncé dancer Honey Balenciaga was in attendance, as were Sibley's old ballroom friends from families like the House of Old Navy and House of Du'Mure-Versailles, who remembered his voguing prowess and prayed for him to bend his wrists at Heaven's gates. Large Pride and transgender flags stationed near Sibley's memorial fluttered in the breeze, and the crowd waved signs reading "We Will Keep Dancing" and "Black Queer Lives Matter."
Sibley's stabbing occurred just weeks after GLAAD and the Anti-Defamation League documented the widespread violence gay and transgender people are facing across the country. "I'm here because I'm queer and I know how it feels to be ostracized by the whole world," said Semaj, a Black Brooklynite who had not met Sibley but came to the vigil with friends. Ash, a 38-year-old trans woman, said that the legal system alone couldn't deliver justice to Sibley: "I wanted to be in a space where we gave that energy to ourselves." But the night wasn't only about grief. It was about dance as an act of defiance.
After the cheers subsided, the voguing began, the somber mood overtaken by jubilation. Organizers rolled out a green loudspeaker, and the gas-station parking lot transformed into a house party, a kaleidoscope of glittering white heels and rainbow-tinted hair on the impromptu dance floor. The crowd stepped back to clear a runway for the dancers, chanting Sibley's name until it, too, became music to vogue to. "Why are the white people dancing? They should be in mourning. It's not for them," said a woman in checked pants who watched the crowd from a nearby parked car. Another attendee, Jerri, who lives in the Bronx, told me, "I came out here because I went to a Beyoncé concert on the night he was murdered, and O'Shae was last voguing to Beyoncé. We had happiness and joy out there while O'Shae was getting murdered out here. I had to be here, to support my community and him." A man cut through a barricade of clapping onlookers. "If y'all not voguing," he said, "excuse me."
Beyoncé's "Pure/Honey" rang out in a cloud of vape smoke. At 8:30 p.m., the street permit ended and the organizers marched back to the trains at Kings Highway. Along the way, mourners danced and chanted "O'Shae," pausing briefly for a megaphone announcement: "Any ass-shakers in here?" There were several.