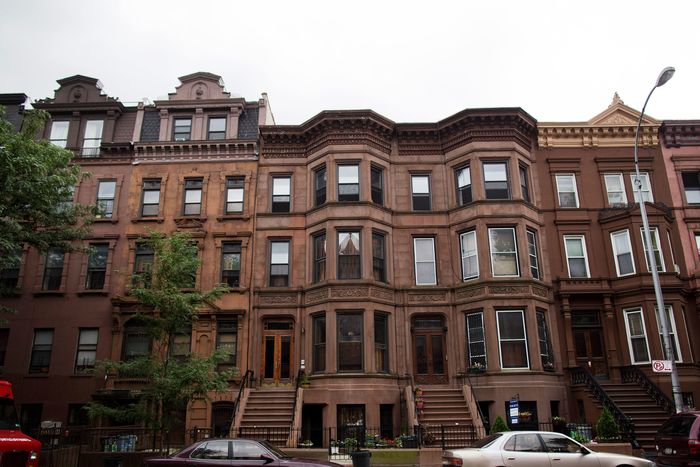 Photo: Victor J. Blue/Bloomberg via Getty Images
Scrolling through this week's Listings Project, I noticed a Park Slope brownstone floor-through asking $5,200 a month. High, even for "prime Park Slope." (Just off "bustling Fifth Avenue," the listing boasted, "yet tucked away on a quiet, tree-lined street.") Then I found another: $5,750, also in Park Slope. And another: $4,750. Even an unremarkable two-bedroom floor-through in Prospect Heights, lacking the brownstone charm that tends to justify that kind of premium, was trying for $5,000. Is this really the going rate? Have we really come to the point where people are paying $60,000 a year for a 1.5-bedroom rental in a brownstone?
Just over a year ago, I moved out of an apartment on the top floor of a brownstone in Clinton Hill that rented for $2,650 a month. I'd moved there in January 2016, initially paying $2,500 — standard for the neighborhood at the time. And while the landlord turned around and rented it for $3,450 when we left in June 2022, the new normal seemed to be teetering between $3,000 to $4,000 a month. Still stratospheric, but a recognizable kind of sticker shock in the city. Was I witnessing landlord delusions or a new, unsettling standard?
"Wow, that's a bit much," says Toni Martin, an associate broker at Corcoran who works with a lot of brownstone apartments in Fort Greene, Clinton Hill, and Bed-Stuy. "Maybe a parlor floor with a lot of detail? But that seems high." The going rate is more $3,000 to $3,500, maybe $4,000 for something spectacular, she says. And she has several right now going for less — one on Bainbridge Street in Bed-Stuy for $2,900 and another on Clifton Place in Clinton Hill for $3,650.
Sephrah Towbin, a Corcoran agent, was also taken aback when I ran it by her. "Five sounds too high. Maybe with the right finishes? Does it have a washer and dryer, private entrance, outdoor space?" she asks. "Still, I would say that sounds high." She has one coming on in Clinton Hill for $2,700, she adds.
But then she remembered that a colleague of hers had just rented out a garden apartment in a Park Slope townhouse for something like that, so maybe it was a thing, she said. But that apartment had been gorgeous — truly special. She checked the listing and let out a little gasp. It had actually rented for $6,300. "So, yes, I guess it is a thing."
"There is affordable stuff out there," she adds. "But it's a tight market. If you told me your budget was $4,000, I'd say everyone's budget is $4,000."
One-bedrooms in Brooklyn are now renting for an average of $3,588 a month, according to the July market report from Douglas Elliman, and two-bedrooms are up to $4,489. Brownstone floor-throughs are usually configured as either one-bedrooms or 1.5 bedrooms — the "half" bedroom usually a room next to or off the main bedroom with a window, too small to count as a real bedroom, but perfect for an office or nursery. So while $5,000 is, statistically, pushing it, it's hardly out of range. And brownstone apartments, while they don't go for quite as much as new-construction rentals, do command more money.
"There are so many new buildings, and those new apartments, they're all starting at $5,000 and they're smaller, they don't have original detail," says Anthony Williams, an associate broker at Ivey North. "People who don't want a cookie-cutter, generic apartment, they're willing to spend that to live in a real brownstone."
Williams has one listing on Lefferts Place — on a block it turned out we had both been priced out of — going for $4,200. And he has a garden unit on Grand Avenue that he'll be listing soon for $4,500. But the apartments that go for that much have been totally redone, he adds. New kitchens with Shaker cabinets and bronze hardware, new baths, washer and dryers. "You can't put these customers into apartments that are outdated."
"There is just so much wealth coming into that area," he continues. "I get applications and people are making half a million a year in income. One person."
People are drawn to brownstones — the architectural detail, the stoops, the history — but now that they're selling for $4 million and up, even people making half a million dollars a year have to settle for renting a floor, maybe two if they're lucky (that is, if they have $7,500 a month to drop on rent). Is it any wonder prices are climbing? As Towbin put it: "Living on a floor of a brownstone is the closest most of us will get to living in a brownstone."