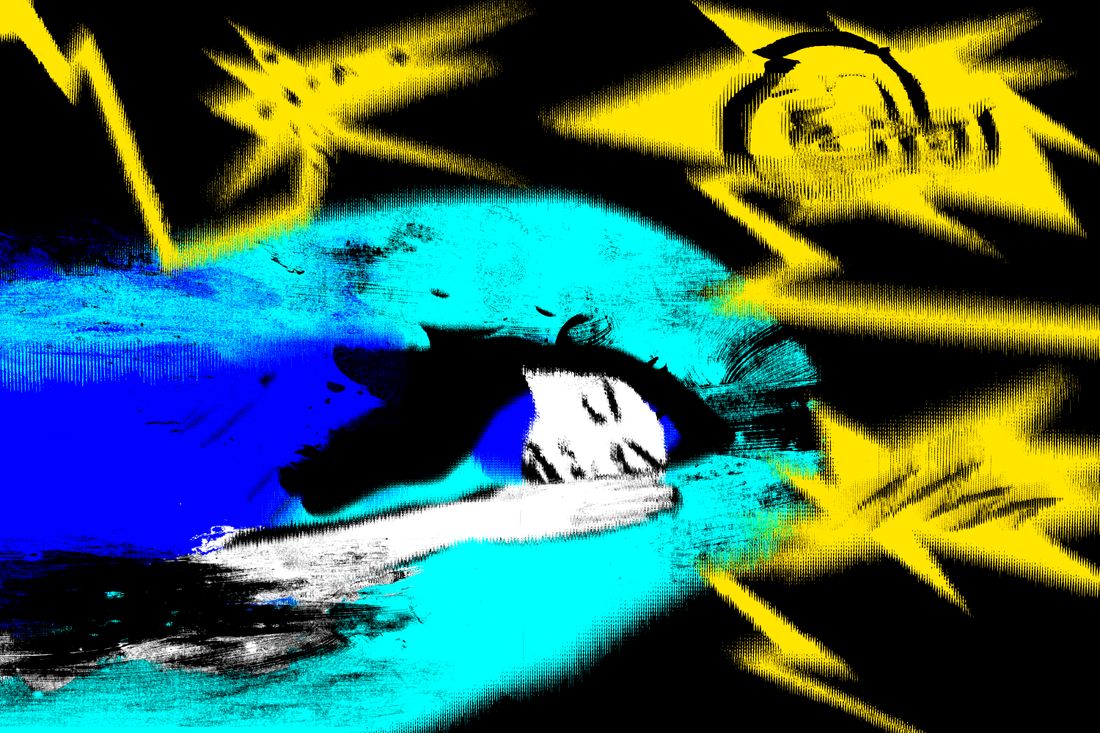 Illustration: Michele Febbraio
The first thing everyone asks when they walk in is, 'How's the sound?'" says Gavin Shiminski, a Douglas Elliman agent, describing what happens when he shows at the Olympia, a sail-shaped Dumbo condo pushing the tippy-top of the market whose eastern side backs up against the BQE. Shiminski likes to take potential buyers into an apartment and open a window, letting the considerable noise of the neighborhood wash over them. Then he shuts it, restoring the apartment to silence. "Until you hear the outside, you don't realize just how quiet it is," he says.
Dumbo, one of the most expensive neighborhoods in the city, is a place made possible by soundproof windows. "It's got the cobblestoned streets, the Brooklyn Bridge, the Manhattan Bridge, the BQE, the train. Noise just surrounds them like a bowl," says Mike Lentin, the founder of CitiQuiet windows, which makes soundproof windows for existing, often historic buildings. (He's worked on Gracie Mansion and in the Dakota.) "I think we're there once a week."
"The sound of the bridge is awful," says a luxury broker. "And the way the BQE wraps around it? It creates this echo chamber."
"There's one building — 1 John — it has the most incredible windows. You don't hear a thing," says another. "But when you step outside? Oh my God."
Many buyers seem to relish the contrast between the cacophony outside and the pin-drop-quiet atmosphere inside, impressed by the serenity that money can buy. And it's not just Dumbo. On the approach to the Holland Tunnel in Tribeca/Hudson Square, you can find 565 Broome, a Renzo Piano–designed condo with a 55-foot indoor lap pool and not one but two curated libraries for residents. Extell, the developer behind One57, the tower that started Billionaires' Row, built One Manhattan Square, a condo that looms over the FDR and the Manhattan Bridge. And then there's the string of ultra-high-end condos that line the West Side Highway in lower Manhattan. The Richard Meier buildings, anointed by celebrities like Calvin Klein and Nicole Kidman in the early aughts; Superior Ink, another celebrity favorite; and 150 Charles, where just last month, the penthouse sold for $52 million.
Wealthy buyers like new construction and waterfront views, and those things are often in the noisier areas of the city, the formerly industrial fringes where there was space and zoning allowed for gleaming new towers. "As the housing market tightened over time, people moved into areas that were noisier than others," says Dave Lombino, managing director at Two Trees, which is largely responsible for redeveloping Dumbo into the luxury enclave it is today. "New Yorkers are forced to tolerate a lot of conditions that, in another city, they wouldn't have to tolerate."
So what's keeping all those $15 million condos above a collapsing expressway quiet? Primarily, top-of-the-line windows that can cost as much as a car. "Those kinds of windows weren't installed 30 years ago," says Bruce Ehrmann, a longtime Tribeca resident and veteran Douglas Elliman broker. "Even if the technology existed, it wasn't economically viable to install 40 stories' worth of windows like that at the price points that condos then sold for."
"When we did 1 Main" — the Clock Tower building in Dumbo — "we were selling condos at, like, $350 a foot. They weren't necessarily geared to compete with luxury units," says Lombino. Apartments in the Clock Tower now sell for about three times that price. (New construction goes for significantly more: A penthouse at the Olympia recently sold for $4,102 per square foot.) "As our price points have risen dramatically since our first efforts, we've upgraded our technology," he adds.
But the technology itself hasn't changed dramatically in the last few decades, says Lentin of CitiQuiet, who got his start in the early '90s tinkering around to come up with a solution for a friend with a baby living in a noisy Upper East Side apartment. "We were just chasing the residential market, your average person who couldn't sleep at night," he says. "And then the residential market became the rich and famous living in $20 million or $30 million apartments who want to feel like they're out in the Hamptons when they're in the city."
Lentin says it's actually most effective to combine two panes of glass of varying thickness, one laminated. The different thickness is what breaks down the sound. "You want to create things vibrating at different frequencies. It hits the glass, then the laminate, then the next pane of glass at different frequencies," he explains.
How much does this all cost? Lentin says standard-size windows start around $2,000 per window, although because they're retrofitting existing windows, it can vary widely. (Double-hung windows at Home Depot start at around $300, although that's without the cost of installation, which can be substantial.) A developer said soundproof glass costs 10 to 20 percent more than normal glass. But the soundproofing in new-construction buildings involves far more than the windows themselves, making the cost of luxury silence hard to calculate. Sutton Tower, a high-rise on Sutton Place, for example, has acoustical lining around the building's heat pumps, compressors, and generators. "In the floors, there are sound insulators as well," says developer Jonathan Kalikow.
"There's an expectation that it's going to be quiet. If they hear from neighbors or the outside, they'll complain about it," says Kalikow. "It's almost like if you're the valet to a famous person. If you're doing a really good job, you're not noticed. If we do a good job, you don't realize what you're not hearing."
Paul Montgomery, a project manager at acoustical-consulting firm Longman Lindsey, says his firm is increasingly hired by developers for sound consulting. In order to determine what kind of soundproofing is necessary for newly built luxury buildings. Montgomery's firm takes sound readings at different times of day and night. He says the glass composite matters more than brand of window. That, and how well the windows are sealed. Flatiron House, a condo on 23rd Street that he worked on, had a lot of traffic noise from the thoroughfare. He recommended installing attenuated laminated glass on the side facing 23rd so that even during at the loudest times, the interior noise would never rise above 45 DBA. That's similar to the noise level in a library. The developer even decided to spring for the pricier windows on the courtyard-facing side.
"It's certainly more expensive, but we've learned that people will pay a little bit more for things like that," says Stephen Glascock, the chairman of Anbau, the developer behind the project. "Musicians are attracted to our buildings because of the sound attenuation. Even buyers who don't understand it sense the quality."
Besides soundproofing the building from outside noise, there is, of course, a lot of internal soundproofing — from the building mechanicals, including elevators, between a building's floors and for demising walls, which are the walls between apartments.
Soundproofing has become so effective that Montgomery says it's actually too good in some buildings — keeping the loudest noise level to 45 DBA, the library, is about as quiet as you'd want it. "You don't necessarily want super-high-performing windows for a condo in a quiet neighborhood. It makes the interior noise levels too quiet," he says. You need a little ambient noise from outside to mask the noises inside. Otherwise, you'll hear your neighbor turning on their TV, your spouse walking around on the other side of your 4,000-square-foot apartment, the plumbing.
"There were some potential buyers, a husband and a wife who lived in an older Park Avenue rental with operable windows," says Kalikow, the developer. "We toured the entire apartment — they were looking at the bathrooms, the countertops, the fixtures. We were chatting afterward, and she said, " 'I just realized what was bothering me that whole time. It's that I couldn't hear any outside sounds.' "
But doesn't anyone ever want to open their windows? Occasionally, yes, brokers say, but operable windows are becoming obsolete anyway. There are safety concerns, and you don't need them for ventilation or temperature control anymore. New high-rises have only semi-operable windows, no matter how quiet the street they're on. You can pop them open a little but not a lot.
There are also people, living in a place like Dumbo, who realize that they long not just for a quiet apartment but quiet streets. "Once in a while, you do get a tenant who just can't tolerate the noise and they're a one-term tenant," says Lombino. But that's fine. "There's a backlog of a thousand people who want to live in those apartments."