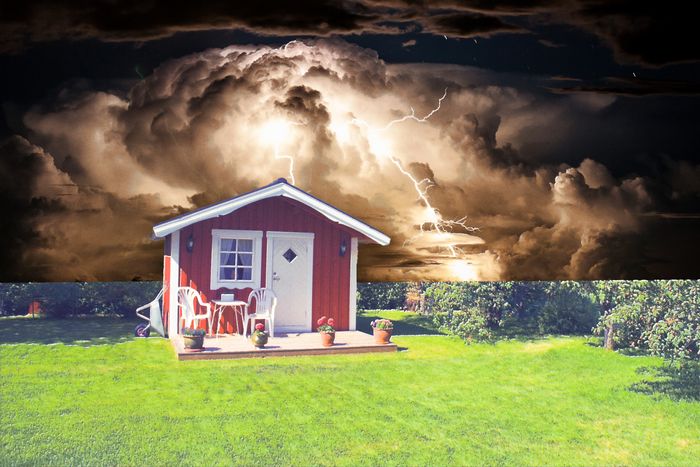 Photo-Illustration: Curbed; Photos Getty Images/Tobias Johansson
Things were looking good for the proposal on accessory dwelling units (ADUs) in Huntington. A majority of the five-member City Council backed the measure to bring a modest amount of new housing, in the form of granny flats and basement apartments, to the affluent Long Island town, home to a community-arts theater and a brunch-y downtown. In fact, as supporters of the plan regularly pointed out, these kinds of arrangements already existed in Huntington — the zoning change was just a way to bring that process into some legal daylight. Then things got weird. At a hearing in June, residents predicted, among other things, U.N.-sanctioned pedophile rings and a Mandarin-language takeover of the country should the town allow homeowners to convert their garages into small apartments. "I just want to make sure that there will be no migrants, pedophiles, or criminals moving in," one resident testified, "because that's what I'm afraid of." Another anti-ADU speaker struck a more conventionally racist note, familiar in the fight for adequate and equal housing on Long Island, fretting euphemistically about preserving the "complexion of this beautiful community." The hearing ran a delirious three hours and managed to flip a Republican councilmember, who later told New York Focus, "Too many issues were brought out that need to be addressed." And with that, the proposal basically died.
Not every density hearing devolves into projections about the next Pizzagate, but the spectacle is still pretty instructive. With the implosion of Governor Kathy Hochul's housing compact, which would have required Huntington to build 2,000 new homes over three years, this is, and will remain, the process by which New York State generates new housing: Trial by vibes.
The ADU proposal was introduced by Democratic councilmember Joan Cergol and had been in the works for nearly a year. The theory behind it as a means of generating more affordable housing is underwhelming: Private-property owners can add housing stock, one unit at a time. The measure, Cergol said this spring, was "designed to help our residents remain and age into their own homes" by helping them generate rental income, as well as provide a limited number of "alternative housing options" for seniors or young singles in an area where a one-bedroom rental goes for upwards of $3,000 a month and just 1,400 rental units serve a population of over 200,000. At the hearing in June, a number of young professionals and college students who grew up in the area testified in support of ADUs. Many live with their parents or expressed concern that after graduation they wouldn't be able to return to their hometown. "It's going to become a retirement community," one of them put it.
By some estimates, Long Island's suburbs need 722,000 units of affordable housing to keep up with demand — a demand many locals and conservative outlets say threaten to turn the suburban island into the "sixth borough." Widespread opposition to new development has meant that, in Huntington, a 40-year campaign to build resulted in just 146 subsidized apartments and homes. In 1988, a federal appeals court ruled the town "perpetuated segregation" through its zoning ordinance and ordered it to construct fewer than 200 new apartments on a scrubby vacant lot. The town challenged the mandate in the Supreme Court, and a version of that project broke ground this year, as the ruling neared its 35th birthday.
Home prices on the island hit record highs last year, with rental housing nearly impossible to find. Businesses report trouble finding workers nearby: Huntington, like many of the wealthy and primarily white towns on Long Island, relies on a workforce it's uninterested in housing. In Greenport, nurses can't afford to live near their patients and fire departments are suffering for lack of volunteers. Recently, a Massapequa Park 25-year-old told the Associated Press, "I just settled on the fact that I'm going to be living with my parents until I move off Long Island." But almost all efforts to reverse the crisis have been met with complaints about the fundamental sanctity of the island's single-family homes: Hochul's affordable-housing plan, said Massaquepa's state senator Steven Rhoads earlier this year, was an attempt to defy "the right of each and every Long Islander to preserve their safety and suburban quality of life."
In the June meeting, residents of Huntington packed a brick town hall to argue the same point. But what many were really debating is who gets to live in the town on which The Wonder Years was based. Some repeated the same evasive arguments that have been in circulation on Long Island for decades: Huntington wasn't intended for density; the town's "character" could only be preserved through private homes with private lawns. A man in a polo shirt with a thick Long Island accent told the council that with one- or two-family houses "people know each other … And when you don't know people, you don't care about people." His comments were met with applause.
But in several of the speeches, euphemistic narratives gave way to stuff you'd expect to hear in a particularly dark YouTube hole. "This is the U.N. wanting to legalize consensual sex for 9-year-olds," said a woman wearing a cream jacket and a baseball cap. "What's gonna happen is we're going to have pedophiles coming in to these basements." Another man agreed, repeating the apparently shared assumption that basement apartments are where pedophiles live: "You want to live in a place where you look at the sex-offender registry and you know you're living in a good environment," he said. "This isn't the country I fought for," added one elderly veteran. He'd been to war, he said, and knew where this kind of thing led: The entire country speaking Mandarin, facing a hostile takeover from the Chinese.
The implosion of the measure caught some by surprise. All of this, over the prospect of some in-law apartments? "My goal was to make this a bipartisan measure because I didn't want it to be politicized," Cergol told New York Focus this week. "I certainly was not prepared for a very organized opposition coming out that night." Maybe she should have been.