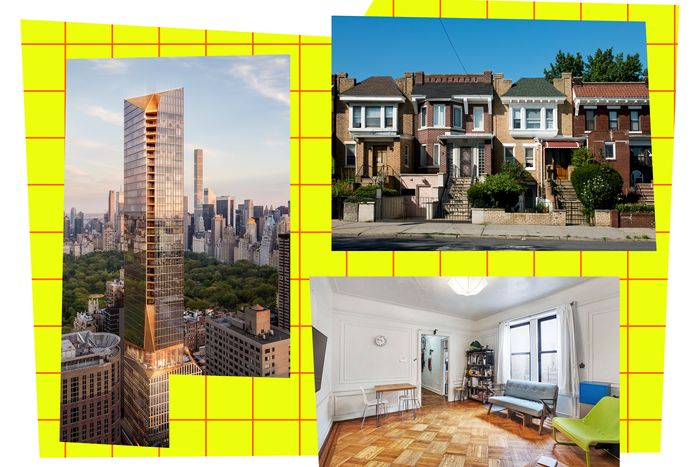 Photo-Illustration: Curbed; Photos: Getty Images, Douglas Elliman, Corcoran Group
A monthly state of the housing market — the neighborhoods to watch (or avoid), the insanely expensive sales around town (plus the few unexpectedly affordable options), and the open houses that draw hundreds.
All-cash deals accounted for 65.4 percent of all Manhattan closings in the second quarter of this year, according to Douglas Elliman, the highest percentage since they started tracking payment methods in 2014. A lot of that has to do with the interest rates — it's a bad time to borrow money, so many of the buyers shopping right now are the ones who don't have to.
For Ruthie Assouline, a Douglas Elliman broker, most of her deals, which are $10 million and up, are all cash. That's the norm at her price point — 99.6 percent of Manhattan apartments priced at $5 million and above are all-cash deals, according to Crain's, compared with 52.6 percent of apartments under $1 million. (Which doesn't mean that there's not some kind of financing being worked out, she points out, it just means that the buyer isn't taking out a mortgage.) But she did recently help her team persuade the seller of a $1.6 million apartment to take a buyer who needed a mortgage, walking them through his financials to assure the seller that the bank wouldn't turn him down.
If a buyer can raise the cash in other ways, that's usually preferable. Mihal Gartenberg, an associate broker at Coldwell Banker Warburg, says one of her clients, who is buying an apartment in an Upper East Side co-op, took out a mortgage on one of their other homes in order to make an all-cash offer. They're now in contract — there were multiple offers on the apartment, but theirs was the only all-cash one. "It made them more compelling in the eyes of the seller and the co-op board," she says.
Neighborhood
Report:
Good
luck
moving
to
Astoria
According to a recent StreetEasy report, Queens has beaten Brooklyn as the borough with the most competitive rental market. Within Queens, being close to Manhattan is still the biggest factor that determines where people want to live, and listings in Astoria, along with Sunnyside and Long Island City, are getting the most inquiries (Astoria was also RentHop's most searched neighborhood in 2023). Daniel Akerman, an agent at Keller Williams whose specialty is home sales in Northwest Queens, confirmed that the neighborhood has "seen a spike in interest" from renters. Of the Manhattan-adjacent neighborhoods in Queens, it's not surprising then that Astoria is the neighborhood where rents are rising the fastest. According to the latest Douglas Elliman report, Northwest Queens hit record rents for the third time in four months, now at a median of $3,641.
Taso Makedon, a broker with Astoria Apartments LLC, who works mostly with smaller landlords, says that he doesn't have much to show because tenants are hunkering down and fewer are moving out. The biggest shift he's seen in the neighborhood is people with roommates wanting to live on their own. "It's frustrating because I'll only have a single one-bedroom to show them," Makedon said. "I tell people, 'I'm not trying to pressure you, but there's only one and you don't have the luxury of waiting a week.'"
Scenes
from
Two
Frenzied
Open
Houses
Specs: 1-Bed, 1-Bath
Price: $2,037/month 
Andrea Anzaldo represents five apartment buildings on a quiet, tree-lined stretch of St. Johns Place, minutes from the Brooklyn Museum. In 2020 and 2021, some of those apartments sat vacant long enough that she offered concessions. But on the second weekend of August, the Douglas Elliman agent held an open house for one of those one-bedrooms that drew a line of about 200 people that stretched around the block, down Washington Avenue — a first in her career. "Rents have gotten so high they just can't afford it, and someone in that situation making less than $100,000 a year — this is what they can afford and, quite frankly, it's the apartment they deserve." The apartment is truly nice, she says: 800 square feet, with lots of light, parquet floors, and a kitchen rarely seen in a New York rental — a separate room, with Midwestern amounts of cabinetry. Anzaldo credits the line around the block not just to the $2,037 monthly rent, but to a lack of other options. At this point in August, she would normally juggle about 30 listings but now has only a few. "It's an inventory issue this year," she said. "People are just really desperate."
Specs: 2-bed, 1-bath
Price: $1.195 Million
"I'm trying to think back over the 22 years I've been doing this, and this is the most well-attended open house I've ever had in our market here in Brooklyn," says broker Tim Stanard, of Corcoran. The listing was for a home he calls a "unicorn" — a prewar apartment that's not a co-op and completely unique — a triplex carved out of a church, with outdoor space. That helped it go as viral as a listing can go, popping up in Brownstoner, the New York Times, and as StreetEasy's most popular listing of the week. Which is how Stanard knew to extend what might have been a 30-minute open house into a two-hour event, then throw a second open house a few days later. But he didn't expect about 250 people at the first showing. And he didn't expect to be considering if there was such a thing as an open house that is too popular, wondering about buyers who were "scared off by the perceived competition" or who just left because they hate crowds. The stress of it all taught him the home was underpriced (the winning offer was 10 percent higher), and that buyers are hungry. "There's just a huge pent-up demand."
At
the
Highest
End
of
the
Market
A controversial Extell Building is selling fast and high.
The neighbors hate Gary Barnett's new Upper West Side tower, but buyers love it. Extell developer Gary Barnett, known for his controversial zoning maneuvers, spent years fighting locals to build 50 West 66th Street, which he boosted to 775 feet with an exceptionally large mechanical void (adding nearly 200 square feet of height that wasn't counted toward the building's overall square footage). But now that the legal battles over its height are over, apartments in the tower, designed by Snøhetta, are flying. This week and last week, the two most expensive apartments in New York to go into contract were in the tower, four bedrooms on high floors asking $23 million and $23.5 million, according to Donna Olshan, a broker who tracks the luxury market. Condos in the tower have taken the first or second spot in her weekly report six times this year.
The
Most
Saved
One-Bedroom
Under
$1
Million,
According
to
StreetEasy
This light-filled, spacious co-op at 100 Remsen Street in Brooklyn Heights is asking $395,000, a really good price for the neighborhood. And the apartment is lovely — an elegant layout, leafy views from the fourth-floor windows, what appears to be original parquet. It's also just two blocks from the Brooklyn Heights Promenade. But there's a catch: the condo's on a land lease that expires in 20 years, so most banks won't give a mortgage, and buyers need to bring cash. Still, it's been saved by 338 people as of press time.
Too
Good
to
Be
True?:
Is
this
four-bedroom
co-op
under
$500,000
a
good
deal?
The apartment: This four-bedroom, two-bathroom apartment at 395 Clinton Avenue in Clinton Hill asking $474,000
Why it's so cheap: It's an HDFC co-op, an income-restricted building that gets a tax break in exchange for only selling to buyers under certain income levels.
Income restrictions: A family of four has to make $169,440 or less
Occupancy requirement: At least four people have to live there
Square footage: 2,200 — enormous by New York standards, but only an estimate
Value: Way below the market at $212 per square foot. (The Clinton Hill Co-ops, a market-rate complex of one- and two-bedroom apartments, are probably the next cheapest option in the neighborhood and sales there in the last 180 days have averaged $871 per square foot.)
Pros: Eat-in kitchen, all the rooms look fairly large, laundry in the basement
Cons: "Needs some TLC but it's definitely liveable," according to the listing. You would have to repaint the lime-green hall, update a few ceiling fixtures, and resign yourself to the dated blue bathroom.
Required deposit: $95,000, plus about $20,000 closing costs
Monthly expenses: $3,837
Verdict: A good deal