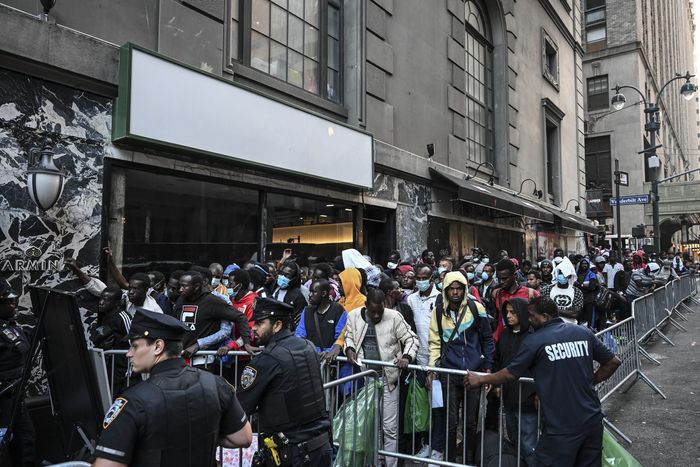 Photo: Fatih Aktas/Anadolu Agency via Getty Images
It's midnight, and people in various states of repose line the sidewalk outside of the Roosevelt Hotel, a barricaded stretch of tired bodies that wraps around East 45th and onto Vanderbilt. Some of the asylum seekers wear cloth masks over their eyes to block out the light, attempting rest. Others seemed resigned to their awakeness. "We can't sleep because of the worry," says Malik Gueye, who is from Senegal. "It's so difficult."
Gueye is one of hundreds of migrants, most of them single men, who have spent the last few days stationed outside of the Roosevelt, the thousand-room midtown hotel turned intake center, in hopes of securing a place to stay. While others left or took temporary shelter on air-conditioned buses provided by the city, the people who remained on line saw it as their best chance to get a bed, even as the city claims there aren't any — that both the shelters and emergency-housing system are at capacity. ("It's not going to get any better," Mayor Eric Adams said Monday. "There is no more room.") With nowhere to go, and no clear sense of when that will change, all they can do is wait. So they wait.
Jun Yang, an elderly man from China, asks me to write down his case number and shows me a red raffle ticket marking his place in line. Throughout the weekend, as the line around the hotel grew, employees of the city's scrutinized subcontractor DocGo handed out tickets and called out numbers a few at a time — processing them for basic services and placement elsewhere — and local organizations like the Legal Aid Society and the Coalition for the Homeless have been present to facilitate aid during the day. But it's late now, and the people showing up to help don't seem to have anyone to coordinate with or ask what to do. They arrive with Duane Reade bags of supplies that are quickly passed around and emptied. "I thought maybe a particular humanitarian organization was taking the lead," says Amelia Merrill, who works at American Theatre magazine and was there handing out water. "That does not seem to be true. It seems really random." Back in the line, a man with a group of other Arabic-speaking asylum seekers stands and holds out his phone for others to read, a message in English on his translation app: "We have three days here to drink dust."
The city has entered 93,000 asylum seekers into its intake system since last spring, according to the mayor's office. On Wednesday, Gothamist and other outlets reported that the mayor was considering constructing tents in Central Park, Prospect Park, and Randalls Island as temporary shelters, the latest in a series of ad hoc attempts to house and provide care for arriving migrants. (In late July, Adams announced plans to open a relief center in the parking lot of a Queens psychiatric hospital.) Adams and Governor Kathy Hochul have both called on the federal government for assistance, but it's unclear what will happen in the immediate term — people need a place to stay tonight, and tomorrow, and the day after.
Closer to 1 a.m., an asylum seeker from Venezuela named Giro who asked that I not use his last name told me that he had recently arrived with his family from Texas. They had been traveling for more than two months, Giro said, through Colombia, Panama, Costa Rica, Honduras, Guatemala, and Mexico before reaching the United States. He had no idea where the bus had let him out once he arrived in the city. He got into a cab and says he was deposited on the corner of Vanderbilt, at the hotel. It was at least a place to go. The city prioritizes families in the current placement system, and Giro said he needed a place for his children to stay.
Alex Duran, the child of Dominican immigrants who grew up in Harlem, had come from work to see if he could help* — he lived in Connecticut and had room to spare. But like many of the people on the other side of the barricade, Duran wasn't sure exactly what to do once he arrived at the Roosevelt. "I was just kind of figuring out how I can help and host a family," he said. "I can't even figure out what the process for that is." Asking people directly seemed like his best option at the moment, so he offered Giro a place. In the end, Giro declined. His family would stay and see what the city could provide. Duran understood. A new place, all that chaos — it's a scary thing to say yes to a stranger. "I would have been skeptical, you know," he says of his offer and their decision to wait. "What I'm trying to figure out is, is that better for them? Or is that worse?"
*Correction: A previous version of this story incorrectly stated that Alex Duran had come to the Roosevelt from his home in Connecticut.