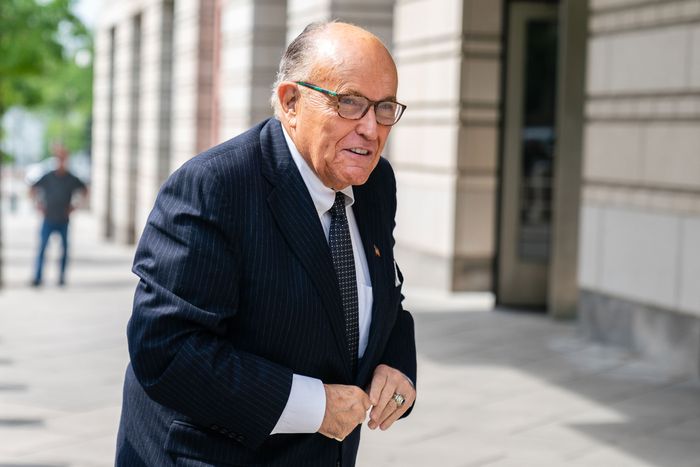 Photo: Eric Lee/Bloomberg via Getty Images
Rudy Giuliani has listed the three-bedroom Upper East Side apartment he has owned for decades for $6.5 million. As Insider reported, the apartment went on the market at the end of July with no mention of its current owner or the fact that said owner is entangled in multiple high-profile lawsuits. The listing does, however, note that the unit has "an abundance of sunshine, high ceilings, and beautiful hardwood floors," details that are unlikely to mask the knowledge that Giuliani once roamed in his pajamas there.
The apartment is at 45 East 66th Street, a landmarked building with a Gothic redbrick façade, which was designed in 1906 by architects Harde & Short. (You may know it better as the apartment that got raided by FBI agents during a 2021 probe into Giuliani's dealings with Ukraine.) Giuliani bought the apartment in 2002 for $4.77 million — a distant era when he was called "America's Mayor" and declared Time's Person of the Year. He did not tell Insider why he's selling the place, but he has been embroiled in a number of legal battles over the past few years. First, there was the fight to get his ex-wife out of the apartment (she agreed to stay in their Hamptons home, which she got in the divorce and sold in 2021). Then, in 2022, she sued him for allegedly falling behind on $262,000 in payments he owed her under their divorce settlement. And now, he has been labeled as "Co-conspirator 1" in an indictment of Donald Trump, while separately being sued by a former employee for sexual harassment and assault.
The corner co-op apartment does offer lots of original details, like a wood-paneled library with a working fireplace, perfect for recording Cameo videos (as Giuliani appears to have done), and an oak-paneled dining room with an intricately carved ceiling, in which breakfast may feel like eating in a law library. The apartment is being represented by Serena Boardman at Sotheby's Realty, the same broker who's trying to sell Joan Didion's apartment. The listing also fails to mention one amenity — that it comes with a nosy Upper East Side neighbor who will stand in front of the building and tell the press, "I probably saw FBI jackets," if the FBI comes to raid your house.