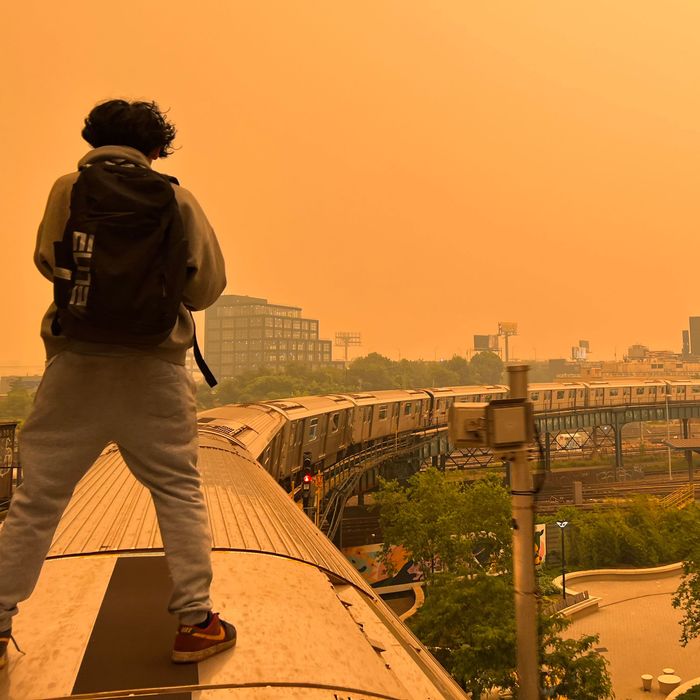 On a steamy July afternoon, Michael knelt beside a makeshift memorial tucked near the wall at the 33rd Street–Rawson Street subway station. Next to an empty Calypso Lemonade bottle, a bouquet of flowers, and a Jamaican flag handkerchief, he arranged a smattering of tea candles to spell "JEV." That was what he and his friends called Jevon Fraser, a 14-year-old teen he knew from surfing the subways. It had been a month since Fraser fell to his death while riding the top of the 7 train.
"I told everybody, before Jev died, I don't want to find out who's next," says Michael, who declined to share his last name. "And we found out who's next." He stared at the memorial. "I'm very grateful I cut this shit out." As he spoke, he kept tugging on the skin of his throat.
Like many, the 19-year-old began subway surfing in his mid-teens. Most surfers climb to the top of the trains and lie down, kneel, or stand while the cars are moving, even if they're going as fast as 50 mph. Some surfers even sprint. Others stand on the ledges of the cars at the back of the train.
Many also record and share their surfs online, and by the beginning of 2022, the videos began going viral. In New York, subway surfing has been around since at least the 1980s. But a new generation of teens is drawn in by the rush of seeing the reactions on TikTok and Instagram. Some also begin after playing the mobile game Subway Surfers, which simulates the experience. The MTA, which tracks the instances of people riding outside the trains (it does not separately count surfers), saw a noticeable spike in 2021. This year, the total number of people riding outside the trains in the first six months of 2023 has far outnumbered the 2019 and 2020 totals at 455. (Last year still holds the record of 565 for the same time period.) The rise in numbers has also meant more deaths: Fraser was the fourth teen to die surfing in New York in 2023; there were two last year.
Michael quit surfing last December when he woke up to the news that another friend, 15-year-old Ka'Von Wooden, had died surfing that morning. Most of his close friends also stopped — after Wooden's death, they briefly changed the name of their group chat to "We Didn't Die" — mostly out of a sense of relief. Over the past eight months, he's lost Wooden, Fraser, and another friend — Zackery Nazario, a 15-year-old who died in February surfing a train near the Williamsburg Bridge. Michael now tells everyone who's doing it to stop. But he knows his one-man campaign is limited.
Those caught subway surfing by the NYPD are usually charged with reckless endangerment. But that doesn't deter "Losu," a 16-year-older surfer from Queens. Three of his friends have been arrested for surfing, and another two have died, but "I just feel free doing it," he said. He admitted he once snapped his ankle when he fell into the gangway between cars. His mother also confronted him after she saw one of his viral videos, but "I always tell her, I know what I'm doing," he said.
Efaru, a 14-year-old boy from Queens, began surfing when he saw a video of it on his TikTok For You page, but briefly stopped when his parents begged him. But after about a month, he started back up. "I could quit anytime I want," he says. It's "not an addiction." But he also admits, "Running on top feels like you're in a real-life movie."
Michael agrees. "It's a form of expression. It's a form of art," he says. It's also an outlet for kids who don't have many other options. "No one says one day that they're just going to get on top of a train," Michael says. "Everybody's going through a lot of shit. I don't know what, but it's enough for them to start doing this."
He said he started surfing to escape what he called "issues at home." By the time he was 16, he was diagnosed with anxiety, major depressive disorder, ADHD, and post-traumatic-stress disorder, and has attempted suicide. He has been admitted to three psychological hospitals, two residential programs, and "I forget how many, but too many, outpatient centers." But none of the treatments worked. "Going through that system so many times, and you know it's broken, and you know it's not going to do anything for you," Michael says. "You just start to look at other options."
In high school, he began "urban exploring," or sneaking into abandoned buildings and tunnels and onto rooftops with a group of friends. He first surfed the 7 train in the summer of 2021. As the train started to move, the operator of an incoming train rolled down his window and started to yell at Michael. "It was too late for him to stop the train," he says. "Then I see cops on the platform, so you got multiple people on radios calling it in. I just had a lot of adrenaline in me." No one caught him, and Michael was hooked. "I knew I wanted to keep doing this. It was something that just brought me joy." He surfed multiple times per week. He fell once onto the tracks but wasn't seriously hurt and continued surfing that day.
In April, the MTA issued a memo to train crews reminding them to look for people riding outside the trains. As I rode the 7 train back from Fraser's memorial with Michael, an automated message played over the speakers: "It is illegal and very dangerous to ride or walk between train cars."
Families have asked city officials and companies to do more. Mayor Adams has requested social-media companies remove videos of kids surfing, and TikTok culled many of the videos that went viral last year. (According to its community guidelines, the platform does not allow the "promotion of criminal activities that may harm people, animals, or property.") One popular surfing video is still up, but now it comes with a warning: "Participating in this activity could result in you or others getting hurt." Some surfers on Instagram have made their accounts private instead.
"Stop worrying about followers. Family and friends are going to be hurt forever," Nazario's mother, Norma, said in an interview with Mayor Eric Adams that he posted online. But even those who quit may find it hard to resist surfing just one more time. One of Michael's friends, a 16-year-old boy from Queens who asked to be identified as Rivens, said he stopped in January after his parents picked him up from the NYPD precinct for the third time. But he made an exception in early June when smoke from the Canadian wildfires turned the sky orange. He said it was hard to breathe at the top of the train, and he got a nosebleed afterward, but a video of that surf got almost 6 million views on TikTok. Before his original account was banned for posting surfing videos, his posts regularly blew up online. "I had like 100K followers," he says proudly.
These days, Michael keeps himself busy so he won't be tempted to surf: He goes to school; he works; he has a side hustle. He keeps his eye on the surfing scene, but only on social media. One afternoon in July, he took the 7 train into Jackson Heights to get birria tacos. On the way back, a younger version of himself flashed before his eyes: a handful of kids surfing on top of a moving train. Michael was furious. "Get the fuck down," he hollered.