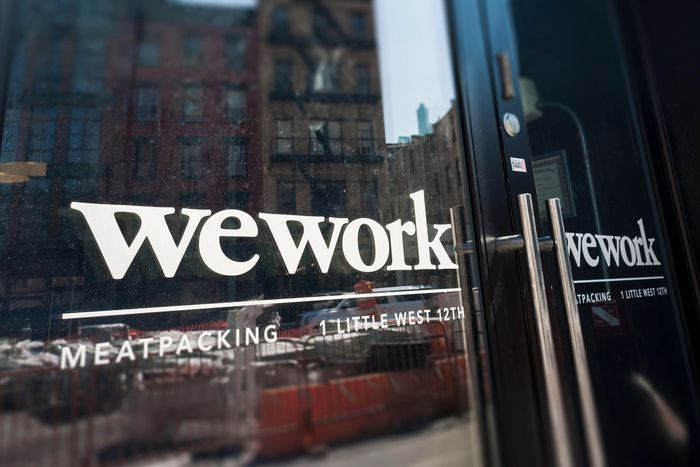 Photo: Richard Levine/Alamy Stock Photo
WeWork, which became New York City's largest occupier of commercial office space in 2018, has never been profitable. And while that's true of many start-ups, WeWork also struggled with a disastrous, failed IPO and the pandemic slashing demand for office space. Now, faced with lawsuits from office landlords, daunting financial losses, and CEO Sandeep Mathrani's departure in May, the co-working company seemed to be calling it a day in a financial filing earlier this week: "Substantial doubt exists about the company's ability to continue as a going concern," WeWork wrote, according to the New York Times. After the filing, The Wall Street Journal reported that the company replaced three board members who resigned with corporate bankruptcy experts.
The former unicorn needs to do something about its real estate. WeWork is locked into leases for millions of square feet of office space at pre-pandemic rates, while the return to the office has been a slow, haphazard affair, and office landlords have become its direct competitors, offering pre-built space with flexible lease terms. And then, of course, there are the other co-working competitors and the glut of sublease space out there.
Some landlords also want to collect on leases that WeWork has tried to dump. Earlier this month, a judge allowed a landlord's breach-of-contract lawsuit against WeWork to move forward. In 2021, the Sapir Organization, which owns 261 Madison Avenue, sued WeWork and Adam Neumann, alleging that the founder and parent company deliberately underfunded the LLC that signed a 16-year lease for some 43,000 square feet in 2012 to avoid paying its bills. (The suit also claims that the owner of 261 Madison found out WeWork was planning to leave from a Real Deal story.)
The case is far from decided — essentially the judge is allowing it to move forward after Sapir's lawyers Oved & Oved submitted evidence showing that the LLC and WeWork commingled funds — showing, essentially, that WeWork could potentially be held responsible for it.
Terrence Oved, one of the lawyers on the case, said that many other WeWork landlords in similar situations have been reaching out with similar stories. A landlord in Boston and another in Chicago also sued the company over unpaid rent. Oved said he believes the case being allowed to move forward will open the floodgates to more litigation against the company.
WeWork disagrees. "We believe the lawsuit is without merit and it's important to note the recent decision is not a judgment on the merits of any claims," a spokesperson wrote in an email. The company also pointed to a statement it released about the financial filing, which underscored the progress it has made to cut costs by shrinking its footprint and renegotiating leases in an effort to shore up the business: Second-quarter revenues were up, and, while it still had a net loss of $397 million, that amount is $238 million less than what it was year-over-year. Of course, a normal person might look at that and see a company that still had a net loss of $397 million.
Still, if WeWork goes bankrupt, it won't be great for the already imperiled New York City office market. The company has been trying to shed office space to right itself, shrinking some locations and shuttering others, but as of the beginning of this year, it still had some 6.9 million square feet in Manhattan, according to Savills. WeWork's stock price has recovered somewhat after its "substantial doubt" announcement — it's now trading at 20 cents per share (it's been trading for pennies for months, the Times noted). But the president of Savills North America told the Commercial Observer that his phone has been ringing off the hook with calls from WeWork members looking for other office space.