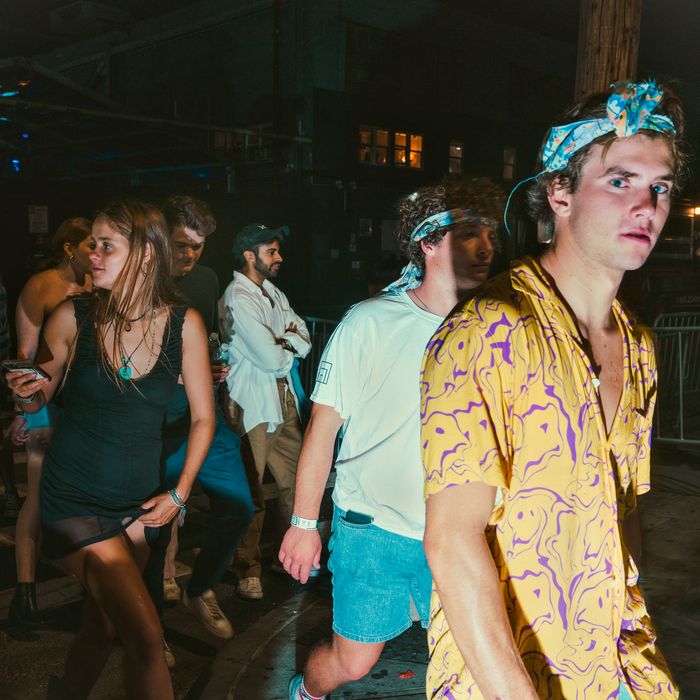 Partygoers leaving the Brooklyn Mirage in East Williamsburg.
Photo: Alex Hodor-Lee
Before I set off for a Saturday night at the Brooklyn Mirage, the teeming oasis of dance-till-sunrise, every-night's-an-EDM-festival culture that sprang up a few years back on the site of a former lumberyard on Stewart Avenue in East Williamsburg, all my friends cautioned me to "stay safe." They didn't just mean "Hydrate" or "Don't take drugs from strangers." They were warning of something more sinister that those who go out late in Brooklyn have become absolutely convinced is happening: that a killer is on the loose, preying on zonked-out party boys. If you listen to alarmed reports confidently circulating on TikTok, X, and Reddit, something terrifying is definitely afoot in this admittedly end-of-days landscape of empty streets, chain-link-fenced-off lots, and graffitied warehouses of the industrial neighborhood the Mirage sits in. After all, it already looks like the set for a true-crime documentary or a zombie movie. So just maybe…
This goes back to June 16, when the police found the first body. Karl Clemente, 27, went missing shortly after he failed to get into a party at the Mirage. Five days later, his body was found a few blocks away in Newtown Creek, "unconscious and unresponsive floating in the water," according to the cops. His wallet was located nearby, and security footage from the night shows him running down the street.
Amateur social-media sleuths wanted to know: But from what? Or whom? 
Then, on July 29, John Castic, also 27, and a Goldman Sachs analyst, disappeared after leaving the Mirage. His friends said he hadn't been "feeling well," and he left alone around 3 a.m. Security footage shows him walking calmly down the street, past a pizza cart in front of the club. Three days later, his shirtless body was found floating a short distance from where Clemente's was found.
Online, people wanted to know: how could this really be just a coincidence?
Then things got even weirder. A story began circulating on social media about a partygoer who claims they were almost "strangled" by a man near the Mirage, before an Uber driver stopped and its passengers saved them. But it never was substantiated by a legit news source or the cops. Then the tabloids dug up an actual police report from a Connecticut doctor who claimed to have been kidnapped by a man pretending to operate a taxi in front of the Mirage on July 21. (The Mirage, which is outside the patrol-range of most yellow cabs, attracts throngs of unofficial people offering rides for money at the end of the night.) According to the New York Post, the doctor told the police that his captor told him he had "put people in body bags," before taking him on a $6,000 spending spree and returning him to the hospital he worked for in Norwalk.
In response to the recent deaths, a spokesperson for the mayor shared, "This investigation is active and ongoing, and the causes of death are still pending with the Medical Examiner. The NYPD has worked productively with the venue in the past. We've been told the business has even taken steps to ensure medical staff is on standby during popular periods at the club. The NYPD has found the club communicative in its work to ensure public safety and has often received assistance from the club in its investigations." So far, the NYPD has not suggested the deaths are related, or the result of foul play.
But don't tell that to extremely-online 20-something party kids in New York who find the whole thing sus. "The chances that they both wound up in the same creek just by accident – that's a pretty low possibility," opined Jack McGuire, a blogger for Barstool Sports, on TikTok. Another user, @megs.raves, put out a "PSA" on the app, which has been viewed nearly 600,000 times: "For anyone going to the Brooklyn Mirage, please do not leave the venue by yourself … Stay safe out there. I love you guys." In the comments, someone responded, "I'm 27 and going to Brooklyn Mirage Friday. You may have just saved a life."
My own raver group chats have been similarly convinced that these aren't random events. "Please be careful!" the "rave mom" of this crew texted after the news of Castic's disappearance ricocheted across social media. Everyone else chimed in with their theories: "It's giving … killer vibes …" said one friend. "I mean I'm not a detective but how in the rocketing fucking turbo cunt do you not consider foul play?" said another. The rave mom concluded, "It's def murder. I suspect a killer who waits for fucked up people." The conversation quickly devolved into a half-joke about whether we should all invest in a six-pack of candy-colored brass knuckles.
Between drugs, drinking, and associated ill-advised nighttime decision-making, not to mention just bad luck, it doesn't take anything particularly nefarious to happen for clubbers to wind up in a bad way, even dead. Although as the Hell's Kitchen gay-bar drugging-robbery-murders showed earlier this year, there are evil people out there looking for tipsy others to take advantage of.
Brooklyn Mirage is, arguably, just by its sheer size and isolated location, particularly potentially perilous. It's a 15-minute walk to the subway, even when you are not woozy, in a neighborhood of spotty cell service crisscrossed with a Superfund-site canal. Wander off and there is nobody around to hear you scream. I often go dancing at the other, somewhat smaller and, in my experience, less hetero-hectic clubs nearby, like Basement and Elsewhere. Late at night, walking around can at the very least feel creepy.
"Brooklyn Mirage" is technically just the name for the outdoor part of a super-sized three-venue space called Avant Gardner. Together they make up the "largest standing room entertainment complex in North America," according to its website. Mirage has never really been my scene: A TikToker I know recently described the crowd as "finance guys who work hard during the week then go to the Mirage to test their limits." As one party friend in my group chat sniffed, it's "the last bastion of EDM shit, filled with kids who're new to the city and don't know how to party." He was right, in a way: I talked to a lot of people at the club, and many had come into Brooklyn from places like Pennsylvania, Connecticut, Massachusetts, New Jersey, and … Murray Hill.
Attending a party at the Mirage feels like going to a music festival, and on Saturday, August 19, when I was there, it was being advertised as such: "the Alter-Ego festival," hosted by the DJ duo Louis the Child and featuring 12 different acts over the course of eight hours. A ticket cost $102, and the event was completely sold out. (The club's capacity is 6,000 people, which is a lot, though there have long been allegations, according to Gothamist, that it oversells tickets, packing in even more.) There have been at least three deadly overdoses linked to the club in recent years, plus "a significant number of emergency trips to the hospital," according to Gothamist and the State Liquor Authority.
When I arrived shortly after 1 a.m., I was herded, like livestock, into a queue in a parking lot next door, where close by an ambulance was attending to a guest who'd apparently arrived on the early side and already overdone it, on a gurney. The entrance protocol at the club feels not unlike going through TSA: After your ID is put through a scanner, and a stony-faced employee gives you the go-ahead nod to keep walking, all liquids are confiscated (a bucket nearby held miniature bottles of both hand sanitizer and Fireball) and a security guard scans you with a wand. One of them told me, "They sneak their drugs in here even after we search them. I don't know how they do that — or where they put it." I can only imagine.
Actually, if you read a recently-filed $7.5 million class-action lawsuit against Avant Gardner, you can. The suit alleges security staff sexually assaulted and harassed attendees during a Pride party there this summer while searching them–presumably for drugs–at the door. (Read all the details here.) The venue is being accused of having both too little security and too much security at the same time.
Inside, the club feels like an adult playground, complete with turrets you can climb up to look out over the crowd, and much to the dancers' druggy pleasure, there are strobe lights and, at various points throughout the evening, pyrotechnics. Almost immediately, a tipsy girl in braids and blue-tinted sunglasses ran past me in a stairwell, screaming, "I LOVE THIS PLACE, I LOVE THIS PLACE, I LOVE THIS PLACE SO MUCH." "This is his first time," said a dude nearby, pointing to his dude friend. "He thought I made this whole fart up."
Inevitably, some of the ravers overdo things, and all night I would check back at the medical area, where wasted kids got settled into wheelchairs to wait out their bad trips. "When they look like they can't walk and are about to fall on the floor, they take 'em in there. They get way too fucked up. Why do that to yourself?" the security guard told me. "Some of these people can be assholes. You should have seen me earlier. I was ready to go home. I was ready to cry. It was stressful." This particular guard was stationed near a pair of restrooms; they told me their job mostly involves preventing men from going into the women's room. "It happens a lot."
The crowd was, needless to say, fairly rowdy. Another security guard I spoke to often had to interrupt our conversation to implore partygoers not to climb onto any ledges: "YO GET OFF THE LEDGE. GET OFF. THANK YOU. GODDAMN," he screamed once, before telling me the recent rumors have had little effect on what seems to me an obviously highly successful big-box nightlife operation. "Whatever people do outside the club, it has nothing to do with us," he said. "When you buy tickets here, you don't pay for security miles out. These people do dumb shit." Shortly after, I witnessed a fist fight.
The majority of the partygoers I spoke to were unbothered, if also totally convinced that something sketchy is happening in their EDM paradise. Many of the women told me they were more concerned about their boyfriends than themselves. "From what I've heard, the deaths have all been males," said one girl from Jersey with a smile and a little wink. She assured me that she always sticks with her friend group (although when I was talking to her, she seemed to be alone).
When I asked the only person I met who actually lives in Brooklyn, a bald guy with a fanny pack, if he was fearful about coming out tonight, he only said drolly, "Of course I am."
"Do you feel safe coming here?" I asked.
"Not at all. I would not say that."
Then he told me he was in the middle of an acid trip and it seemed best to not press things.
A gay DJ I met at the bar, who said he'd been to the Mirage over 70 times, summed up the crowd's general demeanor: "It sucks, but you have to be responsible," he said. "This is somewhere you can go and feel like you're in a random place in the middle of nowhere doing crazy drugs and crazy things." What could go wrong?
This isn't the first time the Brooklyn Mirage has been scrutinized — owing to bad luck, or alleged bad management, or maybe a bit of both.
The venue was founded by two European party promoters, Jürgen "Billy" Bildstein and Philipp Wiederkehr, who first started throwing raves under the banner Cityfox in Zurich, before moving to New York in 2011. Once here, they started hosting underground parties and quickly attracted a following.
In 2015, the duo attempted to throw a Halloween rager in the abandoned NuHart plastics factory in Greenpoint. As it turns out, the building had been deemed a Superfund site and the party was shut down in advance by the FDNY. "There were drums of chemicals on the property. It's toxic. These are nasty chemicals. No one should've been in that place," a former member of Brooklyn's Community Board 1, who spoke on the condition of anonymity, told me. The next year, according to Brooklyn Paper, they started throwing parties at their current location, an 80,000-square-foot lot, but those events were also shuttered after it was deemed "imminently perilous to life" and "full of combustible material and other fire hazards."
It's an industrial neighborhood that, because of its lack of many residents to complain about the noise, has become home to many of the city's legal and illegal venues in the years leading up the pandemic — taking the place of warehouse-club neighborhoods like West Chelsea, which got gentrified out of nightlife friendliness a decade or so before. But Avant Gardner's plans were notably bigger than anybody else's, which inevitably makes its business more complicated to run.
Before opening officially in 2017, the venue submitted a report to Community Board 1, calling its new venture "the venue Brooklyn deserves" and predicting it would generate $3.5 million in tax revenue per year. The attached security plan made promises: "The Venue is committed to the safe, secure and efficient arrival and departure of its patrons and staff with no or minimal inconvenience to the occupants in the surrounding neighborhood and minimal impact upon emergency service resources." (Part of that plan included assisting patrons back to the L train, a policy that, based on the night I was there, no longer seems to be in effect.)
Owing to their past encounters with city authorities, however, the owners struggled to obtain a liquor license. In 2016, Community Board 1 initially denied it, despite a number of letters of support written by local residents, business owners, and elected officials, including then-Borough President Eric Adams. "We … discussed certain events that transpired in the past," reads the letter from Adams's office. "We are confident that it will provide several significant benefits to the local community and Brooklyn." The former Community Board member remembered, "A lot of people were really concerned about the scale of the operation … they already had a very bad reputation."
Community Boards can only advise on liquor-license decisions, however, and the State Liquor Authority went ahead and approved it — but not without some hesitation. In an April 2017 meeting of the SLA, a member of the board warned the Mirage's representatives, "There's not going to be a lot of leeway here, if something goes wrong. I know there's going to be significant money invested in this venue, but I will not hesitate to yank this thing … I'm putting my neck on the line with guys that I'm not 100 percent comfortable with." Over the years, the Mirage has continued to have a tense relationship with the SLA, and in May 2020, it fined the venue $100,000 for a number of violations and appointed an "independent monitor" to oversee its operation. (The independent monitor is no longer in place.)
According to Gothamist, when Avant Gardner's liquor license came up for renewal again in May, our "Nightlife Mayor" once again spoke out in support of the owners, organizing a meeting for them with top aides to Governor Kathy Hochul, including Kathryn Garcia, the former mayoral candidate who now oversees the SLA. As it so happens, the reporting revealed that Adams's former chief of staff, Frank Carone, legally represented the club as recently as 2020 (Carone resigned in September 2022). A spokesperson for the mayor's office did not specifically respond to a list of questions about Adams's apparent interest in the venue (but did send over a list of ways the Office of Nightlife, which was established during the de Blasio administration, has supported the industry, including the NARCAN Behind Every Bar Campaign.)
Asked about that meeting, Ariel Palitz, New York's founding director of the Office of Nightlife — she left the post back in March — told me, "That wasn't a good look. But this is New York. It's complicated. These are venues that are trying to run important businesses in our city and trying to survive." She told me it was vital that venues like the Mirage not be treated like a "criminal entity." She also declined to talk about any issues brought to the Office of Nightlife concerning Avant Gardner during her tenure. "I would never speak about any specific case that came before the office. Running an operation of thousands and thousands of people is not easy."
Admittedly, nobody is saying that partygoers tragically drowning in the creek, or even being murdered, if those rumors turn out to be based on something more than social-media conspiracy-mongering, is the club's fault or even responsibility.
Though Avant Gardner did not respond to an extensive list of questions, it sent New York an open letter it shared with the community on Thursday. "At Avant Gardner, our top priority is ensuring a safe experience for our guests, our staff, and our artists," it reads, before detailing current security measures and others being put into place, including setting up additional light towers in the vicinity of the club; working with the Taxi & Limousine Commission to deter unlicensed drivers; implementing "Wi-Fi access solutions" to address poor cell service in the area; and working with Department of Transportation to install "large, prominent signage around our complex to direct pedestrians to the Jefferson L train stop."
In the letter, the venue also refutes some of the media coverage of the alleged kidnapping: "We are actively conducting an internal investigation into these allegations and all evidence we have turned up thus far indicates that no such incident occurred outside of our complex or anywhere in the area. We have shared this information with the relevant authorities."
I have spent probably too much time in the generally underpopulated party zones of Bushwick and East Williamsburg in the late-night–early-morning hours in the past few years. The warehouses and all the assorted heavy equipment on the street, when it's the middle of the night and you're on a whimsical chemical, gives it all kinds of pleasingly Mad Max–y nightlife-fantasy attributes. Come back during the day, however, and it's clear that it's just a … mirage. It smells like literal garbage because this is where the waste goes. And it's not an easy area to walk in or bike around with slanty sidewalks and potholed streets.
Some New Yorkers are hesitant about nightlife of this size here, including the local councilwoman, Jennifer Gutiérrez, and Leah Archibald — the executive director of the Evergreen Exchange, which supports manufacturing businesses in the neighborhood — who walked me around during the day a few weeks back. This isn't clubland to them; it's the "North Brooklyn Industrial Business Zone," or the IBZ. It's zoned M3 – the highest level of industrial zoning in New York City.
"I always run into people that are like, 'I was in your district this weekend.' They're coming here," Gutiérrez told me, pointing to the Mirage.
They introduced me to the employees of several nearby businesses, who have often had to deal with drunk 20-somethings stumbling around late at night and getting into mischief. One of them was Adam Freedman, the owner of a recycling facility on the same street as the Brooklyn Mirage. Once, he told me, a partygoer broke into his property and punched one of his supervisors. Later that day, I heard other stories about trespassing and vomit and trash on the streets when workers return to the neighborhood in the morning.
There are, clearly, risks to wandering around in the IBZ. Other pedestrian hazards include open freight tracks and Newtown Creek, which for decades was a dumping ground for pollutants and has a deadly history with drownings (In 1894, the New York Times covered a story about two teenage boys who drowned not far from where Clemente and Castic's bodies were found: "It is supposed that they attempted to dive in the shallow water and were smothered in the ooze and slime"). "These unfortunate deaths that have occurred – it's telling in a way that this can happen, where people can disappear, with a lot of people looking for them in a small area, given the nature of the industrial zone. It's easier to disappear. There's not a lot of infrastructure," said Willis Elkins, the executive director of the Newtown Creek Alliance. The EPA has pushed off the full cleanup of the creek — there are large orange rigs collecting oil near where one of the bodies was found — until at least 2032.
Shortly after 3:30 a.m. on Sunday, I finally exited the Mirage. Outside, a light suspended from a bucket truck illuminated the waning partygoers, who were grabbing snacks at the food carts. Everywhere there were security guards, in tactical vests, attempting to push people off the premises and men holding up phones that said "TAXI" or "UBER," begging people to hire them for a ride home. "Absolutely not," said one girl.
It was tempting because it was nearly impossible to order a car. "I don't have service"; "I have zero bars"; "Oh shit, it's $38"; "That fucker canceled on me," I overheard passersby tell their squads. When a drunk guy tripped over a concrete barrier, his friends joked, "Oh shit! He's gonna get abducted!" Another in the group pointed to the security guards and screamed, "What if one of those motherfuckers is the serial killer?"
In hopes some of my cell service would return, I started talking to two boys who met on Grindr and came here together from Philadelphia. "Have you heard about the murders here?" one of them, Drayk, asked me. "I think there's definitely a serial killer. They were both exactly 27. Serial killers do a lot of pattern stuff. They re-create stuff. I know because I watched Dexter." He claimed, incorrectly, that a third body had been found the day before. When their Uber finally came, I bid them good night, and they said, "Be safe."
And I still couldn't order a car. So, against my better impulses, several White Claws deep, I set out in the direction of my own neighborhood, which meant heading north, toward the Newtown Creek. My phone, after looking for service all night, was at 5 percent. Walking along the sidewalk — which on most of the streets is sandwiched between warehouses and lines of semi-trucks, meaning no one can see you from the road — I passed handfuls of groups sticking together while trying to get a car home. Eventually I got one; it came 15 minutes later.
These recent events have revived Gutiérrez's hope for better infrastructure in the neighborhood. "Where are the lights?" she had told me on our walk, noting the lack of streetlights near the Mirage. "The city has never planned appropriately for something like this … My perspective on the Mirage is, They're there. What are we going to do to make it better? How are we going to prevent what just happened?"
Ariel Palitz felt more strongly about the future of nightlife in New York's industrial zones. In response to the events of the past month, she gently suggested we should all be learning a different lesson: the "rudimentary but necessary" rules of "Party 101" like, Check the license plate of your Uber. Share your location with your friends. Make sure your cell phone is charged. Don't take drinks from a stranger. And don't leave alone. "This is New York," she told me. "Anything can happen anywhere at any time. We're not in a Disney movie. This is real life. Then again mistakes, accidents, tragedies happen. When they do, all we can do is learn from it and be better."