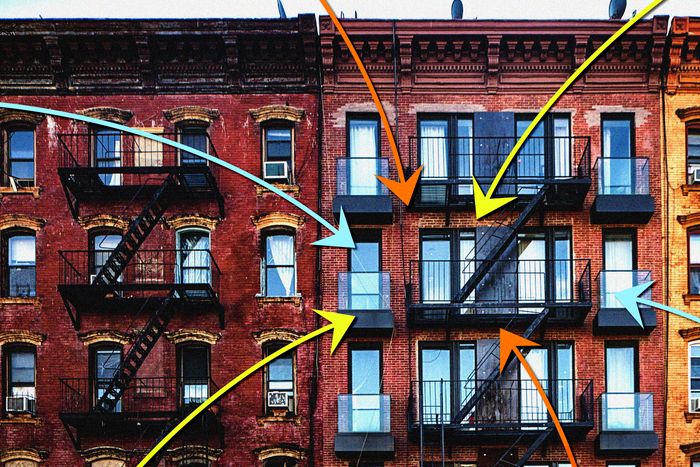 Photo-Illustration: Curbed; Photos:Getty
The crackdown on short-term rentals started this week, and 15,000 unlicensed listings have been removed from Airbnb in just a few days — many for entire homes. Meanwhile, the rental market continues to unleash horror after horror on tenants. In the darkness, an opportunity emerges: Now is an ideal moment to try to convince a former Airbnb host to rent you their place.
I know at least one case in which this has actually worked, and it was even before the new regulations were being enforced. The person messaged a number of Airbnbs, creatively spelling out her number and email to avoid triggering Airbnb's prohibition on communicating off-platform prior to a booking, and asked if they had considered renting out their apartments instead. Most refused, obviously, but it only took one yes for her to end up with an under-market, floor-through apartment in prime Clinton Hill. This could be you.
Some of the places delisted this week are likely airless little boxes worth way less than whatever tourists were paying to sleep there, but my most recent search still turned up brownstones with original moldings and garden apartments with backyard access and laundry in the building. While a lot of the hosts being interviewed right now say they're not planning to turn their apartments into actual rentals — "We're not gonna put our unit on the market," one Airbnb host recently told Gothamist, "We're gonna have to figure something else out" — I say that there's no harm in asking!
So if you've seen someone looking forlorn while removing a lockbox from the gate of a Fort Greene prewar or noticed a suspicious number of suitcase-wielding randos in your friend's enviably located co-op (or in all likelihood, you know that your friend's friend Jenny was Airbnb-ing the second floor of the Prospect Lefferts limestone her mom bought her), this is the time to shoot your shot. Propose that they rent that place to you instead. Remind them that they'll no longer have to deal with paying someone to clean the apartment between stays. If they're still skeptical, remind them that rent is, in some ways, just like an Airbnb fee, except paid monthly, and by the same person.