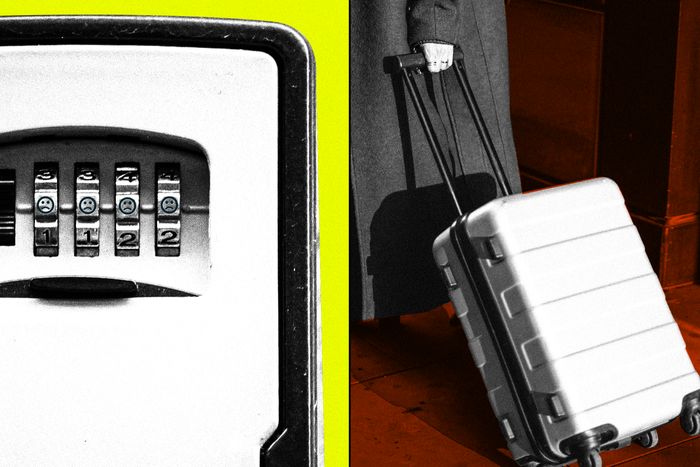 Photo-Illustration: Vulture; Photos: Getty
New York City's Airbnb hosts were having a hard summer. "I talked to Airbnb support and they don't know how to go about this," one host wrote on a private forum. "Be careful," another warned. "After 30 days guests become tenants … hard to kick them out." Following an extensive period of limbo and legal challenges, the city was gearing up to enforce regulations that would, at least in theory, take thousands of rentals off the platform by requiring hosts to register their properties through a new licensing system and prohibiting them from renting out apartments for fewer than 30 days unless they were staying in the home alongside their guests. A decade of unfettered growth had made hosting something between a lucrative side hustle and a full-time job for thousands of people in the city, but life as the hosts knew it was ending on September 5. "I'm petrified," one wrote.
Where other, less lucrative gig-economy start-ups like Uber have clashed publicly with their not-quite-employees, Airbnb hosts — the word the company came up with to make short-term landlordism sound like throwing an intimate dinner party — have become loyal political allies. In a marathon seven-hour public meeting in January, hundreds of them slammed the Office of Special Enforcement for abandoning "working-class New Yorkers" who would struggle to pay their mortgages without the cash infusion Airbnb brought in. In language that perfectly mirrored the company's own campaign against the regulations, hosts described skyrocketing taxes and utility bills, framing their Airbnbs as an economic boom for the city, inviting tourism dollars to their neighborhoods and infusing local businesses with cash. "My assets are bound up in my house and I have very little cash flow," a host wrote on the city's public comment forum. "Being able to occasionally Airbnb my home has enabled me to make my mortgage payments." In public, hosts described Airbnb as a form of public assistance or a godsend second gig. But on private forums, the relationship between platform and third-party contractor revealed itself as a bit more strained: They had fought for Airbnb. Why wasn't Airbnb fighting for them?
Cracks in the host model first started to show in March 2020, when the company overrode hosts' cancellation policies and offered full refunds to guests who chose not to travel during a global pandemic. Hosts who had built their lives on the service realized Airbnb was not, in fact, a job. In news outlets, they described being unable to pay mortgages and property taxes when nearly all of their reservations dried up. "We definitely empathize with guests," said one, "but for us, our business and our livelihood just got canceled." The sense of abandonment was compounded when the company announced a $250 million coronavirus relief fund for hosts shortly after, paying what many said were paltry sums given how much income they had lost.
The dynamic took a turn for the worse in the face of the city's September deadline on regulations that many hosts considered to be an existential threat to their way of life. They were flailing and the company didn't seem to know much more than they did. On forums, they swap tips on generating contracts for longer-term rentals and "squatters insurance" for legal fees should a 30-day rental turn into an eviction proceeding. Some are dropping their prices 20 to 30 percent to render a monthlong stay affordable; others are looking into ways to charge half of a monthly fee up front, a function Airbnb doesn't currently afford. And they're still confused about how to apply for a license or handle bookings made far into the future for short-term stays, stays that are still showing up on Airbnb. "I have contacted support so many times," wrote one. "I'm distraught."
Airbnb and its hosts rely on each other to prop up their businesses, and Airbnb works hard to sustain these quasi-partnerships: Since 2014, the Superhost program has rewarded particularly responsive hosts and popular listings with a badge (which, according to the company, comes with significantly more earnings), while a Superhost Ambassador program pairs new hosts with mentees to help them bring their listings live. Airbnb sends photographers to help promote rentals and insures hosts for up to $1 million should a guest damage their home. In web seminars, employees coach potential users on how to launch their small business, reminding them to purchase enough towels and highlight what makes their space unique. "Airbnb has brought the world to me," an elderly man says in a promotional video shown to potential hosts during an informational Zoom, the camera panning over him and his wife sipping coffee with a few Australian backpackers on their deck.
But it isn't an exchange between equals. In what would become a telling incident, two companion lawsuits were struck down in their last-minute efforts to block the new law. In one suit, three New York City hosts argued the regulations would financially ruin them and force them "to take drastic action to make ends meet," including moving out of their homes and returning to work from retirement. In the suit brought by Airbnb, the company argued the regulation constituted a "de facto" ban against short-term rentals and would make it impossible for hosts to do business. Ultimately, the judge ruled that "Airbnb cannot bring a challenge on behalf of hosts (third parties who are not employees of Airbnb). It does not claim that it is acting as an agent for hosts or as some type of broker for these individuals," the judge wrote. The platform was merely a forum for listings, she said, and thus had no legal right to make an argument on behalf of the people who paid their mortgages using Airbnb.
The legal argument gets to the crux of Airbnb's issue: Following a decade of cultivating a loyal community of Superhosts under the fiction of something like equal standing — they were the platform, after all — Airbnb remains just a website. And hosts remain very much on their own, a fact that many are coming to realize in stark terms. "We're not gonna put our unit on the market," one Airbnb host told Gothamist. "We're gonna have to figure something else out. Some people are saying they're going to have to leave New York."