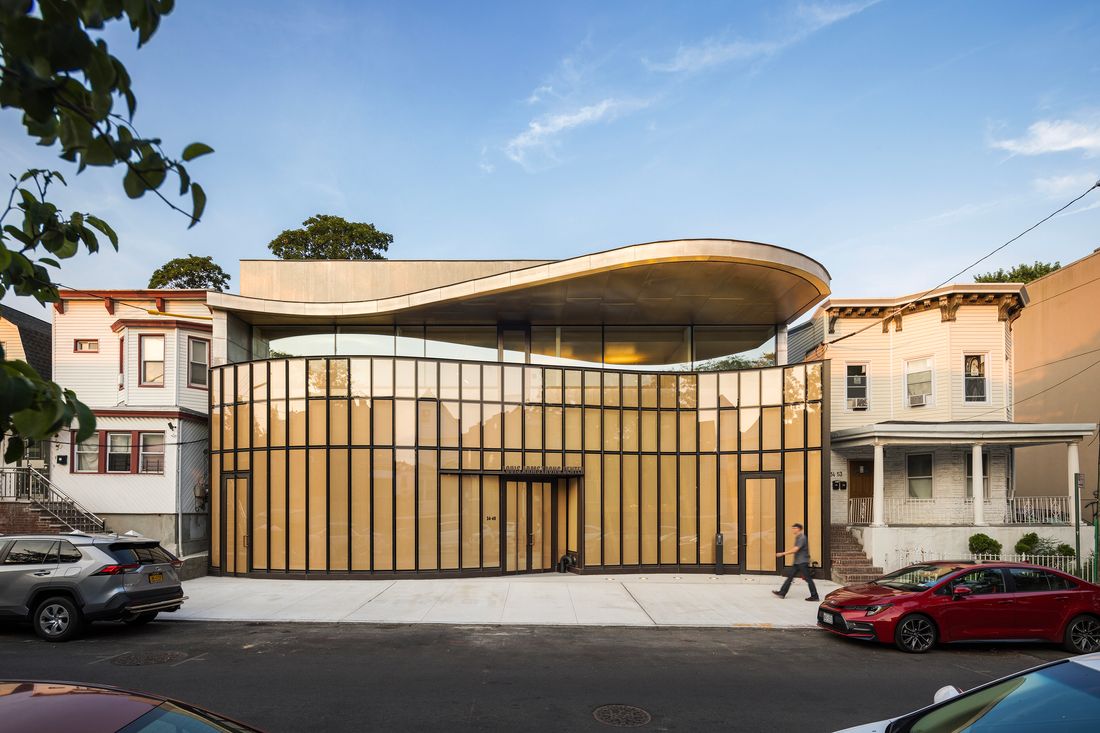 The Louis Armstrong House Museum in Corona, Queens, by Caples Jefferson Architects.
Photo: Albert Vecerka/Esto
Louis Armstrong didn't just play a brass instrument; he made the whole world sound burnished. He had a rocky childhood in New Orleans and a voice like whiskey poured through gravel, but as a musician, he offset that roughness with a bright, pealing tone, a wirelike tautness and flexibility to his phrasing, and a precision-cast sense of rhythm. He also took pleasure in his life's shiny rewards and possessed a blinding smile. That fondness for glister and glow animates the new Louis Armstrong Center, designed by Caples Jefferson and located on an otherwise ordinary residential street in Corona. You can't miss it: Look for the wavy stretch that doesn't quite strike the right jazzy balance between extroversion and cool. From outside, slender brass bands (get it?) segment the glass, like bar lines on a fluttering sheet of music paper. The canopy above swells out where the wall pulls back, two musicians making way for each other's solos. From the lobby, you peer through a curtain of brass mesh laminated between layers of glass. The view is a slice of plain Queens life, hazed and softened like a pleasant memory.
Armstrong lived on this block of 107th Street, between 34th and 37th Avenues, for nearly three decades. Until recently, the only outdoor trace of his presence was a small plaque next to the stoop where he sat and jammed with neighborhood kids. The house behind it was comfortable but compact — and seems even more modest today, when pop stars of his caliber tend to measure their living space in football fields. In 2003, it opened to the public and now a new visitor center and museum has materialized across the street, a bit of blare announcing that Satchmo is not merely a long-deceased jazzman or a lofty emblem of American music but an active institution.
Behind that insistent façade, the museum is a delight. On a recent visit, I followed trumpet sounds into the performance space at the back and found myself in a listening party attended by a few dozen enthusiasts. Collectors took turns handing over ancient 78s to a master of ceremonies who laid them reverently on the turntable. Those glistening, sizzling, polychrome sounds pierced the hiss of time.
It's not easy to enshrine a raucous musical spirit in a building (whatever Goethe may have said about architecture and frozen music), and Armstrong's peripatetic career shows that he was equally at home in shacks, in clubs, in concert halls, and on outdoor stages in Africa. Instead of trying to do justice to the full scope of his artistry, Caples Jefferson has packed a few traits — suppleness, assertiveness, and syncopation — into a confined space. They've had mixed success. A painted band of marbled blue cuts through the building at an angle headed due north and separating the lobby from the exhibition. As a form of disruption, it's a bit too clever and easy to miss, particularly when the vitrines beckon.
The jazz musician Jason Moran curated the often vivid inaugural exhibition, which includes all six handwritten pages of a touching meditation about the couple's life in Corona. The letter ends with an ode to their "two very fine watchdogs," Trumpet and Trinket. "Anybody who comes up our steps, they bark their aspirin off," he wrote approvingly. "Oh boy, what a duet." Armstrong liked energizing the neighborhood with a little joyous noise himself. Sometimes he would play from the balcony of his house, and it's exciting to imagine walking down 107th Street and hearing "St. James' Infirmary" wafting from above, the trumpet tone as unmistakable as a dab of DNA. Caples Jefferson matched that elevated stage by giving the new museum a balcony, too, so that today's musicians can duel across the street.
The gallery's centerpiece is a round table that looks like a record and behaves like an interactive display. Touch it, and you're ushered into the presence of the Armstrongs's close friend and next-door neighbor Selma Heraldo. He asked her to go on the road with the band, to provide companionship for his wife Lucille. "I can't go with you," she scoffed. "I have a job." (Reader, she went.) Touch it again, and you can study his recipe for red beans and rice. (It involves plenty of pork.) Born at the century's start, Armstrong played and sang his way from the Jazz Age into the Vietnam era, which gives this little museum an astonishing historical sweep. We see him posing alongside King Oliver, Queen Elizabeth, Duke Ellington, Pope Paul VI, and of course Ella Fitzgerald, the queen of jazz.
At the heart of the new museum is its 60,000-piece archive, which Armstrong assembled over decades of assiduous record-keeping and tape-recording. On a tour of the house itself, a guide presses a button on the wall of the wood-paneled study, and we hear that familiar jovial growl boasting that he obtained a copy of every interview he ever gave. He improvised in the moment and preserved for posterity, often at the same time. Another press of the button and we listen to him talking to a friend on the phone while an Italian pop song tootles in the background. At one point, he thumps the handset down on his desk, picks up his trumpet, and begins to extemporize along with the record. That's some virtuoso multitasking: chatting, listening, playing, and taping, all at once.
The house tour also reveals a more immediate inspiration for the museum's glossy front: Lucille. Armstrong's fourth wife bought the house in 1943 as a refuge from their itinerant life, a foothold in middle-class ordinariness — and then turned the whole second floor over to her mother. Armstrong quickly grew to love the neighborhood, the block, and the house — and showed no interest in trading up to a more glamorous residence. Instead, while he went out on the road, Lucille turned their home into a miniature Versailles, hanging three crystal chandeliers from the nine-foot ceilings, mirroring the entire dining room, covering furniture in silvered floral wallpaper, and cramming as much gorgeous garishness as she could muster into a standard central-Queens rowhouse. The heart of the home is the kitchen, fitted out with enameled mid-century turquoise cabinetry, chrome drawer pulls, and concave and convex surfaces (plus, a rose-tinted blender built into the countertop).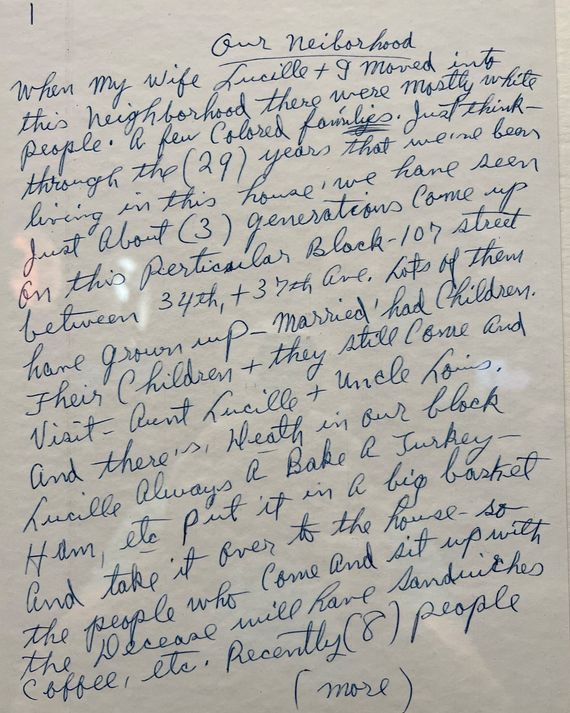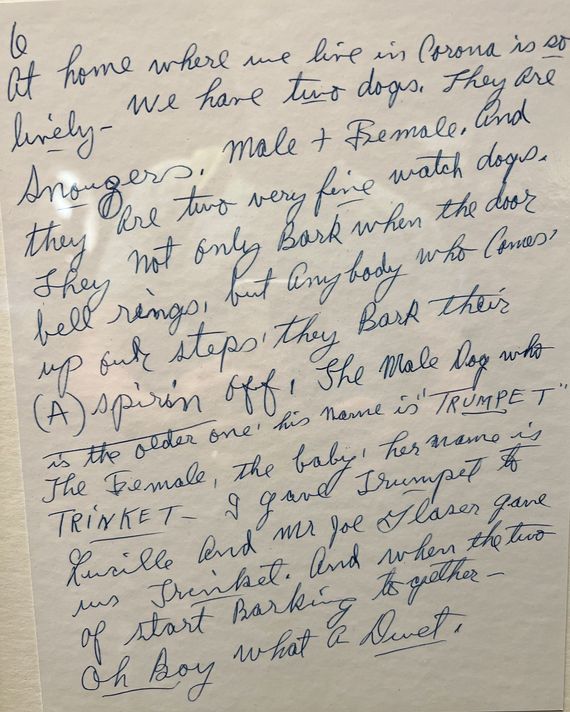 The decor lies so far outside the bounds of institutional good taste that the architects don't even mention Lucille's presiding spirit; they credit Louis's trumpet alone with providing the color and flared form of the façade. Which is too bad, because instead of being quiet on the outside and rowdy indoors, the new building's exterior is just loud enough to grate on the neighbors and its interior is too generically muted to evoke the man's outlandish brilliance. The center's public face turns the couple's rapport with the neighborhood upside-down.