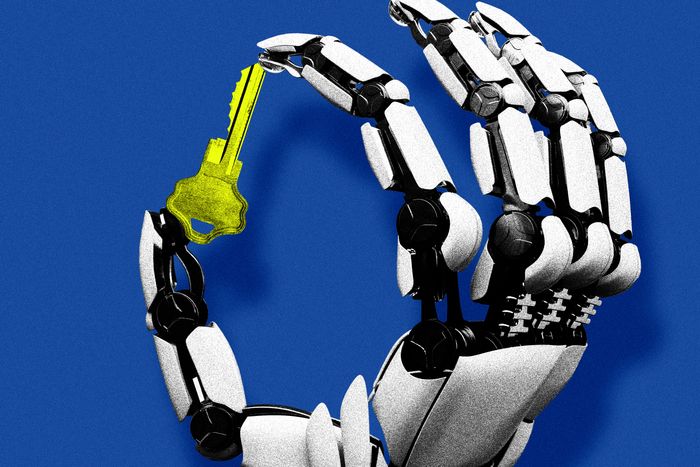 Photo-Illustration: Curbed; Photos: Getty
Nilanka Sandanayake was looking to move to New York City from Las Vegas and was actually having an easy time of it. At the Biltmore on West 47th Street, an in-house leasing agent named Emily was helping him set up tours of a couple of one-bedrooms and answering his questions about security deposits. Almost as soon as he'd reached out, he was setting up a time to meet with another one of Emily's colleagues and do a walk-through. "He was going through the available apartments, and I told him I had been communicating with Emily about this," Sandanayake says. "That's when he was like, 'Oh, by the way, that's our AI assistant.'"
Real estate's AI moment has arrived, and no one has really noticed. A Reddit poster was similarly duped by a smooth-talking bit of programming. "When I got to the third place, I asked the doorman for the agent I'd been emailing with," they wrote of an apartment on the Upper East Side. "The doorman told me there is no agent — that was the building's AI assistant — but I could show myself the apartment." And it turned out another agent Sandanayake had been working with — at Two Blue Slip in Greenpoint and Third at Bankside in Mott Haven, two new waterfront developments owned by Brookfield Properties — also didn't exist. In retrospect, maybe it was a little funny that her name was Brook, but she had been responsive and almost chatty when they corresponded. "I was really impressed," Sandanayake said.
The robot takeover is proving lucrative: Elise AI, a New York start-up selling an AI platform that chats with tenants and apartment seekers, raised $35 million in Series C funding this past summer. The company claims that around 30,000 units across 250 buildings in the city, mostly with in-house leasing teams, use the platform, which doesn't just text and email — Elise AI recently debuted a voice product that responds to calls about apartment listings in an eerily human manner. (The company discloses up front that you're chatting with a bot.)
"Most folks don't realize they're speaking with an AI, so they say things like 'You should get a raise for responding to me so quickly in the middle of night,'" said Francesca Loftus, Elise's head of operations. "Our AI gets asked out on dates." Loftus noted that people usually communicate with Elise after work hours, between 9 p.m. and 1 a.m. — helping out the human agents who need sleep to live.
Rounding out the trend of companies creating fake women to sell you apartments, Douglas Elliman's Eklund-Gomes team last week debuted "Maya," a new ChatGPT-like AI assistant. They threw a party to announce her … birth?, which The Real Deal noted was a "culmination of almost two years of development backed by a hefty seven-figure investment." Chatting with Maya is more or less a standard customer-service exchange, except for the occasional flourish — such as her use of the word captivating — and the fact that she looks like an uncanny-valley Sephora ad. (Team co-founder John Gomes told The Real Deal, "No. 1, I think she's really beautiful. I say if you took all the members of the Eklund-Gomes team and we had a big orgy one night, Maya would be born.")
Is it unsettling on some level that a woman who doesn't eat, sleep, or exist is considered an ideal broker interface? Sure! But the AI revolution has an upside: Unlike many New York City brokers, she actually will get back to you. "I was also in touch with brokers for some Manhattan apartments, and my experience was not that good," Sandanayake said. "Sometimes I wouldn't get a response at all."