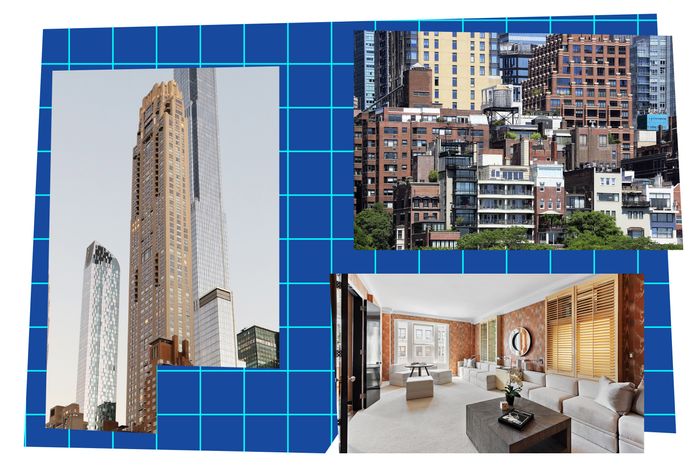 Photo-Illustration: Curbed; Photos: Gary Hershorn/Getty Images, Bruce Yuanyue Bi/Getty Images, Coldwell Banker Warburg
A monthly state of the housing market — the neighborhoods to watch (or avoid), the insanely expensive sales around town (plus the few unexpectedly affordable options), and the open houses that draw hundreds.
Better Luck in … Soho?
August is typically a quieter month for the real-estate market — everyone's on vacation, brokers hold sales listings until after Labor Day, and the status quo generally prevails. This year was no different. The rental market is also generally stuck in the post-pandemic holding pattern of record-high prices and too few units. Manhattan's median rental price is hovering at $4,400, the record high it hit in July, up from $4,100 in August of last year, according to Douglas Elliman. Brooklyn's median rental price dropped slightly, from $3,950 to $3,850, between July and August (still considerably higher than the median of $3,500 last August). Queens remained the most competitive borough last month, with more people making inquiries per listing than any other borough, according to StreetEasy. But you may have luck finding a place in Battery Park City or Soho — StreetEasy found that rental inventory increased 78 and 56 percent, respectively, there, year over year.
The sales market mostly held steady from the month before despite high interest rates, which Kenny Lee, a StreetEasy economist, attributes to the fact that most of the people buying are at the higher end of the market. The median asking price in Manhattan is close to $1.5 million, and in Brooklyn it's a record $1 million. While high interest rates would usually cause prices to come down, they've stayed high because of low inventory — August sales inventory in Manhattan was down 59 percent over the year before, according to Douglas Elliman, and nearly 50 percent in Brooklyn.
Co-op and condo contract signings were slightly up in August, following a sharp decline from June to July. And new-development condos continue to fetch most of their asking price, with new Brooklyn condos getting 99 percent of the original asking price, while Manhattan condos got 95.9 percent, according to StreetEasy. However, Manhattan condos ask for a lot more — the median ask for a Manhattan sponsor unit (which is owned by a developer or an investor) is $2.99 million, almost triple the ask in Brooklyn, where it's $1.055 million.
Neighborhood Report: Moving Out of Your Parents' House and Into … Midtown East
The commute is out and Midtown East returns. Renters have made this neighborhood one of their top searches since 2019, according to Streeteasy, except for a dip in 2021, in the midst of the pandemic. As companies continue to summon their employees back to the office, this stretch of midtown, which includes Kips Bay and Turtle Bay, maintained its No. 1 spot over the summer. "I think it means a lot to people who don't have to get on the subway every single day," says Aimee Becker, a broker at Sotheby's who also lives in Midtown East. She noted that many of her clients are young people starting their first office jobs that require them to come into work. "The thought of living with your parents up in Westchester is really not going to work," Becker says. "Especially when you're young and want to go out — that's not an option."
According to Richard Steinberg, a broker at Compass, he's seen even more inventory in the neighborhood as homeowners are having trouble selling their apartments and are renting them out to would-be buyers instead: "The people who were the ones buying two-bedroom, three-bedroom apartments — they're the ones who want close proximity to transportation." Melinda Sicari, a broker at Douglas Elliman, says that she's also recently seen more young people move to the neighborhood than previous years — many of them are fresh graduates and first-time renters — especially since the area is cheaper than downtown. "It's not just the office; they want to be back in the city for social reasons," Sicari says. But can Midtown East possibly be … fun? Becker moved there in 2021 and insists that it is. "Going out on a Saturday night in Midtown East used to be a joke," Becker says. "But now sometimes it's busier than downtown. Give it a try."
Open House Report: A Ticking Clock at Two Downtown Rentals
Specs: 1-Bed, 1-Bath
Price: $2,900/month
For Jamal Syed, the stakes are always high after Labor Day. As a broker for rentals around the East Village and Upper West Side, his clients tend to be students and postgrads looking around college campuses, where apartments usually flip over the summer. But this summer was slow, and some landlords were adjusting prices. Meanwhile, he was getting emails from renters asking for floor plans and video tours — cautiously shopping in a way they hadn't last year, when they'd sometimes sign a lease before he could take photos. "Because the rents are high, the consumers are doing their homework. They're thinking, If I'm going to pay a number like this, then I want to get the best possible bang for my buck," he says. For renters on a tight budget who wanted to stay in the East Village, 267 East 10th Street made sense: It's a one-bedroom but smallish, without a bedroom door, which was priced below a typical one-bedroom in the area. "I think for students going from a dorm room, that's a huge upgrade," says Syed. More than 250 users saved the listing on Streeteasy, and about 15 people actually showed up on a Friday evening, undeterred by a rainstorm — all "serious" renters, he says, who couldn't find much to pick over. The apartment has high ceilings and windows that face the 11th Street Community Garden: "The response was all positive." In the end, Syed had a few applications, enough to find a tenant and a backup. And with that, his last listing was out of his hands; though the same isn't true for other rental brokers who have listings lingering long enough to scare landlords. "Going from September into October, they start panicking," he says. "It's that time of year when the leverage shifts. The time to get a deal is now."
Specs: 1-Bed, 1-Bath
Price: $5,200/month
By Labor Day weekend, Monisha Rana thought she had both a tenant and a backup tenant for a one-bedroom on the third floor of a co-op building on East 9th Street, just blocks from Syed's listing, in Greenwich Village. There had been something of a bidding war when the unit was listed in July, and both tenants had offered over the original asking price of $5,300. "If you're familiar with the city, you know it's near everything amazing," says Rana. And in that coveted area, rentals tend to be in older buildings with dated kitchens and bathrooms, whereas this unit had been renovated a year earlier to include touches of delicious luxury, like a gleaming white kitchen with quartzite countertops and a bathroom with a rain shower and Carrara subway tile. Then, over Labor Day weekend, both tenants backed out: One needed more space; the other was called away from the city by work. "It was just this unfortunate thing," she says, and especially unfortunate because of the rotten timing: Most renters tend to snap up new spots in the summer, according to what she calls the "unsaid rule of cycles." Rana tried to hustle her way to a solution: dropping the asking price to $5,200 and scheduling an open house. Then came the rain, the thunder, and the cancellations. The listing isn't cursed — she's already booked showings this week and is planning another open house this Sunday. But the experience showed her that renters at this price point aren't throwing themselves at listings in desperation. "It feels like the rental market is softening compared to where we were a year ago," she says. "There's a lot more skepticism."
At the Highest End of the Market
220 Central Park South holds this year's record (so far).
Earlier this month, 220 Central Park South quietly notched the most expensive sale of the year so far, when a buyer — an LLC linked to the investment firm Nima Capital, according to the New York Times — paid $80 million for a duplex spanning the eighth and ninth floors of the 18-story villa portion of the development. (It also came with a studio in the main tower.) The limestone Robert A.M. Stern tower, developed by Vornado, has consistently dominated the trophy market for years. Since resales started in 2021, apartments have consistently traded for multiples of what they sold for just a few years before. Which, one broker pointed out, is not very common, not even in the trophy market. The other exception is 15 Central Park West, the first Stern limestone trophy tower bordering Central Park.
And while there are still a few months left in the year for a larger sale to close, a few weeks ago, The Wall Street Journal reported that one of the top contenders — a five-bedroom condo at 432 Park last asking $92 million (it started out at $135 million) — had gone into contract for far less, about $70 million. The seller, Mitch Julis of hedge fund Canyon Capital Advisors, paid about $59 million for the main apartment in 2016 but is selling the apartment with two studios and two storage units, so rather than doubling his money, he probably just about broke even. And that's not even factoring in the cost of the super-custom build-out Julis had done by Japanese architect Hiroshi Sugimoto, which includes cedar floors, a Japanese tearoom, and a permanent installation of bonsai trees.
Listings That Brokers Are Obsessed With (and Don't Represent)


Specs: 5-bed, 3.5-bath
Price: $3.95 million
Jane Katz, an agent at Coldwell Banker Warburg, says she's always on the lookout for big apartments in good locations. So when a five-bedroom co-op at 45 East 82nd came on the market, it caught her eye. "It's a grand prewar: big rooms, nice views, good flow, a great location, with the entrance on 82nd between Park and Madison, across the street from PS6," says Katz. "I think it's about 3,200 square feet."
A lot of older co-ops have blah views or bad light — she's sold a few — but this apartment is on the tenth floor, so it has good light and views. Also, the floor plan is lovely — "very gracious, with a separation of kitchen and public and private rooms," she says. "I happen not to like condos with one big open kitchen and you're falling into the living room, cutting up a raw chicken and everyone is watching you."
"This one has it all," she says. There's even a cedar closet. All it's missing is a fireplace. And, more crucially, a renovation. The apartment appears to have last had one in the 1980s (there are silver pillars and a mirrored ceiling), which is likely why no one has snapped it up yet. Buyers, especially at this price point — $3.95 million — don't want apartments they have to renovate. "This is just waiting for someone to take it and gut it and make it gorgeous," she says. "I wish I could do it myself. You'd live in it forever."
Specs: 7-bed, 7.5-bath
Price: $7 million
Eric Fleming, an associate broker at Corcoran, first saw 5020 Grosvenor Avenue, a 10,000-square-foot mansion in the Riverdale section of the Bronx, on a bike ride. He likes to climb hills on his rides, and this one is on quite a hill. In the 1920s, a Christian cult follower built another mansion on the site, according to the New York Post — chosen because it was the city's second-highest peak and therefore suitable for the Second Coming of Jesus.
The Neo-Georgian mansion that currently sits on the hilltop was built in 2012 and has seven bedrooms and seven-and-a-half baths. But what really impresses Fleming are the grounds: nearly an acre, in the Fieldston enclave of the neighborhood, with a car court, swimming pool, and three-car garage. "It's such a unique find," he says. "And $7 million barely gets you a townhouse in Manhattan." He lives in Westchester himself, but here, in Riverdale, you could have a Westchester-style home, an estate, really, less than a half hour from Manhattan. "That's the thing that really blows my mind," says Fleming.