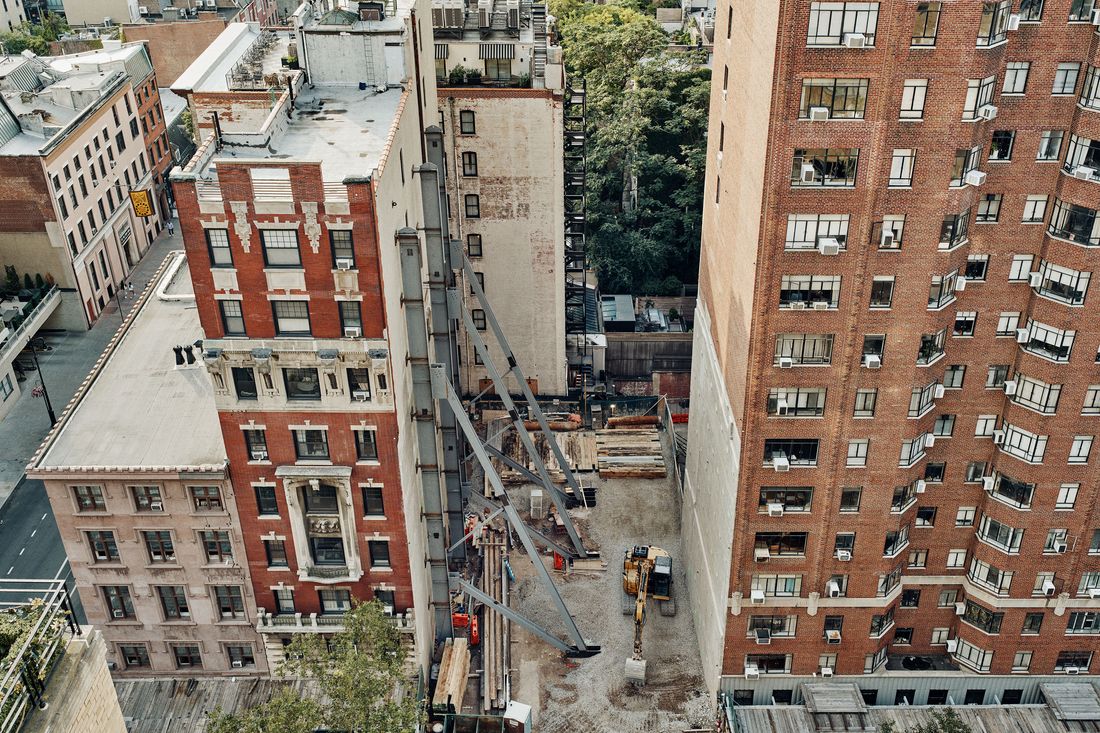 The first thing Patrick McMullan noticed was the door. It was February, and the photographer had just returned from a trip to find that the entrance to his Greenwich Village apartment had shifted so wildly that the door couldn't even latch and was hanging open. Walking inside, he found dust everywhere and a large crack running through the ceiling as if there had been an earthquake. He called his super, who told him, "You don't understand. The whole building moved."
While McMullan was away, the building next door, 10 Fifth Avenue, had been evacuated. The Department of Buildings found cracks running from the foundation to the parapet and a three-inch gap between it and 12 Fifth, McMullan's building. The city's initial complaint on the issues blamed "ongoing construction at 14 Fifth Avenue," where foundation work was being done for a 19-story luxury condo. The developer, Madison Realty Capital, was ordered by the DOB to hire an outside engineer and get to the bottom of things.
The entire block has been upended. The tenants of 10 Fifth, a building that dates back to the mid-19th century, were given two-week hotel stays paid for by Madison Realty Capital and the building's four rent-regulated tenants were reportedly given the option of paying $1 month to maintain their tenancies. (They're still waiting for word that they can return, though city says structural repairs on 10 Fifth are near completion.) But inspectors assured McMullan and the other tenants at 12 Fifth that their building wasn't in any danger of falling down, it was merely crooked. Friends advised him to leave until construction was over. Instead, he got the super to realign his door and resigned himself to the situation. "I've lived here for 45 years, three-fourths of my life," he says. "It was my college apartment. I'm just going to see what happens."
The condo tower, located in the Greenwich Village Historic District, was controversial even before 10 Fifth cracked. It replaced two townhouses from the 1800s that had been combined into a single building with 19 apartments, a mix of market-rate and rent-regulated units. (The three other buildings on the block also have a number of rent-regulated units, where tenants pay a fraction of what market-rate units in the buildings go for — one-bedrooms at 20 Fifth rent for upward of $7,000.) The condo tower, designed by Robert A.M. Stern, narrowly won a 6-5 vote for Landmarks Approval and is nearly four times the height of the old townhouses, but slated to have just 14 apartments. All told, the development that upended their block —displacing some neighbors and leaving the rest to live in what had turned into a massive construction site — would represent a net loss of housing. And while the old townhouses were long ago stripped of their significant architectural features, the development replacing them doesn't strike everyone as an improvement. "Stern is — no offense — but he's kind of cookie cutter now," a resident of 20 Fifth Avenue, a brick building that abuts the construction site on the other side, tells me. "It looks like a Holiday Inn. After a while they're all kind of the same."

Andrew Berman, the executive director of Village Preservation, says that cracks and structural damage have become more common as people embark on ever more ambitious renovations in historic districts and replace townhouses with towers. (Last year 14 Gay Street, a townhouse in the village, was so badly compromised by work on its own foundation that it had to be razed.)
What exactly caused the structural issues on the block is still under investigation, but all the residents I spoke with brought up Minetta Creek, which runs below the construction site, according to the Village Sun, and might, presumably, cause additional vulnerabilities and complications. Madison Realty Capital had contractors running support piles deep into the earth — which the DOB called "deep foundations" — when 10 started cracking, according to residents. "They were just drilling and drilling for months," said one. Madison had vibration and optical monitors installed in 10 and 12, as required by DOB, which had not detected movement leading up to the day the cracks emerged. Residents say they felt plenty, though. "The building was vibrating so much it was jumping up and down," a tenant in 12 tells me.
One of her neighbors at 20, which has not suffered damage, though residents say they're concerned about what will happen when construction resumes, summed up her feelings about the matter as "anger and mistrust." Also, she added, she missed the Pain Quotidien in the bottom of 10, which was evacuated along with all the other tenants. "It was our neighborhood hang out."
Recently, workers have started shoring up the side of 12 Fifth with huge, temporary steel supports, which has made some residents feel better. But a tenant I spoke with at 20 found the support beams "more unsettling than anything," adding, "Does that mean 12 is not okay? I don't think the building is going to come toppling into 20, but I don't feel confident they're taking appropriate precautions." (A partial stop-work order is currently in effect for the luxury development, but construction is expected to resume at the end of the month.)
Unnerved though they may be, no long term tenants are leaving. Because really, where else could they go? "I don't want to leave my apartment, it would break my heart. My whole life is here," says McMullan. "People ask me 'Are you going to leave?' Of course I'm going to stay." And for many, the rental market is more frightening than the construction next door.  "If we have to move you're not going to find anything in this neighborhood," one told me. You're not even going to find anything in Queens." A friend of hers who was evacuated from 10 Fifth stayed with friends in the city for a while, then moved in with her sister on Long Island. Last she heard she was still looking for a sublet.