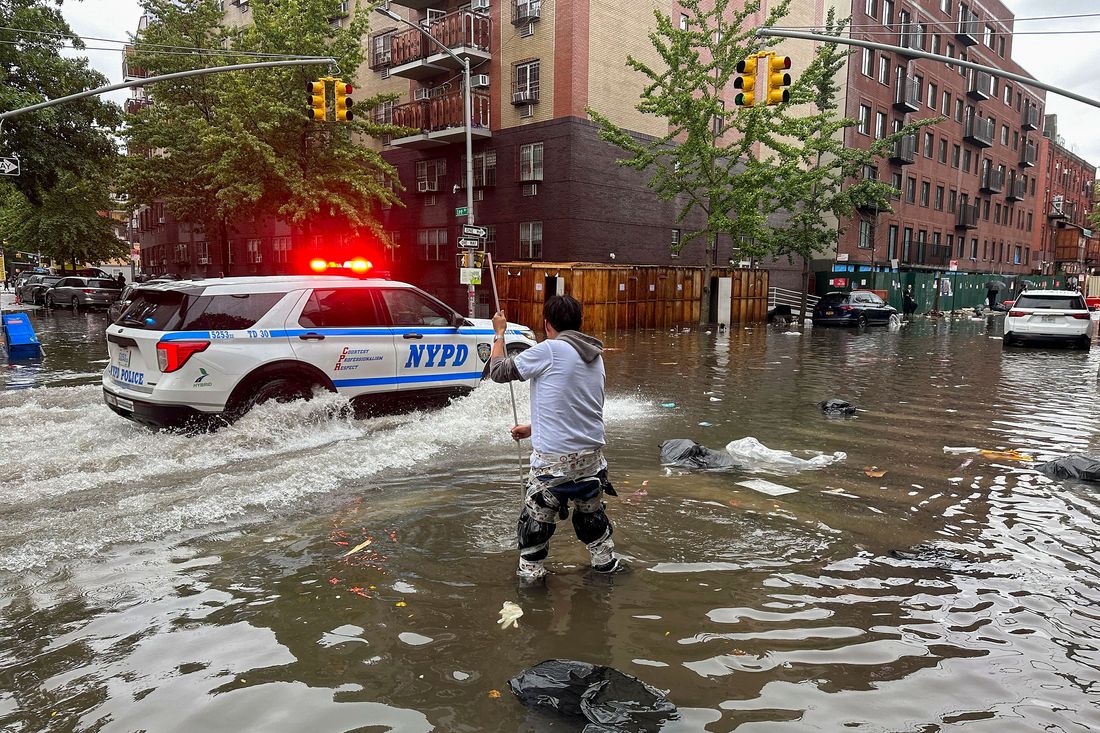 Photo: Jake Offenhartz/AP
There were threats of flash floods across the city on Friday; cars drove through small rivers, and JFK had already reported three inches by mid-morning. "We urge New Yorkers to prepare for heavy rain and potential flooding throughout Friday and Saturday morning," NYC Emergency Management commissioner Zach Iscol said Thursday night. (Meanwhile, flash-flood phone alerts went off long after most people had already left for work and school.) The MTA warned of "major disruptions," and they were right.
Some migrants were kicked out on the streets today
When the water finally drains out of basements and parlor floor apartments, it's time to bring out the bleach and start scrubbing the gunk away. But for those without permanent homes, like the thousands of migrants staying in provisional shelters, today was a reminder of just how temporary their place in the city is. As The City reported, some men had to leave a shelter in Brooklyn because they had reached the 60-day limit the city began to impose in July (the new limit is 30 days); one man even said his stay didn't expire until Saturday, but was asked to leave anyway.
For those living in the vast tent shelters outside Creedmoor Psychiatric Center in Queens and on Randall's Island, the tents were predictably leaky.
As South Bronx Mutual Aid shared online, many had to resort to using garbage bags to protect their things from the water dripping on their cots and coming up from the ground.
It's easy, in the absence of torrential rain, to think, Good, I can still go out tonight. However, New York's flash-flood warning is still in place until 6 a.m. Saturday. It just might keep raining. Roadways are still blocked, the subway is a tangle of delays and rerouted lines (still no G running at all), and everyone trying to get in or out of Manhattan is in surge-pricing hell. But a lot more people also work from home on Friday; as Hochul herself said an hour ago, that was a good thing on a day like today.
We're now on track to set a new record for the most rain on a calendar day since 1948.
New York City is … on fire?
Among the sights one might expect during a flash flood — floating trash bags, gushing toilets, subway-station waterfalls — random street fires might not be high on the list. And yet, several are popping up throughout the city, most of which appear to be manhole fires.
"I saw all the smoke outside my window, and all these firetrucks, so I thought an apartment was on fire," said Will Anderson, a Bed-Stuy resident who observed one on Greene Avenue. "When I saw it was on the street, me and my friend went and got breakfast in case it exploded." Anderson shared this video he shot with Curbed:
When they returned, the fire was still burning, with smoke pouring out of another hole down the street. In total, Anderson says the fire burned for as long as four hours. What were firefighters doing? Apparently, they observed it for several hours before hosing down the flames. Across the city, others documented their own local manhole emergencies.
Manhole fires are not uncommon, but they usually happen in winter because of wear and tear on electrical infrastructure. When rain or melted snow mix with the salt used to melt ice on the roads, that mixture seeps into manholes and can corrode the wiring buried below. Those wires can then release smoke and gasses that end up igniting. In extreme cases, the explosion can be powerful enough to flip a car. Today's rainfall, mixed with chemicals and runoff from the street, may have done just enough additional damage to start a rash of fires today. Just be careful; as The City reported, Con Edison, which services many of the city's manholes, "regularly fights off injury lawsuits" related to those explosions.
Unrelatedly, there's also this flaming can floating down a stream of water on the tracks at the Meserole Avenue subway station.
Sea lion briefly roams free
A sea lion at the Central Park Zoo managed to swim out of her pool today after the entire plaza around her enclosure flooded. The Wildlife Conservation Society, which oversees the zoo, released a statement that she had not quite achieved the classic fantasy plot of breaking out of the zoo entirely, noting, "Zoo staff monitored the sea lion as she explored the area before returning to the familiar surroundings of the pool and the company of the other two sea lions." Since then, the water has receded, and the animals are back in their exhibit.
The Bethesda Fountain also flooded, and its overflow merged with the lake nearby.
Where in the world was Eric Adams?
All Friday morning, our up-all-night, Get-Stuff-Done mayor was nowhere to be found. He finally showed up at a press conference shortly before noon with Governor Hochul, hours after the flash flooding had begun. It would have been better if he had perhaps warned New Yorkers some time before — last night, for instance — and made some timely decisions about what to do about the commute and schools before everyone got stranded wading through the oily waters.
From Intelligencer:
This is the second time Adams has reacted sluggishly to a weather event in a few months. When heavy smoke from Canadian wildfires blanketed the city in June, it took him more than 24 hours to hold a press conference. Though, to be fair to him, failing to respond to natural disasters in a timely manner is a grand mayoral tradition that stretches back through de Blasio, Bloomberg, John Lindsay, and probably all the way to the 17th century.
Maybe try Housing Works instead
Empire Cannabis Club's Lower East Side location is closed today "due to weather," according to the store's Instagram Stories. This photo, from reader Cara Schacter, raises more questions than it answers, though:
We've reached out to Empire Cannabis Club and will update if we hear anything more.
Commuter rail cannot save us right now
Those trying to leave this mess on Metro-North at Grand Central don't have that option; service on the Harlem, Hudson, and New Haven lines is suspended. Updates are here on the MTA's Metro-North website.
Manhattan Borough President Mark Levine is suggesting going up to the Bronx subway stations that connect to Metro-North instead.
For LIRR riders, part of the Far Rockaway branch has been suspended and there are delays on the Port Jefferson branch.
Those planning to travel on Amtrak out of New York City can currently expect delays of up to an hour. Updates can be found here.
Hurricane Ida hot spots are flooding again
Many neighborhoods hit hardest by Hurricane Ida are having flashbacks to that day. An open-source flood tracker is showing reports from Bushwick, South Williamsburg, Jamaica, and parts of the Bronx. Since Ida, the city has been updating the sewer infrastructure in Jamaica, Hollis, Queens Village, and Springfield Gardens, among other neighborhoods in eastern and southern Queens, but it doesn't seem to have been enough for today's rain. Some homeowners are having major déjà vu.
Many basement tenants and homeowners were busy bailing out the water that had surged in.
Call ahead if you've got a booster scheduled
Chain pharmacies have been canceling appointments at random over the last two weeks, either due to shortages or other errors, so you might want to check in with Walgreens about that 3 p.m. COVID-booster-flu combination appointment. We've put in calls to ask about honoring appointments during the flood watch and will update as we know more.
City students are sheltering in place
With schools still open and subway lines down, kids who went in today are now very stuck. Mayor Adams issued a "shelter in place" at the city's public schools until dismissal. As Gothamist reported, 150 out of 1,400 schools have been flooded, and pumps have been sent to at least 15 of them to remove the water. There are reports of toilets overflowing and children in basement classrooms being sent to higher ground. "All of our schools are open. We are actively monitoring the situation across all our buildings," Schools Chancellor David Banks said.
From The Cut:
More than six inches of rain have fallen here since midnight, about 150 schools have experienced flooding, and at least one Brooklyn school had to evacuate. Kids who did make it to school are now soaking wet, some of them crammed into classrooms on higher floors to avoid the flooded lower levels.
Meanwhile, parents are trying to figure out how to safely get their kids home:
Where do you think you're going?
Every line of the subway system appears to be affected by the rain, and only running in small sections, especially for large swaths of Brooklyn. Power shutdowns on the subway lines are also affecting connections between the three boroughs. We wrote about this last year: The waterfalls and lakes that form in our subway stations after rain events have unfortunately become our new normal.
6 train riders in the Bronx are advised to just take the bus.
Major airport delays and flooding
Just one day after a NASA study showed that La Guardia Airport is sinking faster than other sites in the city and increasing its flood risks, it looks like today's rain has flooded terminals there, where flights are currently delayed by an hour. Terminal A is currently closed, and the FAA said that the "fuel farm" and the Marine Air Terminal are also closed due to flooding. Flights into JFK are delayed by three hours.
Here are some scenes across the city right now
And an encapsulation of the New York mood