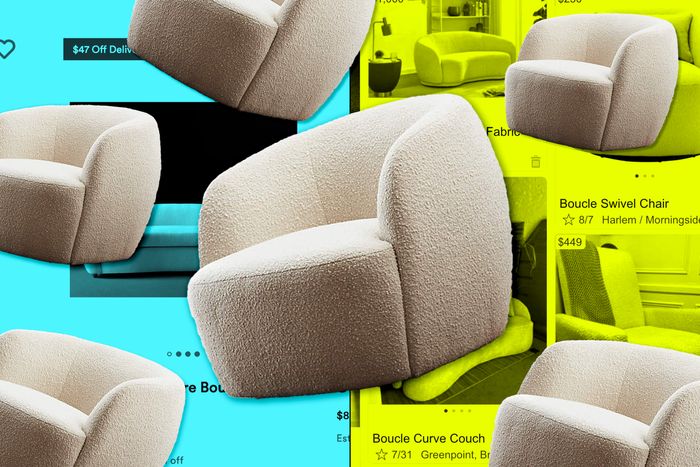 Photo-Illustration: Curbed; Photos: AptDeco, CB2, Craigslist
A colleague deep in her search for a bedroom chair has run into an unexpected problem: Everything on the resale sites right now is bouclé. Craigslist, Kaiyo, and AptDeco have each become an endless scroll of what would happen if wool and textured linen had a fabric baby, always in shades of cream or soft beige. She didn't want a bouclé chair, but the deluge was noticeable enough to raise the question: Are people abandoning their bouclé?
Of the home-décor trends that have taken over in recent years, few have been as inescapable as bouclé. The fabric first gained a following in the late 1940s, when architect Eero Saarinen used it to upholster his iconic Womb Chair. That chair came to be after designer Florence Knoll reportedly asked Saarinen to create a piece of furniture that she could "really curl up in." Saarinen took the assignment literally — "bouclé" comes from the French word that means "loop" or "curl." In the 1960s, bouclé snuck its way into fashion with the Coco Chanel jacket and Jackie Kennedy's pink Chanel suit. Though bouclé clothing has remained a Chanel staple, with a presence in the brand's 2023 autumn-winter collection, it hasn't reached the same cultural ubiquity as bouclé furniture.
Patient zero of its recent interior resurgence seems to be Gwyneth Paltrow's ivory bouclé swivel chair, which she designed in collaboration with Crate & Barrel's high-end offshoot CB2. Per its product description, Gwyneth Paltrow said the bouclé chair is "proof that things don't have to be cold and hard to be chic." However, it seems they do still have to be expensive — the CB2 bouclé accent chair is a whopping $999. Though the chair launched in 2018, it remains among the site's best sellers and has inspired an influx of more affordable Goop chair dupes in the years since. Now, you can find bouclé chairs at Walmart, Wayfair, Urban Outfitters, Target, Kmart, and Aldi — yes, like the grocery chain — at a fraction of the original chair's price.
In 2020, as the Goop chair gained ubiquity, Architectural Digest declared that bouclé was officially back. Soon there were bouclé sofas, barstools, and benches. Everything from bed frames to storage containers to footstools all came clad in the looped upholstery. There was bouclé for babies and bouclé for dogs, bouclé for Kardashians, models, and Kaia Gerber. Could bouclé cleanse your aura and clear your acne? Probably. In 2021, designer Jonathan Adler told Home and Gardens he's covering "everything — sofas, chairs, my husband, my dog — in an ivory bouclé."
The bouclé run of the last few years can't be dissected without mention of the bubble silhouette. Saarinen's womb chair — meant to mimic its biological namesake with a cozy, basketlike shape — was kid stuff. As comfy aesthetic has evolved, shifting from the celebrity-beloved cloud couch to furniture with a bit more structure, bouclé was a natural fit. The fabric lends itself to curved, sculptural pieces, like the bulbous couches and curved ottomans you've seen all over every stylish celeb's feed or influencer's apartment reveal.
Now, five years after the debut of Gwyneth's CB2 chair, its omnipresence has shifted to the resale market, where you can find slightly affordable options regardless of where you live. (Emphasis on "slightly." While pieces like this Moroso bouclé chair list for 50 percent off, you'll still be shelling out $2,100.) There are other signs of decline, or at least fatigue: Interior decorators on TikTok are saying that bouclé is overused and going away seemingly as often as others are calling it timeless. Some designers have predicted a shift from soft, neutral bouclé to bolder, colorful bouclé. (If nothing else, darker bouclé won't show stains quite as easily.)
But you know who's still bullish on textured neutrals? Gwyneth Paltrow. As she continues to lean into curved furniture and cozy interiors, it appears her affinity for bouclé was sincere. Like the vagina candle and other Goop offerings, you can like it or hate it, but you can't say Paltrow doesn't believe in what she's selling.