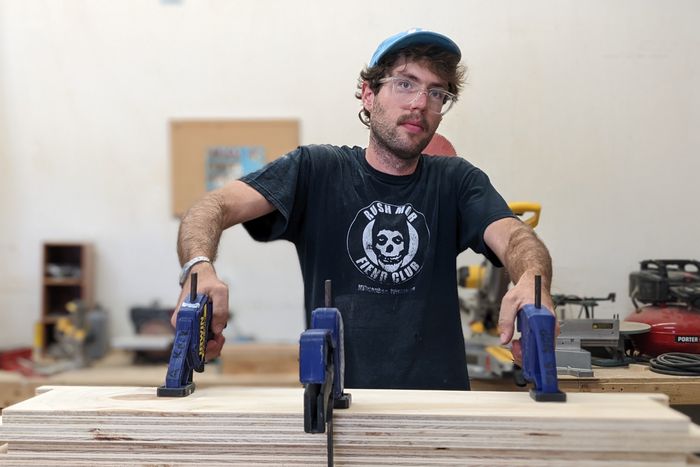 Andrew Keck is a prop fabricator who co-founded the custom prop studio the Fabrication Shop. The strikes shut down his day job as a fabricator for
Saturday Night Live
and he has been spending time making custom furniture.
Photo: Graci Mills
Beth Kushnick is a Hollywood set decorator at the height of her powers; she has spent 39 years directing teams as big as 25 to plump cushions on The Good Wife or darken the satanic corridors of Insidious: The Red Door. But last week, she had just one assistant and a more banal challenge: staging a condo in Dumbo. Still, there were similarities. "On a film set, the camera is seeing what I put out. But in staging," she said, "I am the camera; I'm trying to direct a buyer's eye: Don't look out that window, look over here. Focus on the linens, focus on that view, focus on this color I've been repeating."
Kushnick hasn't been on a Hollywood set since the Writers Guild of America went on strike in May. So when her friend from theater school, the broker Charlie Homet, reached out with a gig, she happened to be free. Homet was delighted. He'd just started his own brokerage and wanted to do things differently. In school he had studied acting; now he applies that training in what he calls the "performative aspects" of real estate. He'd grown sick of staging companies that replaced unique furniture with the same boring sofas as every other listing (a particular toy giraffe he sees in nurseries irks him). "There was a generic quality," he said. "Upscale, but beige." Kushnick didn't do beige. At the Dumbo condo, she painted an entryway Aegean teal — covering even the ceiling to achieve a distinctive "jewel-box" quality. She thought of visitors as moviegoers who might gab after the credits: "You want the viewer to have something to say."
Along with decorators, other New Yorkers who design, build, furnish, and paint the fictional worlds of Hollywood have been pushed off sets by the strikes and forced to build for the rest of us — seizing opportunities at a moment when contractors are struggling to find skilled laborers, and real-estate agents are fighting for the attention of a smaller pool of buyers. Scenic painters who once added "Disney dirt" to make walls look old are now working on actual old walls, prop fabricators who built mechanical dolls are now building folding desks, and the warehouses that once supplied set decorators and prop masters with furniture are, in this lull, selling to the masses.
There's a lot of crossover and a few awkward differences. When the actors went on strike, shutting down the new Timothée Chalamet movie about Bob Dylan, Carter, a prop assistant, who prefers to go by just his first name, had worked one day. He considered applying for work the normal way — online — but realized he didn't have the résumé. "How do I convince people I have ten years of experience in building, when my résumé is just a bunch of movies?" he said. So he got a job by word of mouth: A colleague had learned about a severe housing shortage in Montana that made workers there valuable, and knew a master builder who was looking for hired hands. They could camp out while building a home. "I was like, 'I have a car and the month of August free,'" Carter said. "'I could do it.'" He could drive a forklift, use a nail gun, and build almost anything. But there was a difference in working styles between him and the rest of the crew. "I am, visually, a bit of a perfectionist. I want it to look good when I build something," he said, and found himself lining up 2x4s for a frame. "These guys were like, 'Everything you're doing is going to be covered behind plywood tomorrow.'" There was another difference: Working on a film set had been considered a "prestigious job," Carter said — something to talk about at a party or highlight on a résumé. Even though the work was similar, construction felt different: "There's not really any respect that comes with that job."
And with less respect comes less pay. As a prop fabricator, Andrew Keck doesn't usually need what he builds to actually work; he has burnished his reputation by making things that don't exist — and maybe shouldn't, like an "inflatable toilet" for SNL, a "soul-sucking device" for an indie horror, and a vinyl record that the comedian Ilana Glazer could pretend to bite through. But on a recent Monday at the business he runs, The Fabrication Shop, Keck found himself at work on more practical objects: a seven-foot-long custom oak desk and an oak radiator cover — some of the custom furniture orders he has been taking since the strikes. But it isn't adding up in his bank account: He was being undercut on some bids by contractors willing to skip a coat of lacquer or build with particleboard. Like Carter, he has had a hard time lowering his standards. "Just for me, it has to be the highest caliber," he said. So he spends too much money on wood and too much time on paint. "I've gotten in trouble, kind of overcommitting myself," he said. Between coats of white primer, he took a phone call from a client who wants help building a pop-up shop. He told them he could probably do it. "I'm expecting this fall to actually be busy for me," he said. "Which is crazy."
Matt Hennessy is not busy. On a typical day, before the strikes, his 64,000-square-foot warehouse of props gets about 22 orders for its cribs and trophies, busts and candelabras, globes and fire screens, desks and brass skulls, filing cabinets and velvet ropes, ice buckets and Persian rugs. But lately, he's been getting about four to five orders a day, which mostly come from what was once the thinnest slice of his business: people organizing events or shoots for fashion spreads and advertisements. "We thought COVID was going to be the worst year, right? To have this be the worst year since you started a business in 2006 — it's a little bit surprising," he said. Bridge Props was doing so well that it expanded, with locations in Atlanta and Los Angeles. Now, Hennessy doesn't want to lay off any employees — whom he'll need the second the strike ends. So the warehouse is throwing its very first sale, clearing out inventory that isn't as popular — like a muscular bull and a landline phone that looks like it might have outfitted a desk on Succession or Billions; throw pillows and makeup mirrors that give off a kind of dated, '90s idea of glam; and the blown-glass vases that might have once made a set feel like a beach house but now seem vaguely Pier 1. "We're not just for the trades anymore," he said. "If your mother in Brooklyn wants to buy, she can."
Kushnick, the set decorator, is terrified by the idea that Bridge Props and her other regular sources are having a hard time. She relies on a photographic memory of their inventory to be able to solve problems on set, and this month, she even got a call from a customer-service rep at the megaretailer Wayfair, asking her where her business went. "I said, 'I went bye-bye with the strikes.' For a company like Wayfair to notice I'm missing? It's a lot." In her new gig as a stager, she's been renting less, trying to work with what a client already has. It's a different kind of challenge. On film sets, she makes sure to fill the pantries of fake kitchens and the drawers of prop desks — giving the actors more to work with. When she's staging, she's decluttering. "I can say to a homeowner, 'You've got to go clean up your kitchen,'" she said. "The character always exists, and I'm either tamping it up or tamping it down."