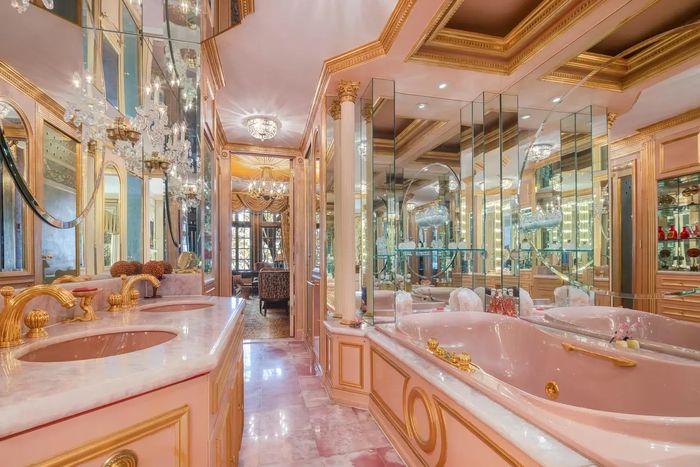 Listing photo of Ivana Trump's Pepto-colored bathroom that reflects the hard-to-sell style of her townhouse, which just got a price drop.
Photo: Douglas Elliman Real Estate
It seems no one wants to buy Ivana Trump's townhouse. The five-story home at 10 East 64th Street where Trump lived (and died, by falling down the stairs) has been on the market for almost a year and just had its price reduced from $26.5 million to $22.5 million this month. "My mom absolutely loved that house," Eric Trump told the The Wall Street Journal last year. So far, she's the only one.
Ivana bought the place for $2.5 million in 1992, the same year her divorce from Donald Trump was finalized. The limestone five-bed, five-bath is a short walk to Central Park, but the interiors are decidedly Versailles on amphetamines. Over the years, she filled it with leopard print, red carpet, crystal chandeliers, ornate gold upholstery, and a Pepto-pink marble bathroom; she described one living room in her 2017 book Raising Trump as "how Louis XVI would have lived if he had had money." One library has a portrait of leopards that hangs above a leopard-print couch and a leopard-print ottoman, both of which sit atop a leopard-print rug. The dining room features the kind of gold upholstered chairs one might have found in a hotel ballroom in 1990 and a gold-embossed fireplace. It's a look that has proved hard to sell. Last year, when the listing first went up, a prominent East Side broker told Curbed the 8,725-square-foot Lenox Hill listing was overpriced. "It needs a total renovation," he said. "I think it will sell for $17 million or $18 million." Garish décor aside (which can be negotiated with the sale in the unlikely event that anyone should want it), the 17 rooms lack one significant — and costly — amenity: a full-size kitchen. (Ivana made do with two galley kitchens.)
While the housing market continues to cool for mere mortals, luxury sales in Manhattan heated up over the summer. But that doesn't mean high-end buyers will throw money at just anything. ("They're still spending money on good digs," the president of one brokerage told the Journal.) Maybe it doesn't help that 10 East 64th's current claim to fame is its former owner's untimely death. Or the fact that all three of her children with Donald Trump reached puberty inside its walls.