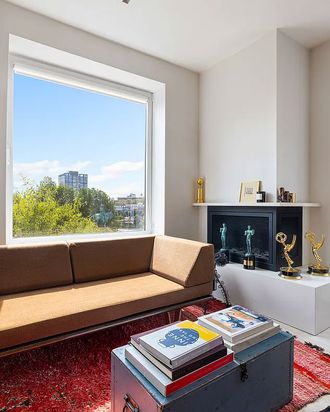 Five awards — two Emmys, two Screen Actors Guild awards, and a Golden Globe — showed up in a listing photo of a Williamsburg three-bedroom condo, begging the question: What famous actor was selling?
Photo: Compass
The listing for the white-walled, three-bedroom condo in Williamsburg advertised for $1.899 million seemed to show the usual: plenty of teak mid-century furniture, jewel-toned velvet couches, and subway tile. But what was that glimmering from a corner fireplace? An eagle-eyed former colleague of ours, Casey Lewis, spotted five statuettes: two Emmys, two SAG awards, and, atop the mantle, a Golden Globe.
It's not that unusual for a handful of Emmys to appear in a New York apartment listing; the city is the capital of television news, and producers across town have handfuls of the easier-to-grab News & Documentary Awards. But the SAG and Golden-Globe trophies are definitely a bit more unusual. The deed to the apartment didn't give away the owner: It was credited to Matthew Spangler, the former CMO of Compass, who signed on behalf of the Olfert Trust. Olfert? Google didn't have any clues for a rich family with the last name of Olfert, and as for actors, no one with that name has achieved that level of fame.
But perhaps just as telling as the bundle of awards was a bedroom stuffed with three baby cribs. That seemed to hint at a family with three actual small children (and a reminder that if Golden Globe winners have to squeeze all their kids into a single bedroom, then it's hopeless for the rest of us). At least one of their names seemed to poke out from the top of a bureau in the same room, on a toy that spelled out A G A T H E. While "Agatha" is the more common version of that name in the U.S., in Denmark, it's Agathe. More clues in the nursery pointed to Denmark: A kids book on a shelf was titled Kom Frit Frem, a popular Danish pop-up book series. In the living area, a poster above the play kitchen spelled out "Teatret," the Danish word for "theater."
It seemed like this might be the home of a Danish actor, or maybe an actor married to a Danish person. Our colleagues at Vulture pointed out that Jeremy Strong, the broody actor who made a name for himself as heir-apparent Kendall Roy in HBO's Succession, is married to a psychiatrist from Denmark, Emma Wall. The couple has three children named Agathe, Ingrid, and Clara. A closer look at the top shelf in the nursery showed the tops of the letters "I N G" below a bouquet of yellow flowers. Ingrid!
This seemed to clinch it. But if this was Strong's apartment, the actor only has one acting Emmy, a 2020 award for Lead Actor in a Drama Series. Why were there two trophies? Well, Succession won the award this year for Outstanding Drama Series. When I worked at VICE and we won a similar Emmy — for Outstanding Newscast— almost everyone on our staff, including lowly me, got a trophy. A producer who kindly credited Strong with helping make the show could have added his name to the list of award winners.
This certainly seems like Strong's apartment. And a colleague who lives nearby said she had seen him in the street. But has he ever shared photos from inside? A video Strong shot for Rolling Stone against an exposed brick wall with a white finish matches what's behind the headboard in both the primary and guest bedrooms. He'd been posting from bed. Classic.
My colleague at Curbed went back to the paperwork for the house. Below Spangler's name on an affidavit, another name had been crossed out: It spelled out Emma Wall. And the trust the couple set up with the name Olfert could have been a private in-joke. In Danish, the name means "wedgie." Or maybe they were using Olfert in its Old English use, to mean a "river that can be crossed by wading" — a fitting metaphor for taking the major step of buying a home — or selling one.