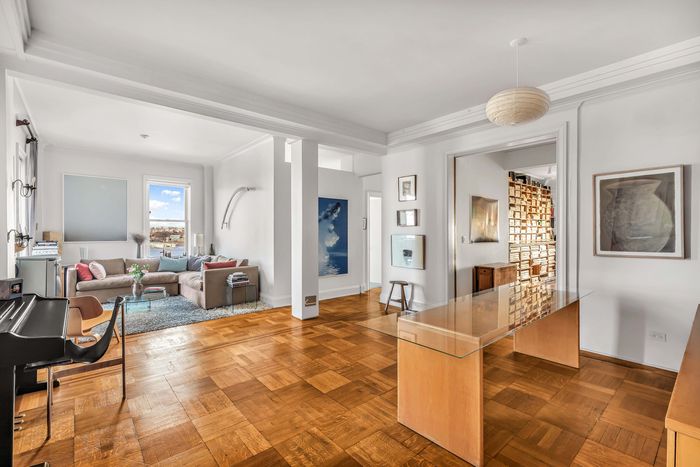 An Upper West Side apartment served the photographer Joel Meyerowitz through many transformations: family man, bachelor, and archivist of his own work, which for 58 years has been stored in what was once a formal dining room, its shelves visible through the door on the right.
Photo: Eitan Gamliely/EITANPHOTOGRAPHY
For 61 years, Joel Meyerowitz has shot moody photographs that have been shown in more than 350 exhibitions and collected in 51 books. And for 58 of those years, those photographs and their negatives have been stored in an apartment on the 11th floor of a 76-unit prewar building at the corner of West End Avenue and 100th Street. He didn't initially rent the apartment for this particular use. It just happened.
He arrived at 817 West End Avenue in 1965, the year of his first solo gallery exhibition. He'd been working as the superintendent for a townhouse on 77th Street to save on rent, "but I had to kill the cockroaches in the apartments below, and I had to change the garbage." That wasted time at a point when he needed it: He had a new career and a new family. This apartment was $190, pricey at the time, but it was big — almost 2,000 square feet, with a formal dining room and three bedrooms, enough space for his two small children. He turned a room and a bath once designed for a maid into a darkroom, developing photos in a homemade tub. When the building went condo, the Meyerowitzes bought. When they divorced, his archive crept its way into the edges of the bachelor pad. But in 1990, he started dating Maggie Barrett, a novelist, painter, therapist, and a woman who is, in many ways, Meyerowitz's opposite.
"There was nothing about the apartment that charmed me," Barrett said. "It didn't feel like me at all." Old oak doors were covered in layers of paint. The place felt waterlogged by a past that did not include her. She tugged Meyerowitz to a new spot in the West Village where they could both start over. But the artist who saved every negative he ever exposed was loath to give up his home of 28 years. Instead, the apartment remained an archive, with sometimes as many as seven staffers trudging in and out. (All hands were on deck after September 11, 2001, as Meyerowitz staked out Ground Zero, shooting multiple rolls every day that got distributed to newspapers and, eventually, history books.)
It wasn't until the belt-tightening of 2008 that the couple considered the flagrant expense of a second apartment. Couldn't they turn the old place into a home where they could live and work? They moved back uptown, separating the office from the living space with an ingenious door that closes flush against the entryway hall. When it's closed, a visitor wouldn't know anyone lived on the other side. When it's open, guests are drawn into the great room and its views across roofs and the Hudson. "The thing that everybody remarks on when they come into that space is not only the light, but a sense of peace," Barrett says. When the sun sets, the great room is "like a Mark Rothko painting," she said. "It's absolutely gorgeous."
Other changes were less obvious: A smaller central bedroom was soundproofed so Barrett could continue to work as a therapist. She opened up the kitchen and, unable to imagine living without a fireplace, added one that runs on gas. Original molding was painstakingly adjusted or re-created. She pledged, when they moved in, that it would be their last move. "And here we are, two moves later," she said.
First there was Tuscany, then a pied-à-terre in London, near where Barrett grew up, that has since become their home. "Life in London is very community-oriented, very soft and sweet," Meyerowitz said. "It doesn't have the edgy, jagged qualities of New York." From a Bronx native who has flung himself on the city's jagged edges, the statement counts as heresy; he knows that. But he had changed. "I suddenly felt there's wisdom in Maggie's approach, letting go. We don't want to be burdened by having to drag along the husk of past lives."
The artist went silent for a minute and perked up again when he landed on a visual metaphor. "Letting go of this apartment is like taking the shell off of an old turtle, giving it a kick in the ass, and saying, 'Okay, go for a swim. See how you feel naked.'"