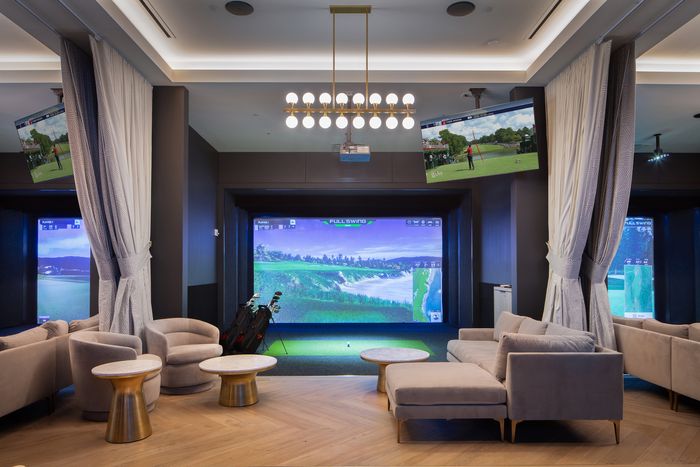 Photo: Courtesy of T-Squared
Justin Timberlake and Tiger Woods were playing golf at a resort they are part co-owners of in the Bahamas (which Sam Bankman-Fried loved) when, apparently, they took a few seconds to look at the things in front of them and inspiration struck. "Justin and I thought it would be cool to create a place that combines our favorite things and brings people together," Woods said in a release. Those favorite things are golf and themselves, so they opened a "golf-infused" sports bar on Wednesday in midtown called T-Squared Social. (Don't overthink it — Timberlake and Tiger both start with a T).
Located in the gray zone of 42nd and Madison, T-Squared is a place to burn some time if you're waiting for your train at Grand Central. The 22,000-square-foot space, which takes up an entire city block, is filled with golf simulators, bowling lanes, dart boards, a restaurant, and a bar. If you've ever been stressed that you might have to actually talk to someone else because there's no television in sight, worry no more — T-Squared comes with 38 high-definition screens blaring at you from all angles. It also houses a 200-inch screen, which has the distinction of being the largest indoor flat-screen television in New York City. (That's 14.14 inches of television-squared.) Congrats!
The concept of golf has very literally been integrated into the design of T-Squared, with golf bags hung up as wall decor and golf bags strung through velvet ropes that circle a seating area. (I'm no golf architect, but there seem to be some lost opportunities to expand beyond the bags themselves.) For those less interested in golf, the concept of Woods and Timberlake is also integrated into the space, with framed photos of them and a few of Justin's albums hanging up. So there's something for everyone — as long as you're a Woods and Timberlake fan.