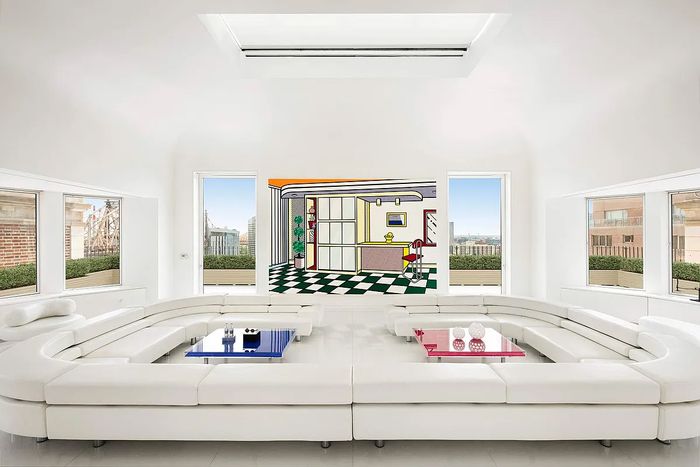 A 2023 photo of the living room showcasing the gallerylike white lacquered walls. Nearly identical photos were used in the two prior listings.
Photo: StreetEasy
When the fashion designer Lisa Perry put her penthouse at 1 Sutton Place on the market in 2020, the modernist showpiece received fawning write-ups in the design press. Dwell swooned over the "flamboyant" skyline residence "lined in Pop Art," while Architectural Digest called the stark white walls and flashes of primary color "a hallmark of Perry's aesthetic." But the apartment, listed for $45 million, didn't sell. (Maybe it would have helped to throw in the Lichtenstein nestled between the living-room windows?) It came back on the market to a more muted reception in June 2022, asking $37.5 million, but there weren't any takers then, either.
A few weeks ago, it was quietly relisted a third time, with Sotheby's Serena Boardman, at the considerably lower price of $26 million. Photos of Perry's playful living room and fabulous art collection have been featured in all three listings in a very similar fashion. But of course, the collection the apartment was designed to showcase won't be included. "I think the price now is probably much more realistic," says one broker. "It's a beautiful apartment, but I don't know that it ever would have traded for $45 million."
Even $26 million may be optimistic. It's a difficult market at the moment, and buyers are obsessed with comps, as the brokers I spoke with stressed. The old good co-ops, "incredibly boned" though they are, don't command the premium they once did. "Look," one broker told me, "co-ops in general are a much tougher sell these days. No one wants to deal with the boards or the requirements."
The thing about this apartment — a four-bedroom, six-and-a-half-bath penthouse atop an old-line co-op building — is that, as one broker says, it's "a particular taste for a particular client." A perfect home for Lisa Perry, in other words, but maybe not for anyone else. It's a strikingly contemporary space — gallery-esque with white marble floors and white lacquer walls — in an old-fashioned upper-crust building in a neighborhood known for being much the same. "It's one of the iconic New York buildings," one broker says, describing the elegant apartment layouts, the spectacular garden, and the East River views. "But some people have no interest in living in that neighborhood."
Even the massive terrace, which adds more than 7,000 square feet of outdoor space, is something of a double-edged sword. Everyone wants outdoor space, but "that's a tremendous amount," one broker tells me, adding that it's lovely and all but that such an abundance of terrace would require a ton of upkeep and money. And that's on top of the co-op's $38,400 monthly maintenance fees. While some may enjoy tooling around in their townhome's backyard, a penthouse terrace requires the attention of professionals.
A lot of buyers with $26 million to spend want a building with pools and pet spas and liberal subletting policies, while those willing to forgo all the hottest amenities for a building with gracious old-world charm often want an apartment with gracious old-world charm, too: French doors, wood paneling, marble fireplaces, hardwood floors. (Something more along the lines of 2C, a six-bedroom downstairs with herringbone floors and wood-burning fireplaces with original mantlepieces, asking $8.5 million.)
When Perry and her hedge-funder husband, Richard, bought the apartment from the estate of socialite philanthropist Janet Annenberg Hooker in 2000 for $10.9 million, they hired interior designer Tony Ingrao to obliterate the penthouse's old-money aura. "Out came old moldings, wainscoting and mantels; in went white lacquer, neon lighting and art by Warhol, Lichtenstein and Vasarely," the New York Times wrote in 2002.
That was 20 years ago — which is to say, even if a buyer likes the anachronistic quality of Perry's style in an old-school co-op, it will still need an update. And no one wants to do a renovation right now. "It's beautiful," says a broker. "But it's a period piece."