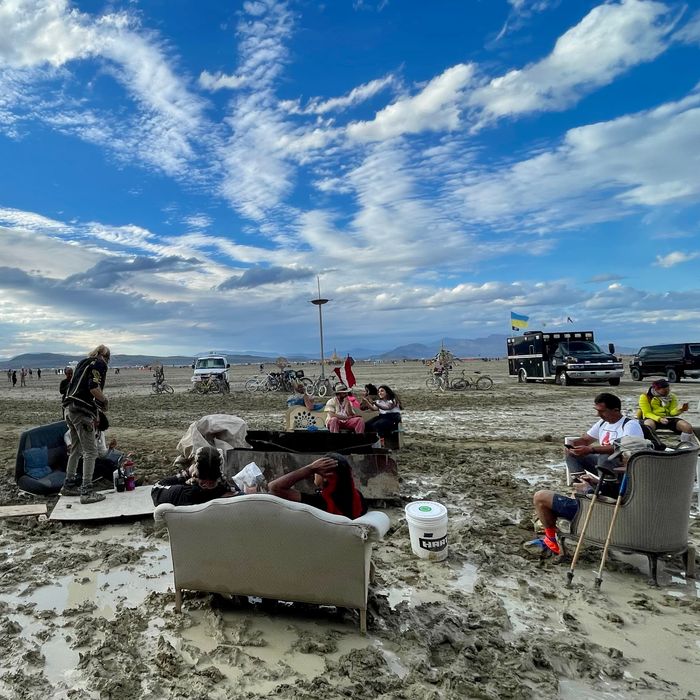 On Saturday at the Burners Without Borders camp, a whiteboard was set up to help other Burners.
Photo: Courtesy of Lina Lyte Plioplyte
In 20 years of being a journalist who goes to Burning Man, I have studiously avoided writing about it. Most "insider" accounts of the festival sound as tedious as someone describing a dream. ("Tony the Tiger and I were piloting an electric hermit crab to the 30-foot-tall clitoris when all of a sudden Zoë Kravitz handed me a quesadilla.") 
But that changed last week when my absurdly strenuous vacation suddenly became an international news story. When rain churned the dusty playa into oatmeal, it seemed most people wanted to laugh at the folly of Cindy Crawford and Diplo hitching rides and walking for hours to get out. From the outside, it looked like a total disaster: a perfect storm of celebrities and influencers who couldn't hack it, with wild rumors of an Ebola outbreak and the specter of 70,000 people running out of food and water.
What follows is a bit of a corrective; the true experiences of nine burners, from the newbies to the two-decade veterans, at Burning Man 2023. I promise you this is the last article I will ever want to write about it.
Thursday, August 31
7 a.m. | Marlon "Elephant" Williams (tenth burn): I brought my kidney donor, Maria, to the Burn. She was a stranger before she gave me a kidney last year, and she was an amazing first-time Burner. She loved it — she was so curious.
On this morning, we went to the Temple. The year before, I had written into my death arrangements that I wanted to be cremated and brought there. Now I was there once more, and likely for years to come, with the person who had given me more time to live. We were sitting in gratitude.
10 a.m. | Lina (11th or 12th burn): I camp with Burners Without Borders — about 105 to 110 of us. We do disaster relief around the world — we have people in Maui right now as well. I was doing our sustainability program for theme camps. We reward them for reducing the use of fuel and reducing waste. It was really fun for me to see the multi-camp compost system.
3 p.m. | Aviatrix (fifth burn): I was getting ready for a burn where I wanted to marry myself and have a lot of communion with myself, because my partner and I recently changed our relationship. I wanted to have a lot of freedom and independence and feel like a warrior goddess.
I performed on the aerial silks at Distrikt. The crane lifted us up 25 to 30 feet over this packed dance floor. I was quite nervous. It's a little higher than usual and the wind was blowing, but I felt strong. I had on my see-through red-and-black shiny mesh bodysuit that my friend custom-made for me that I embellished with black lace and red crystals. From the crane, I could see the whole playa, the Temple, all that stuff. It was beautiful.
8 p.m. | Stefan (16th or 17th burn): I was basking in a real sense of accomplishment. With a team of really skilled people, we built an art piece — Exquisite Animalus — bigger than I could ever build on my own. It's a 30-foot-tall, four-story spinning layer cake of animal façades done in the style of an exquisite corpse. That night I got to see how people actually played with it. I loved watching people try to solve the puzzle and then revealing that I was the artist.
11 p.m. | Jess "AOH" (Architect of Happiness) with Chris "CLB" (Certified Lover Boy) (first-time burners): We were out all night Thursday. I felt more self-love than I've felt in my entire adult life. Just unconditional love for myself because people showed unconditional love for me, just for being me. Or, maybe it was my tits in the pasties. Apparently they are pretty world-changing.
Friday, September 1
1:30 p.m. | Stefan (16th or 17th burn): My wife, KJ, and I shoot a video for Burning Man every year where we do a lip dub of a song. So we were at Jen Lewins's piece, Ursa Major, which is a giant bear built of infinity mirrors and LEDs. The wind picked up, the rain started, my wife and I looked at each other and said, "This is not good."
2:30 p.m. | Joshuah Vincent (17th burn): My wife and I were on a playa date maybe three-quarters of a mile away from our camp when it started to rain. She's 4.5 months into pregnancy. We were like, "Oh, we should get back home."
We had to dump our bikes because we could not push them any more. The playa had compacted on the bikes. As we walked, Angelica's and my boots were probably two inches taller from all the mud caked on them. What would normally be a ten-minute bike ride became about an hour to an hour-and-a-half walk back home.
When we got home, we were soaked. It kept raining and the rain got harder.
3 p.m. | Aviatrix: At our camp we do a lot of workshops. There's a very big focus on conscious relating and community support, openheartedness — it's called Naked Heart. We were hanging out at camp after a workshop when our yurt started filling with water like a bathtub. I was inside bailing like a boat.
Almost everyone — there's 150 of us — crowded into the chill dome. They were serving tea, but the water was creeping in from the sides; the Persian rugs were getting wetter and wetter. It was very dramatic.
3:30 p.m. | Marlon "Elephant": I had a playa date. I was going to meet up with a friend, but they were hungry. I was like, "Come to our camp, I'll make you bacon." Then it started to drizzle, we went into the dome, they made a break for it to get back home. The rain started filtering into our dome, and we became a 30-person cuddle puddle waiting out the rain.
4 p.m. | Jake Douglas (fourth burn): Last year I did teardown in 100-degree weather and was stuck in Exodus, the line to leave, for 12 hours. So this year I was like, "I'm getting out before the weekend." I was on the first Burner Express bus that was scheduled to leave at 4 p.m. Friday.
We got stopped at the exit. They told us we had to stay on the bus indefinitely.
4:30 p.m. | Jess "AOH" and Chris "CLB": We just slept all day. We barely noticed the rain. We were free camping and had a really nice white duck bell tent and an eight-inch foam mattress — it was the best sleep I've had in years. We weren't watching the weather, we had no clue about any of that. It had been beautiful, not too hot, dust free.
5 p.m. | Stefan: We made it back from Ursa Minor and proceeded to sleep. I was visibly and emotionally depressed. I felt like I was being robbed of my Burning Man experience, but I understood there was nothing more powerful than Mother Nature.
5:30 p.m. | Lina: I was visiting one of our neighbor camps. When it didn't stop raining, I started getting itchy because I knew my Burners Without Borders people would be thinking how to alleviate the situation. I wanted to go talk to my people and be like, what are we thinking, what should we do. So I made my way back as soon as it let up a little bit, around this time.
6 p.m. | Jackie Meier (fourth burn): Maybe 30 minutes in the middle of the deluge I realized we actually could not leave if we wanted to. I started to feel a little bit trapped. But then I was like, Wait. We have everything we need. We have food, we have water, we have friends.
We have 22 people in our camp. Some of the virgin burners didn't bring extra. They weren't quite sure what to do. I was like, People need food. We gotta share. So we dumped out our dried mango and cereal bars and nuts on the table. And we had about 150 frozen burritos that we'd made and frozen back in San Francisco.
6:45 p.m. | Marlon "Elephant": I'm a certified Green Dot ranger, which means I'm a volunteer on the playa who helps people with different kinds of psychedelic distress or sexual experiences.
I told people I was available for emotional support. Different people would come to me to talk about their anxieties about the rationing of food and water.
Around sunset there was a little break in the rain and I saw an amazing magnificent double rainbow. It's truly one of the most spectacular things I've ever seen. Not just a Burning Man highlight, but a life highlight.
7 p.m. | Jake Douglas: At some point before it got dark, two Germans tried to make a break for it off the bus but came back because they were cold. People got restless, a few people cried, including the bus driver.
There was a woman across from me who had flown in to the burn for 36 hours from Miami, and she was freaking out. I was pretty upbeat. I was enjoying the sociological experiment. I also took a couple of benzos, so that helped.
8:30 p.m. | Joshuah Vincent: The rain was NOT stopping and getting harder and just dripping off the carports, and the mud around camp was getting so deep and messy — I was thinking, This is going to be very interesting over the next couple of days.
Under the five carports in our communal eating area, people had just got together and were weathering the storm. People were making the best of it, getting the food out, wine out. We made some stranded folks feel at home.
10 p.m. | Jake Douglas: About half the people on the bus decided to move to a trailer nearby to spend the night. I slept in my seat.
10:30 p.m. | eMalick (ninth burn): Our tents were all underneath this tarp. I basically slept in water and I shivered the entire night. It was rough.
11 p.m. | Aviatrix: We had a spare air mattress. We used it as a raft to get from the door of the yurt to the bed, which was off the ground and out of the water. I was in the dome, in our main camp, getting one of the best massages i've ever had in my entire life from this guy while my husband was setting up the yurt and taping everything shut to stop the leaks. I was like, "You're getting laid tonight! And I'm not going to hold back on the noise."
Saturday, September 2
8 a.m. | Jake Douglas: After sleeping in my bus seat, I didn't feel rested. I borrowed the phone from a girl across from me. We called a taxi company in Reno. They quoted me $500 for five people. It ended up being me, the girl whose phone I borrowed, my friend Brian, another woman and a man who both had flights that afternoon. So we took what we could carry, hiked about an hour, hour and a half to the road, and made our escape.
9 a.m. | Joshuah Vincent: When I woke up in the morning I was kind of hoping that it wasn't going to be as wet as the night before. But it was.
First people had to figure out how to cope personally with movement — putting bags on their feet or going barefoot.
Then we had to deal with the information blockages. Our campmate Shinya has Starlink on his camper van, so we figured out what accounts to follow on X to get the data. Carl, another campmate, put out his radio so we could listen to BMIR [Burning Man Information Radio, the low-wattage station that broadcasts during the event]. We set up our Wi-Fi access point and put the info on a whiteboard facing the road so our neighbors could send texts back home.
9:30 a.m. | Marlon "Elephant": On Sunday, when it drizzled again and there was another rainbow, I was like, Fuck you, rainbow!
10 a.m. | Lina: On Saturday morning, a bunch of Burners Without Borders, including myself, schlepped through the mud and surveyed the whole sector of the city out to K, I, J to see how those guys were holding up. These were solo campers, maybe who came in on the Burner Bus, less prepared.
85 percent of those people were completely fine. About 10 percent did not know to listen to the radio, did not know what was happening or that the main burn was canceled, so we brought them that news.
We did see someone with a completely wet tent and without warm dry clothes. And one guy with his Jeep just sitting in there like, I don't know what I'm going to do. But their neighbors helped them. People in RVs out there stepped out and shared their cookies and hot toddies and soup and whatnot. I was honestly impressed with humanity at the outskirts.
12 p.m. | Aviatrix: When they said the sanitation trucks couldn't get through, that was definitely a moment. There was a doctor in our camp who got on the mic and said this could be a serious public-health emergency. It occurred to me I should not eat too much, or eat liquid form.
We took this rectangular tent that we'd been using as a "compassion dome" and divided it for pee and poo and turned it into our own little outhouse for our 150-person camp. It was nicer than a bucket but like, not an actual porta potty. Just a seat and a five-gallon container. We all ended up using them for about 16 hours before the sanitation trucks got through on Sunday.
People came together beautifully. We brought out a couple of firepits and Sunday daytime and evening we had these two big beautiful fires going. We were huddled around to stay warm. We all dropped in and had deeper conversations, the occasional dance party.
But it was cold. A lot of people were chilly and not prepared.
I was anxious about my 5-year-old daughter, who was in the care of my 73- year-old dad.
1:30 p.m. | Joshuah Vincent: Our daughter is almost 3. The grandparents said they've got it covered, don't worry. A lot of people were anxious [about their kids or their pets back home] — we were lucky that we had family support.
2 p.m. | Jackie Meier: We were peeing in bottles. Then we just trudged off to the potties and dumped them. They were gross, but they never overflowed and they never totally filled.
2:30 p.m.| eMalick: Next to us was this camp of furries. Wolves, foxes, all that stuff. We were teasing them all week long. Turns out they saved our lives because they invited us to use their internet. I was getting stressed because I had a bunch of investor meetings for my start-up. I could have lost out on hundreds of thousands of dollars.
10 p.m. | Jackie: My Shiftpod [a type of tent designed by a Burner and based on an ice fishing tent] did get water inside. I moved to the camp's box truck to sleep.
Sunday, September 3
1 a.m. | Lina: For us it was a time to be somewhat focused. There were definitely some people I observed who were partying like it was the end of the world, and going into oblivion with substances. Luckily Zendo [support for burners with bad trips] stayed open.
2 a.m. | Aviatrix: Some people kept partying, which was annoying. Basically, using lots of drugs to escape instead of dropping in and connecting.
4 a.m. | Joshuah Vincent: The big party on Saturday was awesome.
The energy was so high. People were pensive during the day, but when we knew the burn wasn't on, it was in a way a relief. Burn night is like New Year's Eve of Burning Man — it's a lot of pressure. We didn't have to do any of the standard rituals like drive the art car out early to get a spot at the man burn. First I was DJ-ing in our camp, then we walked over to those two other camps, where they had DJs and fire. That was for me one of the highlight events of the festival. Very small, communal and local, serendipitous — went on all night.
10 a.m. | Joshuah Vincent: Our carpets were submerged in mud. We figured out a plan, taking our decorative shovel off the art car and using it to shovel pathways.
2 p.m. | Jess "AOH" and Chris "CLB": Sunday felt really sad and rainy. We put on our cow onesies, because cows love mud, and took whatever [substances] we were taking.
We walked to the Burning Man radio station. It sounded like NPR for the apocalypse. I was like, "Put me in, Coach! We got some things to say to the people!" And they were like, We'll give you three to five minutes. We were there for three and a half hours. I gave one of the hosts a lap dance.
4 p.m. | Jackie Meier: This guy from another camp came around and said, "I've been walking around and you guys are at the worst low point, you really need to do something about the water. So we started to try to dig a trench to divert it. We got out two pickaxes and two shovels. It made our camp a total mess, and as it dried, it made a pit. People would step into it, and it would swallow up their shoe. I don't think it really helped that much.
Monday, September 4
10 a.m. | Joshuah Vincent: Angelica, my wife, got out just fine on the Burner Bus, thankfully. I had always planned to stay and be part of the strike crew.
The only anxiety we had was about being able to clean up the camp. Typically, taking everything down and leaving no trace takes at least a couple of days.
11 a.m. | Stefan: When the skies cleared on Monday and everything cleared up, our whole crew had a lot of energy for the de-install of our big interactive art piece.
12 p.m. | Marlon "Elephant": We took down our camp, waited 20 minutes in line, 15 minutes to the road, and then we were off. It was a pretty simple process.
3 p.m. | Jess "AOH": It was a seven-hour Exodus. We packed up our stuff and got in our truck and did a little inching forward for seven hours. It had nothing to do with the rain really, it was just normal Exodus stuff.
It was kind of annoying in that we had this magical experience and as we started to get off the playa and get service, you have to respond to everyone and let them know that not only are you not dying of cholera and you did not suffer, but it was the opposite of that.
Not being on the defensive, but I would have preferred to be more quiet and contemplative about my personal experience. 
Chris "CLB": I blame Chris Rock. I don't know how you just show up here with a little carry-on suitcase. 
8:15 p.m. | Aviatrix: We ended up staying until Monday night. We left and got onto the paved road, about three or four miles away, by 3:15 a.m.
Some RVs that had gotten stuck in the mud had blocked the main entrance, so we followed the trash fence [the outer perimeter of Black Rock city]. It was a little naughty because we kind of hopped the line.
We got stopped when this RV burst into flames by the side of the road around 11 p.m. Monday night. There was black smoke billowing into the sky. Ambulances and emergency vehicles. Everyone had to stop for an hour.
10 p.m. | Joshuah Vincent: New Year's Eve — i.e., the Man burn — happened on Monday. It was great because people had gotten more sleep than they usually do. Having permission to get a proper night's sleep was a blessing whether people liked it or not. Those of us who were left were well set up with strike and could enjoy themselves for the night.
11 p.m. | Stefan: It was the best Man burn I had ever been a part of. It was like the old days. It was maybe a third of the people that you've seen in recent years. There was no weekend-warrior energy.
Tuesday, September 6


2:30 a.m. | Jackie Meier: We'd stayed for the Man burn on Monday. We took Airpusher, our art car that looks like a steampunk blimp, with the sound system on, and rode out there in flying colors. The mood was high. This is one of the greatest groups of people I've ever been around. They're the most loving, kind people. I'm so happy to be a part of it.
We left at 2:30 a.m. I was in a pickup truck with two friends. It was fine by the time we left after the man burn. Everything had dried out enough.
6 p.m. | Joshuah Vincent: In the end, we had about ten people left for strike through Tuesday. As we were packing things away, the tarps that had an inch or two of caked playa, we cut them like a tray of brownies section by section, and peeled off the playa.
The carpets, fabric, we had to wait for that stuff to dry out and pull it off and beat the conglomerated playa off it. It's going to be extra playa-fied next year.  Some things were ostensibly destroyed by being so soaked in mud, so we tossed them.
It was a very pleasant strike. We had a kitchen crew constantly cooking and making drinks. We left our section of the playa MOOP-free.
9 p.m. | Stefan: On Tuesday night, my wife and I and a few friends who were left to help take down our art piece gathered for the Temple Burn. There were maybe 5,000 people left on the playa at that point. We stumbled from conversation to experience to art to dance — we kept acknowledging how special all this was while it was going on. It was so silent, so respectful. It was genuine. It was magnificent.
Wednesday, September 7
8 p.m. | Stefan: As we drove out, the only impressions I had that were slightly negative were seeing the abandoned cars of the people who panicked and felt the need to leave immediately.
I thought doing big art at Burning Man would cure us of Burning Man and we would not want to go for a long time. We are in Reno, about to go clean our RV, and we're going to prepare it for next year's burn. We have every intention of coming back.