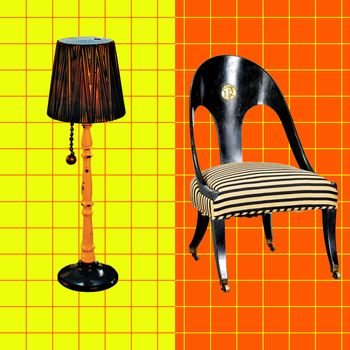 Photo-Illustration: Curbed; Photos: Courtesy of the Vendors
1.

Dae
385 Smith St., Carroll Gardens; daenewyork.com
Started by former Opening Ceremony employees Carol Song and Suea (who didn't want to give her last name), Dae stocks mostly Korean designers impossible to find elsewhere. Right now, the shop has a handmade metal coffee filter and wooden bowls made by a Loewe Craft Prize finalist. There is also a restaurant serving artisanal soju and bread from ACQ bakery.
A current favorite:  Burlap Tissue Case, $45. "It's made from super-traditional Korean fabric used back in the day for clothing, robes, you name it," says Song. "The designer, Choi Heeju, makes new and novel things out of it."
2.

Outlandish
722 Franklin Ave., Crown Heights; instagram.com/outlandish.nyc
Brooklyn's first dedicated hiking store has a proper porch with Adirondack chairs and a stack of firewood. Inside, Benje Williams and Ken Bernard sell big brands like Patagonia, Arc'teryx, and Salomon plus items by smaller designers, such as Allmansright Dyneema bags, ToughCutie merino-wool socks, and Hikerkind clothes. Williams and Bernard also plan biweekly hikes for customers.
A current favorite:  Outlandish x Ciele Athletics CLBCap, $60. According to Williams, "The most popular item is our collab hat drop with Ciele inspired by Harriet Powers's quilts."
3.

Christopher Cawley
75 E. Broadway, No. 231; christopher-cawley.com
 Christopher Cawley set up his antique shop on the second floor of Chinatown's East Broadway Mall — right between PopGun and Janky Vintage — in March. He started collecting as a child, visiting flea markets with his grandfather, and has amassed a collection from the 16th through 19th centuries — 1800s leather chairs, Ming vases, and Flemish tapestries.
A current favorite: 19th-Century Regency Spoonback Chair, price upon request. "The chair is from around 1820 with ebonized legs raised on casters and an Egyptian Revival medallion," Cawley notes. "It's a timeless design that looks at home in a period room and in a modern interior."
4.

Reservations Only Vintage
75 E. Broadway, No. 212; reservationsonlyvintage.com
Also new to the mall is Olivia Kanter's vintage-clothing store. Since high school, she has been collecting and selling leather goods online, but she decided to open a storefront in June, after graduating from Parsons, with "a mix of vintage designer and affordable Y2K fashion." There are lots of Prada shoes, Jean Paul Gaultier dresses, and Dolce & Gabbana denim — prices typically max out around $500.
A current favorite:  Lutci Magazine Clutch, $85. "Carrie Bradshaw wore one of these in Sex and the City and then in the reboot, And Just Like That …," Kanter says. "When I tell people she wore it, they pick it up right away. They literally sell within the hour."
5.

The Ripped Bodice
218 Fifth Ave., Park Slope; therippedbodicela.com
When the Ripped Bodice's first New York location debuted, people lined up an hour before the store even opened. This romance bookstore, started in Culver City by sisters Leah Koch and Bea Hodges-Koch, is filled with books across genres including paranormal, historical, and LGBTQ+. The store was renovated by Koch, who hand-painted the floors pink and turned book pages into wallpaper.
A current favorite: The Seven Year Slip, by Ashley Poston, $17. Says Koch: "It's about a woman who inherits her aunt's apartment, where she can time-travel — and in the past there's a man living there."
6.

Biggie's Bodega
139 Division St.; biggiesbodeganyc.com
This new Dimes Square store is modeled on 1950s candy shops — there's a red-and-white awning outside, a black-and-white tiled floor, and old-school Stuckey's candy for sale. But it's actually the city's only antique smoke shop, specializing in tobacciana (vintage smoking paraphernalia) that co-owner Sammy Levin restores herself. It has Japanese lighters from the 1940s, gold-plated S.T. DuPont lighters ("They're the Birkins of lighters," she says), and plenty of Murano-glass ashtrays.
A current favorite: 1940s Japanese Table-Lamp Lighter, $425. "These look like lamps, but they're actually lighters," says Levin. "As soon as I get those, I fix them and they're sold."
7.

Kosuge Bachman
170 Franklin St., Greenpoint; instagram.com/kosugebachman
Yuka Kosuge and Megan Bachman met when they were both selling their vintage finds through a secondhand collective. Kosuge specialized in Edwardian dresses, and Bachman had an eye for more contemporary pieces. They now sell a mix of both, including menswear, at their namesake Greenpoint store. They often visit Japan and Europe and bring back things like Issey Miyake pleated shirts, early-aughts Dolce & Gabbana runway items, and Italian silver jewelry.
A current favorite: '90s Italian Archival Zipper Corset, $598. "I've never seen a design like this," Bachman says. "The different-colored zippers are so unique. It's a work of art."
8.

Fe Noel Little Caribbean
1133 Nostrand Ave., Little Caribbean; fenoel.com
After ten years of exclusively selling online, Fe Noel opened up her first retail location in June. The shop is filled with one-of-a-kind pieces made from deadstock fabrics, discounted items from past seasons (a Netted Puff Sleeve Cardigan for $228, originally $598), and limited collections (like a very popular swim tee printed with different islands' names). The shelves are also peppered with items like Terra-Tory's sea-moss soap and Edas accessories.
A current favorite: Golden Hour Slip Dress, $298. "We had a blouse in that fabric, and we had a roll of it left, so we made it into a slip dress for our Brooklyn store. If it were released on Fe Noel proper, it would have been $200 to $300 more," says creative director Itaysha Jordan.
Photos: Courtesy of the vendors