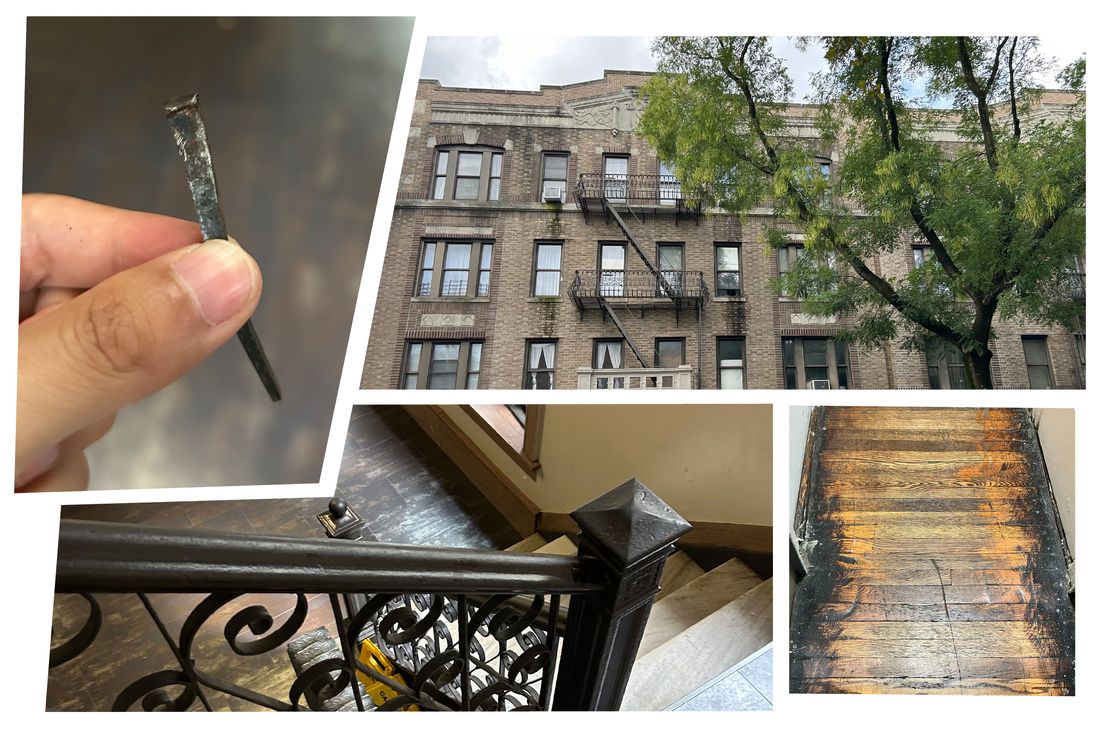 A hand-hammered nail pulled from the floors of 214–218 Prospect Place that seems older than the 1980s; façade, stairs, and floors of a building that is showing its age.
Photo-Illustration: Curbed; Photos: Clio Chang, 214-218 Prospect Height Tenants Association
Juliet Moye's Prospect Heights two-bedroom feels frozen in time. She moved into the rent-stabilized prewar apartment in 1993, and the tenant before her had been there for 30 years: The bathroom is stained from decades of intermittent leaks, there are cracks in the ceiling, and the kitchen cabinets are a dated wood laminate. But her rent is $1,300 a month, not even a third of the median asking price for a one-bedroom in the neighborhood, which has made it easier to ignore the fact that the place is old and showing its age. But this familiar form of real-estate détente came to an abrupt end in late July, when Moye received a notice in the mail stating that her landlord was applying to deregulate the building because of "significant building-wide" renovations. "It's crazy," Moye said. "These buildings are falling apart." And wouldn't she have noticed a renovation, anyway? She lived there.
Except the renovations that her landlord, Nelson Management Group, was referring to were completed before she even moved in, by the previous owner, some time in the mid-1980s. The state's 2019 rent laws eliminated almost every way a landlord could take a building out of rent regulation, but left in place a loophole around what's called "substantial rehabilitation," which is when a landlord has replaced at least 75 percent of "building-wide and individual housing accommodation systems." It was originally meant to encourage the renovation of mostly vacant, dilapidated buildings, but now it's just another way that landlords are trying to flip their aging buildings to market rate. (Housing advocates believe that this tactic may be one of the reasons why the number of rent-stabilized apartments has actually dropped over the past three years.) And some landlords, loath to make that kind of investment in today's dollars (or unable to because their buildings are, well, occupied), are claiming that Reagan-era remodels should qualify. "Before there were so many other ways to deregulate," Elizabeth Reardon, a housing attorney at Brooklyn Legal Services, tells me, echoing what I heard from a number of tenant lawyers who say they've seen an increase in these kinds of cases in recent years. "But now it's the only option." Welcome to the era of the zombie renovation.
As the tenants at 214 Prospect Place, and its sister building at 218, learned of their landlord's attempt to deregulate, they panicked. Then they started knocking on each other's doors. The notice from the state's Division of Homes and Community Renewal had given them 20 days to contest their landlord's application, and within days, neighbors across the adjoining buildings' 40 units held a meeting in the lobby to strategize: Who knew a tenant lawyer? Who could set up a GoFundMe to hire them? Who knew how to get in touch with politicians? "It was a bit scary," said James Frederick, who has lived in the building since 1969. If they lost their stabilized leases, there was little chance they'd be able to find a similarly affordable place, not just in Prospect Heights but basically anywhere in the city.
In nearby Crown Heights, where a studio can set you back $2,500 a month, the landlord Renaissance Realty has started a substantial rehabilitation application for 285 Schenectady Avenue. It did the same thing in 2020, based on rehabilitations performed in the 1980s, to its sister building across the street at 1646 Union Street, whose tenants were only able to preserve their rent-stabilized leases on a technicality. (Their apartments will go market rate if and when they or their successors move out.) In the Bronx, where tenants across the borough are facing their own rent shocks, landlord Isaac Kassirer of Emerald Equity Group, who had bought up thousands of rent-regulated properties before the rent laws passed, tried — but failed — to deregulate six of those buildings based on renovations that had occurred in 1991. Eliza Schafler, a housing lawyer at Bronx Legal Services who worked on that case, said that they had dug into old documents to find that the rehabilitation had been paid for under a public program that kept them regulated. "This is what we often see," Schafler said. "The applications are very sloppy and the hope is tenants will not read them."
What makes these cases unique is that there's a fight involved in the first place. Substantial rehabilitation claims are self-executing: Owners can simply deregulate their buildings without sending in any paperwork or getting approval from the state. "What's really shocking for tenants is that you're living in an apartment that you've been living in for 15 or 20 years that has never been taken care of," Reardon, who worked on the Union Street case, said. "All of a sudden you're told, 'Don't you know you live in a substantially rehabilitated building?'" The matter of applying generally comes in, she says, when landlords want a paper trail, usually to avoid a court battle or streamline a potential future sale. A landlord who gets an official DHCR approval on deregulation doesn't have to worry about being challenged in court later, or can assure a prospective new owner that they are, in fact, purchasing a market-rate property.
But even when landlords do apply to deregulate, the process of reviewing the application can feel like a rubber stamp to some tenant lawyers I spoke to. Natalie Goncharov, another Legal Services NYC advocate, says that if tenants don't respond to the claims, DHCR, an understaffed and overburdened agency, generally just approves whatever the landlord has presented. And landlords are often relying on the fact that tenants won't respond. "If you receive something from your landlord or their lawyer, you assume it's fact," Goncharov said of these notices of intent to deregulate. (In a statement, a DHCR spokesperson wrote that the agency "continues to ensure the laws governing rent regulation are properly enforced — that includes proactive audits, investigations, and other enforcement activities.")
On paper, the burden of proof is on the landlord. But building a case against a substantial rehabilitation claim often ends up falling to the tenants, as Moye and her neighbors are learning in real time. Multiple long-term tenants I spoke to say that that level of rehabilitation never actually happened, and Frederick, who has been in the building for more than half a century, says it was never as vacant as Nelson Management claims. Ed Winstead, a newer tenant, says he recently pulled a hand-hammered iron nail from his floor — proof, he felt, that his floors were much older than the 1980s. Nelson Management disputes all of this, but its application for substantial rehabilitation doesn't rely on the original work orders for the alleged gut job. Instead, its application uses an affidavit from an architect that had been called in to inspect the building and the fact that the previous owner had been granted a J-51 tax abatement for the rehabilitation. "Memories are faulty. Documentary evidence is fact," Russ Colchamiro, a Nelson Management spokesperson, wrote in an email. But proof that the previous owner received a J-51 credit isn't the same thing as proof that a substantial rehabilitation, which has different requirements, was actually performed, Ronald Languedoc, the lawyer representing the tenants at 214–218 Prospect Place, says. "They don't have a complete set of the paperwork from the time to document everything that was supposedly done, so how can the agency grant a substantial rehabilitation without that documentation?"
It's a mess, but not a unique one. The anecdotal increase in this deregulation tactic that tenant lawyers are describing may be a product of a few converging factors. Reardon noted that landlord attorneys are a "tight-knit group" and that owners might be discovering the loophole through them. Landlords who bought buildings in the last few years and who expected to make money speculating off their purchase were likely relieved to find that, by claiming the work of previous owners on ancient renovations, they could still profit. Meanwhile, some are finding that J-51 tax breaks granted to previous owners that also kept buildings in regulation are now expiring, freeing them up to apply for a substantial rehabilitation claim. (Yes, landlords can get tax breaks for renovations for rent-regulated buildings that will ultimately allow them to deregulate them.)
Another reason tenant lawyers might be seeing more of these substantial rehabilitation cases is that the loophole could soon get tighter. Assemblymember Linda Rosenthal is co-sponsor of a bill, which is awaiting the governor's signature, that would regulate substantial rehabilitations, requiring applications to be denied if the owner had harassed tenants prior to completing the renovations or if the building was not truly run-down and in need of an overhaul. Landlords would also have to apply with the state within one year of conducting rehabilitations, or, for old claims, within six months of the bill being signed. "It's kind of absurd to claim, well, way back in 1980, that was rehabbed," Rosenthal said. "The six months is to give owners an opportunity to claim it, and to try to rein in some of this free-for-all." This would also give a more clear picture of how often this is actually happening. "If the problem is as large-scale as we fear, there's going to be a lot of deregulation," Schafler said.
There's very little for the tenants at 214–218 Prospect Place to do now but to keep trying to build their case. They have been given an extension to respond and are currently attempting to secure more documentation and testimonies. But they know the earth may be about to shift under their feet. Frederick, who raised his daughter in the two-bedroom apartment, says that he wouldn't have been able to do that on his salary as a social worker if the building weren't stabilized. If the building went market-rate, he says he'd likely have to move out of the city. Moye, who also raised her two kids there, is in a similar position. If they lose their case, she'll likely have no choice but to move: "We can't afford market-rate and still eat."