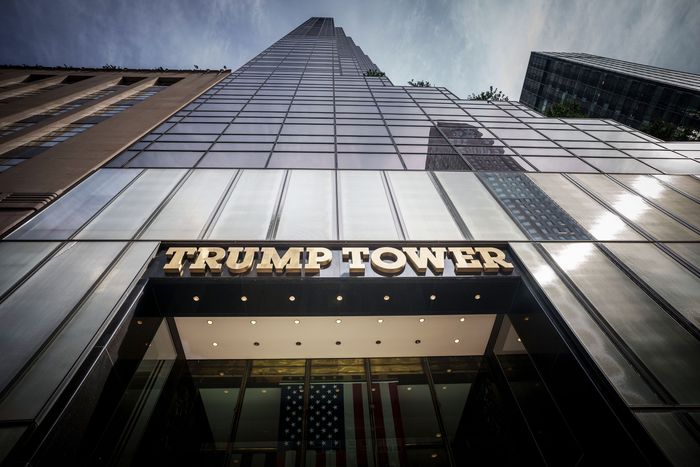 Photo: Michael Kappeler/picture alliance via Getty Images
On Tuesday, a New York State Supreme Court judge ruled that Donald Trump has committed fraud, overvaluing his assets by as much as $2.2 billion a year to receive favorable loan terms and other benefits, the New York Times reported. If the decision stands, it could have major consequences for Trump, notably losing control of an asset that has been central to his brand and persona for decades: Trump Tower.
Attorney General Letitia James brought the case against Trump last year, seeking a fine of $250 million and a ban on Trump doing business in the state by revoking the certificates that allow his companies to operate here. And while Trump has greatly exaggerated his role as a New York City real-estate macher, he does still own some stuff here.
His stake in other Trump-branded properties is pretty minor at this point — at the Trump International Hotel and Tower, for example, he has the parking garage, the valet booth, room-service kitchens, lobby bathrooms, a restaurant space, and one unit, according to the Times. He also owns the ground lease at 40 Wall Street and a Westchester County golf club. And while the decision won't dissolve Trump's company or strip him of ownership, it could "shut down an entity that employs hundreds of people working for him in New York, effectively crushing the company," according to the Times. The case will now head to trial, which, following the judgment that the core of James's case is valid, will largely focus on penalties.
In the lawsuit, James called out his Trump Tower triplex, where he lived for decades, as an example of how Trump has overvalued his assets. He claimed the 11,000-square-foot penthouse was 30,000 square feet and worth $327 million, far more than any apartment in New York City has ever sold for. Justice Arthur F. Engoron, who issued the ruling, noted that Trump's lawyers had "absurdly" suggested that square-footage calculation was subjective and that while measurements may vary by as much as 10 to 20 percent, 200 percent is outrageous. "A discrepancy of this order of magnitude, by a real estate developer sizing up his own living space of decades, can only be considered fraud," Engoron wrote.