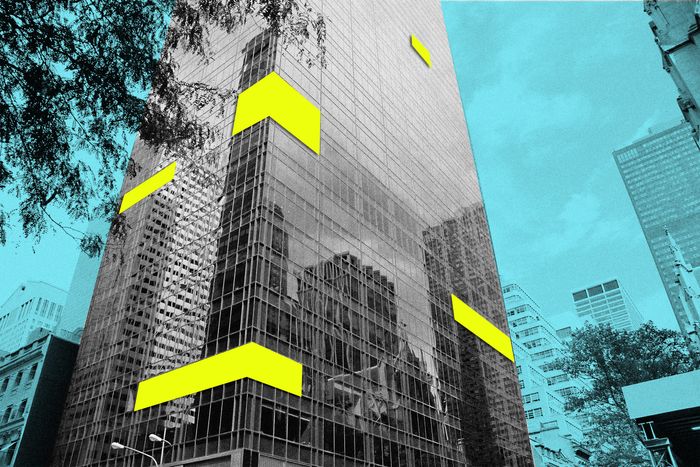 Five apartments at Olympic Tower on different floors are all owned by one holding company seeking one buyer.
Photo-Illustration: Curbed; Photo: agefotostock/Alamy Stock Photo
The listing is bizarre. For $34 million, it advertises five apartments across four floors of Olympic Tower, the Fifth Avenue high-rise made glamorous by Halston and Jackie O and a little infamous by global billionaires like Imelda Marcos and Adnan Khashoggi. The sale of five, at once, from a single seller, was intriguing enough. Then there was the strange fact that the apartments are decidedly uncombinable — they're not even on consecutive floors; no secret elevator connects them, no hidden dumbwaiter. Just five separate, very different apartments: a pair of flavorless one-bedrooms on the 31st and 33rd floors, a fancier two-bedroom with walk-in closets and views of St. Pat's on the 31st floor, and a studio with wood paneling and an undignified Murphy bed on the 23rd floor. Then, there's 49CDE: 5,500 square feet with views on three sides of the building, complete with security cameras and a staff entrance. And no, you can't buy them à la carte, says broker, Reba Miller. "They will all be sold together as one. The value is in the whole."
And that value is what, exactly? A "diversified portfolio," — i.e., five properties at different price points — Miller says. The quality that makes them not so diverse — that they're all in the same building — is just another selling point, she says. "If somebody wanted to try to buy five on their own," she said, "I don't know if they could." Investors sometimes gradually buy up 20 or 30 apartments in a single building — or snag them when the building opens or converts. But Miller says she'd never sold a group this big together in an older building. "You don't ever see this." (Even the owners of this listing bought the units in pieces — first in 2006, buying the studio and 49CDE for a combined $14.5 million; then in 2009, they bought the other three units from a single anonymous LLC.)
When I asked Steven Goldschmidt, the vice-president and director of sales for Coldwell Banker Warburg, he said the listing wasn't advertised like a set of traditional investment properties — there's no mention of the potential income any of them could generate. That suggested the buyer or seller wouldn't care about collecting rents and might be someone like an "oligarch," he said, who maybe used the other units for staff or family. And why all at once? Goldschmidt suggested most owners with a portfolio sell off apartments one by one, but that this owner might have needed to liquidate assets or just wanted out of this particular investment.
Miller wouldn't say who owned the apartments, but she agreed an ideal buyer might be "similar to the seller" — an "extraordinarily wealthy man who loved the building and loved having family and friends travel with him. He had homes all over the world, and he accumulated these apartments for this purpose."
So who was this extraordinarily wealthy man who loved the building, his friends, and family? The legal documents for the five apartments listed the owner as Olympic Towers Holdings Ltd. — not unusual for the LLC-friendly building. It wasn't registered in New York State, but in Israel, associated with a firm based in Tel Aviv.
To learn more about who might be behind the holding company, I looked at who he'd bought from. The last owner of 49CDE and 23G was public in the deeds and in the press: Roger Waters, the frontman of Pink Floyd. But I didn't get a call back from his production company or any former employees. I tried calling brokers who represent the 19 other units that are now for sale in the building or who'd publicly talked about sales in Olympic Tower, hoping one had heard something. But only one broker picked up, and he said my mystery wasn't very mysterious: "People do buy multiple apartments in the building all the time," said Ryan Zeiger. "You could have them for family, staff, friends, as an investment."
Sure, but who would sell all of them at once? He didn't know. So I called every resident at Olympic who had been public about living there since 2006, including Dena Rashes, a former banker, who said she didn't know the owners — but that their configuration wasn't so unusual; her own family has three units in the tower. "For us, it's a place to have three generations of our family in one place at the same time," she said. "It gives everyone sort of a sense of privacy and a place of their own."
That evening, after I'd logged off, having given up hope on ever identifying this particular owner-of-several-Olympic-Tower-apartments, I got a call back from another person who lives in the building, and who wished to remain anonymous. They told me that the family who lived in the unit on the 49th floor had "been there for ages" and had "the last name of the owners of Chanel." (The fashion house is owned by the Wertheimer family.) Then another resident, Jeff Jacobs, called me back too. When I asked him who lived in the block of apartments, he said, "It's an Israeli family called the Wertheimers." Since 2009 he had lived close enough to one of their units, on the 31st floor, that he had some sense of how they used it: "It's been a roundhouse of different people going into that apartment," he said. "It seemed to me like it was either an Airbnb or maybe something to do with a corporation where they'd let different corporate executives fly in and use the apartments."
The Israeli branch of the Wertheimer family does not own Chanel. They did own a metalworking company, Iscar, which they sold in 2006, when they bought the apartment, to Warren Buffett's Berkshire Hathaway for more than $6 billion, making them one of Israel's richest families. (Buffett told shareholders he saw them as "managerial magicians who constantly develop tools that make their customers' machines more productive.") Articles on the sale describe the family patriarch, Eitan Wertheimer, as "low-key and folksy." But he apparently had a taste for New York real estate. After selling to Buffett, he helped develop 443 Greenwich into a luxury building with two partners: Ezra Dagmi and Shahab Karmely. Both those names show up in deeds: Ezra's daughter, Desiree Dagmi, signed for the 2006 purchase, and both the 2006 and 2009 purchase lists the address for the tax bill as KAR Properties on Madison Avenue. Karmely is the CEO of the company, which didn't return my call.
As for why the Wertheimer clan would be selling all five apartments now, well: Eitan died of cancer last April at age 70. Still, his daughter, Maya Wertheimer, had been living in New York because her husband, Asaf Zamir, had been appointed Israel's consul general in 2021. Maya's Instagram account is private, and a message to her talent agent did not get a response. But her mother, the painter Ariela Wertheimer, had posted on Instagram publicly from what looked like the view from the 49th floor. When I reached her DMs, she confirmed that they had lived in 49CDE. For all other inquiries, she sent me to her real-estate agent.
So why did they decide to sell? The answer, after all of this, might be Benjamin Netanyahu.
This past spring, Maya Wertheimer's husband, Asaf Zamir, stepped down from his post in New York in protest of Netanyahu's hard-line policies. The Jewish Telegraphic Agency reported that the couple planned to return to Tel Aviv. A screenshot from Maya's instagram shows she isn't missing the five apartments: "New York, we love you, don't get me wrong. It's not you, it's Israel. This is our home."