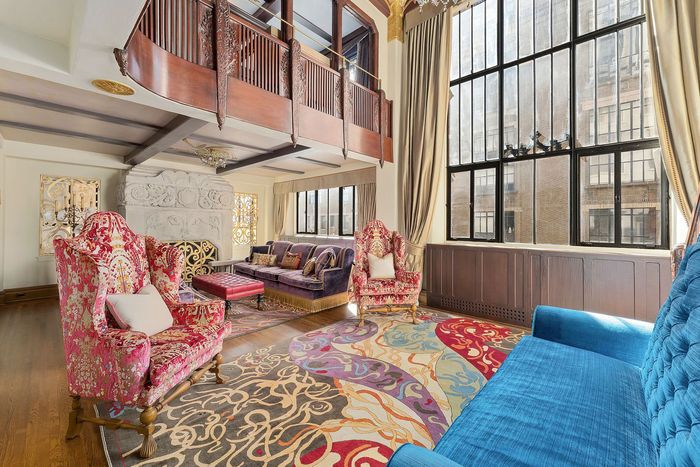 Ten-foot-high casement windows in a great room with 18-foot-high ceilings are typical of the building, where units were designed by a group of artists as live-work studios.
Photo: Michael Muchni/Richard Steinberg Team
Patricia Grodd's vision for her apartment came to her in the same way that her poems tend to come to her: all at once, in a flash. She had an idea for how each room could play off the apartment's central, arresting feature: a mural painted on the ceiling of an 18-foot-high great room, which had been restored by the unit's last owners, and included a swirl of gold. To pull this off, Grodd ended up designing tiles, cabinetry, finishes, a bed, and sofas — and had them all custom-made. "I really didn't buy anything," Grodd said. "If something doesn't exist, I make it exist."
She picked up the design habit as a member of the family that owned and founded Paul Stuart. "From the time I was four, I was designing silk ties," Grodd said. Her father, Clifford Grodd, owned the company, and she stayed in the family business — working at the company between stints as an editor at Mademoiselle and a designer for Ralph Lauren. "I learned a lot from incredible clothing — like how to put colors together that nobody else does," she said. "You just have to be fearless."
Her two-bedroom co-op certainly is, if you consider the face of fear to be a white box in a glass highrise. Grodd's 18-foot-high great room, which peers over West 67th Street just off Central Park, features a rug that looks as if a swatch of William Morris wallpaper took a tab of acid. In a den off that great room are two amethyst-colored velvet sofas fringed with gold, which face an antique Italian ottoman with lion-paw legs. Behind them, an original limestone fireplace wasn't enough: Grodd found a craftsman to create a gold-plated fire screen and matching window shutters, which pick up the rug's swirling pattern. "I am hooked on Romanticism," she said.
Incidentally, so is the building. The 18-story 1917 co-op is known as the Hotel des Artistes, a venture funded by a group of moneyed artists who designed units where they could live and work (each has ten-foot-high casement windows, allowing for studio-worthy light). The building has been home to Isadora Duncan, Noël Coward, Rudolph Valentino, and, more recently, the general manager of the Metropolitan Opera, Peter Gelb. "I really think it's one of the top ten buildings in New York," said Grodd's broker, Richard Steinberg. "You walk in, and you feel like you're in another era, another world." There's a gothic-inspired lobby, a 35-foot pool, and an elevator whose original cages have been restored. Cheryl Daly, a broker who lives in the building and sold the apartment to Grodd in 2017, says no two apartments in the building are the same, and 616 is particularly nice. "That one has a lot of original detail," she said.
"I always wanted to live in that building. There's an envy that comes from the bone structure itself," said Grodd. "There's something you can feel in the walls."