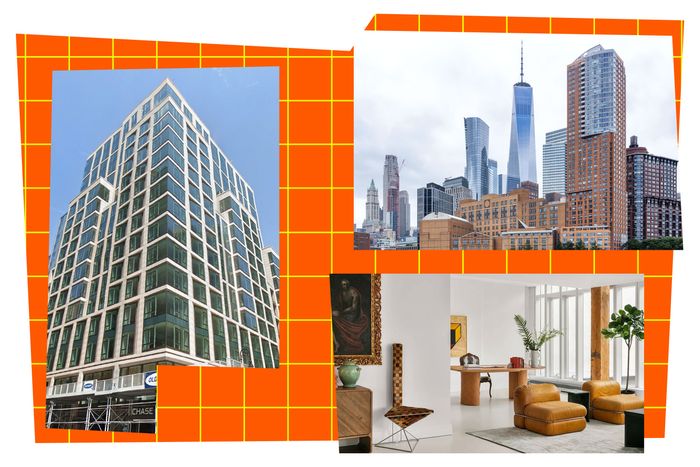 Photo-Illustration: Curbed; Photos: Google Maps, Michael Lee/Getty Images, Nest Seekers LLC
A monthly state of the housing market — the neighborhoods to watch (or avoid), the insanely expensive sales around town (plus the few unexpectedly affordable options), and the listings that brokers envy.
Rents Finally Dipped
In September, New York City started to enforce its new Airbnb regulations, which include requiring hosts to register short-term rentals with the city. The rules are designed to return apartments to the rental market, although it's too soon to tell if that's happening yet. It did cut down the city's short-term Airbnb listings, though — from roughly 22,000 to 7,000, according to Wired.
The rental market looks like it's easing slightly otherwise. In September, the Manhattan median dropped a little, from a summer record of $4,400 to $4,350 a month, according to appraiser Jonathan Miller, who prepares the Douglas Elliman reports. "It's still the third-highest amount in history," he says. New leases were also down, meaning more renewals are being signed, which suggests that landlords are increasingly trying to retain tenants, a change from the last few years. But no one is expecting rents to drop in any meaningful way. Rents are not becoming affordable — they're just becoming slightly less unaffordable.
For buyers, prices are also beginning to stabilize in the Manhattan sales market — they were down a tiny bit but stayed mostly flat in Brooklyn — according to Douglas Elliman's third-quarter reports. Median sales prices on co-ops and condos are down slightly, but sales and inventory are also down, along with bidding wars and all-cash buyers.
Neighborhood Report: Battery Park City Is Bustling
Many neighborhoods are still short on available rental units, but in Manhattan, Battery Park City is the neighborhood where inventory is going up the fastest (it's up by nearly 80 percent from last year). A lot of that new availability comes from the neighborhood's amenity-filled high rises, according to StreetEasy. Rising rents could also be a factor, which encourages owners to list vacant units — the median in the neighborhood went up by 12 percent, to $6,280, thousands above Manhattan's median. Barbara Ireland, a Sotheby's broker who has lived in Battery Park City for decades, also said that she's seen a lot of people move out of the neighborhood when their COVID deals expired over the summer, which might partly account for the uptick in available units. (She also says she's seen the number of listings level out over the past few months.)
All those pricey Battery Park City rentals might be asking for a premium because of their more lavish amenities, like theaters, steam rooms, and Pelotons. But Jordan Crystal, a realtor at Brown Harris Stevens, said that most people are still looking for the basics, like a doorman, in-unit laundry, and a package room. "In terms of gym, pool, golf simulator, and all of that stuff that keeps popping up — when I show them in buildings I never see them in use," she said. Ireland recalls trying to sell a potential tenant on a building's gym, to no avail.
The biggest draw likely isn't the amenities at all — it's the location. As Aaron Goed, senior sales director at Corcoran Sunshine at The Solaire, a luxury high rise in the neighborhood, said, "I'm looking out the window at Goldman Sachs headquarters, Citi headquarters to the left, and Brookfield Place — being such a short walk to everything in the Financial District certainly plays a role."
At the Highest End: New Buildings That Look Old
New limestone condos that look like prewar co-ops — a design speciality pioneered by Robert A.M. Stern — are dominating the uptown market and continue to sell at prices that are among the highest in New York. In September, two penthouses at RAMSA-designed Naftali tower at 200 East 83rd Street sold for $32.5 million and nearly $27.6 million. The building, which was completed last year, has also sold or gone into contract on all 86 units, according to the Times. Another Naftali RAMSA collab, the Bellemont, at Madison and 86th, is sold out as well.
1289 Lexington, another new Upper East Side condo catering to luxury buyers, has had a tougher start, but is finally approaching 50 percent sold. The condo tower, formerly known as the Hayworth, launched sales in 2019, but went through foreclosure before the Zeckendorfs took it over last year. After dropping prices several times — a four-bedroom that was asking $9.5 million in 2020 is now asking $6.9 million, according to StreetEasy — the units are finally moving. One of the issues with the development, at least in the past, brokers say, was a mismatch between the quality of the interiors — very high-end finishes selected by Lee Mindel, with price points to match — and the location right above the 86th Street subway station. "I wouldn't have the heart to put anyone in there," one broker told me. "It's just not a good location. It should have been a rental."
Listings That Brokers Are Obsessed With (and Don't Represent)
The Last (Maybe) of the Industrial Dumbo Lofts
Specs: 4 bedrooms, 2.5 baths
Price: $4.8 million ($2,320 monthly maintenance, $3,367 monthly taxes)
Eric Schwarzkopf, a Compass agent, has lived on the Brooklyn waterfront for 20 years, watching high-rises pop up. "So much new development feels very cookie-cutter," he said. But the four-bedroom apartment available at 185 Plymouth is definitely not one of them. The building, on the border of Dumbo and Vinegar Hill, is a 2015 conversion that glued together two old industrial buildings, a stable and a warehouse, and looks like a brick cube, painted matte gray. "It's an obscure little spot and it has no proper entry. It is really hidden," said Schwarzkopf. "The whole thing is very understated." The wall of glass in the living room looks out onto an interior courtyard, and there's a private terrace. "The wide openness of the space is so cool and appealing. If you want a traditional Dumbo loft, this checks the box," Schwarzkopf said, pointing out the exposed brick and the massive structural wood beams in the 13-foot-high ceiling. Schwarzkopf says that when he toured the site, the developer, Alloy, was "billing it as the last conversion in Dumbo, that anything else that will go up these days will be all new ground-up stuff. So it has that unique claim, in that it's the last building with these old bones that are being preserved." The monthlies are high — over $5,500 — but Schwarzkopf could see an all-cash buyer who doesn't mind. "I think for a space like this — and outdoor space as well — someone will just say, 'Yeah that's cool.'"
A classic Park Avenue apartment with 12 rooms
Specs: 4-bedroom, 4.5 baths
Price: $9,495,000 ($12,800 monthly maintenance, 2 percent flip tax)
The four-bedroom, four-and-a-half-bath co-op on the 14th floor of 791 Park Avenue is the kind of quintessentially New York apartment that David Harris, an agent at Coldwell Banker Warburg, always dreamed of selling when he first started working in the city nine years ago. "There's something about the old-school New York vibe that it gives," he says. "It has 12 rooms and there's a private elevator landing and an entrance gallery. Everything about it embodies that sense of old New York luxury."
Harris specializes in condos along the Brooklyn waterfront — where you're more likely to see designs that maximize space rather than luxuriate in it. In the prewar Upper East Side co-op, listed with Coldwell Banker Warburg's Lisa and Bonnie Chajet, the rooms are many and large — the living room opens onto the dining room, which opens onto the eat-in kitchen, and so on. When Harris visited, the primary bedroom was furnished with two twin beds, an armoire, and chairs — really all the furniture a person could imagine wanting in the space — and there was still plenty of room to walk around "and not stub a toe." There's even a library. "It's a very grand, luxurious type of feel."
The fees are $12,800 a month, which might sound like a lot, and it's probably a little too old-fashioned for buyers not to want to do some kind of a renovation. But Harris doesn't see those things as an impediment. It's a $9.49 million apartment in a full-service, white-glove Park Avenue building (one that only allows 50 percent financing, which isn't bad for an old-line uptown co-op. Still, you'll need a lot of cash on hand). The kind of apartment, in other words, for people who have the money.