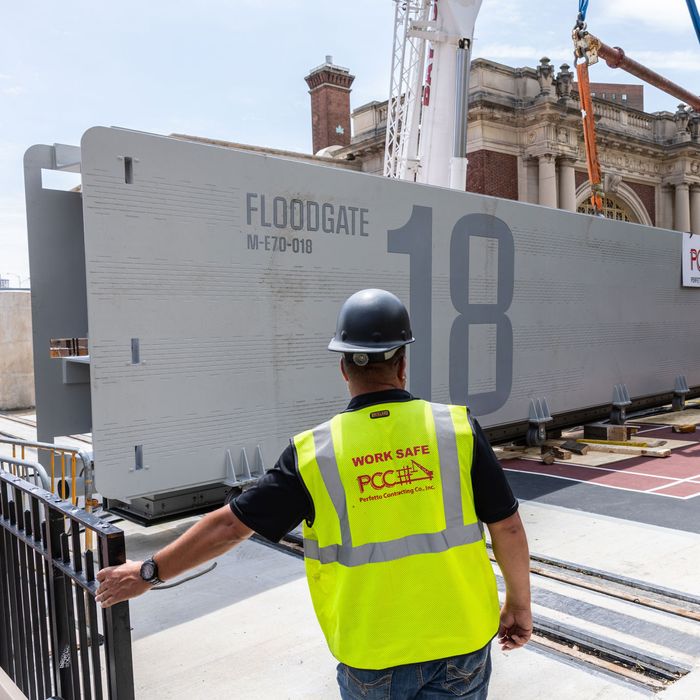 Gate 18, at Asser Levy Playground, was installed in early 2022.
Photo: NYC DDC
Eleven years ago this weekend, Hurricane Sandy taught New Yorkers where its lowest edges were — spots like Red Hook, the Rockaways, and the East Village, where an ancient flood plain faces the East River like a scoop. There, the water reached a full three blocks inland from the FDR Drive, as far as Avenue B, filling basements and totalling cars, inundating the Con Ed substation that feeds much of lower Manhattan its power.
Head up the East Side under the elevated FDR trestle now, and two pretty different approaches to a future Sandy are taking shape. They're mostly descended from the Bloomberg-era "Big U" plan floated by Bjarke Ingels Group. The first, amply discussed and vigorously protested, is meant to demonstrate the advantages of softening the waterfront to absorb storm surges. This involves elevating East River Park, which stretches from the Lower East Side all the way to 12th Street, creating a berm that can take the force of the water during storms at the cost of most of the park's trees and its eccentric, well-loved amphitheater.
But head up north of the park and the defense against water takes a different and harder approach. A barrier of dikes and gates snakes its way up the coastline, along and under the highway, ending by the Asser Levy recreation center near 25th Street. Every couple of blocks, there's an enormous steel gate, about the length of a subway car, that will either swing wide to close, like a conventional door, or roll sideways on rails, like a barn door. At this unfinished stage of the project, it's a little tricky for a casual observer to grasp how it will all work in concert and why this system prevailed over so many other plans and options. So I asked Rohit Aggarwala, the commissioner of the city's Department of Environmental Protection and its chief climate officer, to walk the water's edge with me and explain how the gates will function when it's all done.
We meet by the Veterans Administration hospital at 25th and First, where the project's northern end terminates — and, he pointed out to me, where it meets up with the hospital's own brick sea barrier. We turn by the Asser Levy pool house — which is inside the gates — and through a playground that was wrecked in 2012. Rebuilt, he explains, it now has more resilient plantings and materials, making it not quite floodproof but likely to require a shorter recovery period than last time.
And here's the northernmost gate, next to the pool house. It's a beefy piece of steel, a real hulk when up close, painted gray under its translucent plastic wraps. I thought it might have to be pulled open and closed with a truck, but it does not require mechanical aid: "A couple of people can shove it along," Aggarwala says, and indeed, Eric Adams was present at the inaugural shoving right here a few months ago.
We head southward along the floodwall. It's ten feet high and set a bit inland; instead of hugging the waterline precisely, it approximately traces the outer rail of the FDR, perhaps 30 or 40 paces from the shoreline for much of its length. For those skeptical that a wall can stop the force of a coastal storm surge, there's more to the gates than what's aboveground: The foundations go deep and incorporate waterproof barriers to stop water from seeping past them from below. Their design life is specified at 100 years. They have enough structural strength to support an added three feet of height on top, should the worst projections of sea rise come into play. But it's worth keeping in mind that they are meant to protect against one kind of storm but not another. They won't be able to do anything about the immensely heavy rainstorms we're now getting, including Ophelia, the storm we just had in late September. The gates weren't closed for Ophelia, because that flooding came from above, not across.
Unlike the remade East River Park — which, I suspect, will mollify all but its most bitter opponents as it greens up after the reconstruction — the floodwall is likely to provoke dismay as people start to encounter it in the real world. It is, inarguably, a big hard barrier, albeit one that's been scalloped and textured to make its form a little less severe and unfriendly. The openings for the gates are pretty wide, but as you walk east on the side streets toward the river, most of the time you will face not the Brooklyn waterfront across the way, as has been true for centuries, but an expanse of off-white concrete. "The thing is," Aggarwala says, "dealing with climate change is not going to be free. It's not going to be costless. It is going to cost a lot of money. It is going to take a long time, and — as the trees in the park really demonstrate — we are going to lose things that we like. And the question is not, 'How do we avoid losing things that we like?' The question is, 'How do we protect as many of the things that we like as possible?'"
There were, along the design route that led to these walls, a lot of alternatives to this scheme, some less visually invasive, all requiring tradeoffs. The softer premodern methods of soaking up floods, like oyster beds and wetlands, would never be able to absorb a major surge in the compact space left available in today's New York. The Ingels plan called for gates that would swing down from the elevated trestle of the FDR, an idea of almost comical impracticability (among other things, the FDR can barely support its traffic load these days, let alone many more dangling tons of steel slabs). Gates that rise up from below grade might be less visible, but they would require many more moving parts, below grade; that adds mechanical complexity, more maintenance, more rigorous testing, and more risk of failure on the one day we need everything to work. The system we ended up with instead — concrete walls and steel doors — is calculatedly straightforward and robust.
More reasonable, if vastly more involved (and denigrated by one prominent Twitterer), were the ideas about a long barrier out at the Narrows or at Sandy Hook sealing off the entire harbor as is done in the Netherlands or, at long last, in Venice. That would be a wildly ambitious — not to mention expensive — piece of engineering compared with walls and gates, and, according to Aggarwala, it's not out of the question either. This is, in his telling, a both/and situation, not an either/or. "The reality is," he says, "if you look ahead 75 years to the end of the century, we might well need that, but also several other layers. You need — I think, anyway — to start with the inner layers before you build out. If you go for a big solution at the mouth of the harbor, until the thing is complete, you have zero protection at all, right? When this project is finished, this part of Manhattan will be protected, even if the Financial District is not yet." It's a persuasive approach given the reality of the way things get built in New York — stop-start, in budgets and out again and back in, shifting along with political tides and new administrations.
The gates may be good for a century, but that figure depends somewhat on how many storms we get. The life of a floodgate is measured, in part, by how many times it's operated, and Aggarwala remarked to me that, on a recent visit to London, he learned that a future replacement for the Thames Barrier, the city's anti-tidal-surge system installed in 1982, is beginning to take shape in the minds of British engineers. That is partly because the Thames Barrier now closes more than twice as often as it did a generation ago, and it will wear out sooner than expected. (Also, it was designed and built for a global climate that no longer exists; the water will be higher soon.) Although New York's gates are much simpler machines than London's, and don't spend their life in salt water, they too may see their lifespan change based on just how often our future mayors give the order to close them.
One upside of the new floodwalls is that once you reach the riverbank, the area outside the walls — the 50 feet or so of land outboard of the FDR — has been reconstructed and improved into what Aggarwala calls "a really attractive public plaza." New plantings and banked seating are all meant to take on some water during a storm and survive it. It's undoubtedly going to be a pleasant place to meet for coffee or go for a jog, more generally useful where it was only patchily so in the past. And in fact, that's one reason the wall is tucked under the highway rather than farther out toward the water: to make it less obtrusive because the highway is already a visual blight. "A lot of it," Aggarwala says, "is basically underneath the FDR, where there wasn't a view to worry about."
But that does bring up a question. We may not have the FDR Drive forever. It's old, it's antiquated, it's speed- and weight-limited, and, despite plenty of updates and repairs over the years, portions of it are in rough condition. The Miller Highway (a.k.a. the West Side Elevated Highway), a similar road built in the same era, collapsed in 1973 and was subsequently razed, and it was eventually replaced by an at-grade rebuilt West Street. If we want to do that on the East Side, a big wall will now be in the way, meaning we may be boxed into replacing the elevated highway, rather than reimagining it altogether, at the end of its lifespan. But that is, again, one of a set of imperfect tradeoffs: Do you want what's currently in progress or a less good recreation space next to the highway now, with more limited access to the waterfront, to preserve the admittedly vaporous option of one day getting rid of the FDR? If the answer is the former, there's pretty much only one place to put the wall, and that's where it is.
Aggarwala admits that, in other places, it would be much less acceptable to wall off the waterfront, and we'll have to come up with something more discreet. "As we look around the city, at how you think about designing a barrier at, say, South Street Seaport, that's going to require much more creative design — much more use of things that are a wall that don't look like a wall, that you don't experience like a barrier." But, he emphasizes again, we're going to lose something — whether it's views, or a shorter walk to the water, or simply the ability to pretend we're not up against the sea — because the world of the 22nd century is not going to look like ours.
In the meantime, what we do have is chugging along toward completion. The first several gates on the East Side are in place. East River Park is full of cranes and containers. The whole thing is due to be done in 2026. And one inescapable New York force has begun to take effect. During our walk, I saw that the plastic sheeting over Gate 13 had already been torn off and a ten-foot segment of the smooth gray-painted surface had received its first graffiti tags. So had the white wall nearby. When I pointed it out to Aggarwala and asked about maintenance, he got a slightly rueful look. "I don't know, actually," he said. "We're gonna have to learn how to clean paint. The MTA does a lot of scrubbing."