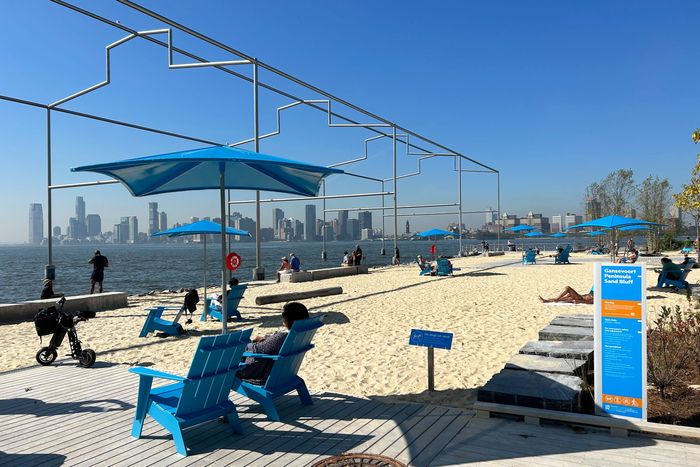 "I'm at the beach!" a shirtless man barks into the phone. And he is. There are blue beach chairs and umbrellas, pristine, soft sand, and a few sunbathers taking advantage of the October heatwave. New Jersey to our west, the Whitney to our east, this is Gansevoort Peninsula, Manhattan's first public beach, and people are here to relax.
The beach-let opened along the Hudson River Greenway this week, by all accounts to a warm reception. "When I first moved out here, you would never think there'd be nothing like this," says Barry Wilson, who has been living nearby for over 20 years and was spending the morning lounging on one of the Adirondack chairs. Down the small shoreline, Jens Marklund is sitting in the sand, on break from working at home in Gramercy Park. "I'm surprised it's not more packed," he tells me. "Maybe once all the TikToks come up." His go-to beach is Far Rockaway, but it's an hour and a half to get there. Gansevoort is much closer, and he says it's a bonus that there are no sharks. (Although there's also no swimming, so …)
The idea for a Manhattan beach has been decades in the making. Former governor George Pataki promised a beach at Gansevoort, previously the site of a Department of Sanitation building. But it wasn't until 2019 that the Hudson River Park Trust announced that it had selected architecture firm James Corner Field Operations, which also designed the High Line, to turn the concrete square into a beach. The city put over $70 million into the 5.5-acre park, which also features a launch point for kayakers, a sports field, a boardwalk, picnic tables, and 20 million oysters seeded in the surrounding waters to help restore the habitat.
The West Side has seen an influx of parkland over the past few years, including Little Island, which is rising up out of the water nearby. But strolling around Gansevoort, it's clear that there's something special about coming across an unexpected bit of sand. Is it a beach beach? No. Still, why not introduce a little novelty into our parks? A break from the boardwalk, grass, and concrete that dominate much of the waterfront landscape of the West Side and certainly a break from everything that lies east of it. (Your job, your landlord.) "I don't think we're going to leave the chair," one couple, who had scored two Adirondack seats, told me. They knew a good thing when they saw it. "Once you get a spot like this, you don't want to leave."