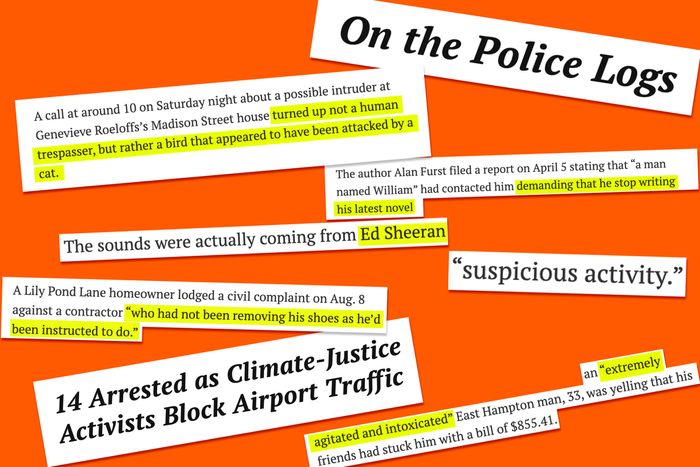 Photo-Illustration: Curbed; Photos: The East Hampton Star
This past summer, everyone in the Hamptons was reading the Emma Cline novel The Guest, but apparently at least one unlucky man in the Hamptons was living The Guest. For anyone wondering what exactly happened in the book's ambiguous ending, my best guess is something along the lines of this real-life police call, summarized by the East Hampton Star:
A woman whom police described as "basically homeless" showed up at her ex-husband's house on Redwood Road recently and asked if she could stay for a few days. The man consented, but called police Friday morning to say that she wouldn't leave. Police described this as a situation that has been repeated for years.
I've been vocal about my love of the paper's crime section — I genuinely think it's the best publication on earth — and this season's roundup of offenses did not disappoint. Where else would a noise complaint actually be Ed Sheeran's private backyard concert? Or a 32-year-old's temper tantrum over an $855 restaurant bill conclude with his mother calling with a credit card and the cops giving him a ride home?
It turns out a lot of Hamptons residents will call the cops on a family member. There was the man who told police that "despite his multiple attempts to ban her from his property, his former mother-in-law continues to turn up there," and the woman who called because she wanted it on record that "her East Hampton fiancé's daughters had been 'talking bad about her to the family.'" Let the record show that each unhappy family is unhappy in its own way.
That novel sounds like a true story, but this true story sounds more like a novel
It would be called The Hat, right?
Back in June, a woman named Pearl left a hat in a bar, and his wife took it home for safekeeping, Emmanuele Benard told police last week. Pearl never picked up the hat, he said, and now she's been leaving "multiple aggressive messages" for his wife, demanding that the hat be returned or she'd call the police. Ms. Benard tried to return the hat, but was apparently not successful, her husband said, as Pearl has continued to leave aggressive messages. The couple wanted the story on record.
Going postal
There were a few mail-related calls last summer of note, including a man who reported that a suspicious package had been left by his mailbox containing "what appeared to be a child's nightlight and a note calling him 'inconsiderate.'"
Even considerate letters prompted 911 calls: "On Aug. 29, an 80-year-old Cooper Lane woman brought in a letter from a man she'd known briefly but hadn't heard from in 50 years. It seemed suspicious, she told police, who reported that the letter appeared to be 'an attempt to reconnect nature.'"
At least she opened the package: Last summer, Sag Harbor's most famous writer in residence called the cops for a variety of package-related complaints — first to complain that a cardboard box had been left in his driveway and later, somewhat confusingly, to report that a FedEx truck had driven by without dropping anything off.
Which brings me to my favorite annual investigation …
Who did Alan Furst call the cops on this year?
Since at least 2014, the prolific spy novelist Alan Furst has been regularly phoning up the village police to report incidents that frankly sound ripped from an Alan Furst novel. But it was a quiet summer for Furst, who called the cops only twice this year. Both calls concerned his current manuscript:
Alan Furst told police he suspects someone stole a page from the new book he is writing while he was asleep the night before. Mr. Furst said he thinks he knows who did it, but he declined to give a name, because it "could interfere with his own personal investigation."
The author Alan Furst filed a report on April 5 stating that "a man named William" had contacted him demanding that he stop writing his latest novel, which concerns the D-Day invasion of World War II. Mr. Furst told police he wanted the incident documented.
I've noted this before, but in case the casual reader assumes this is just senility kicking in — after all, the man is 82 — he has written and published at least six novels during this time period, giving cogent interviews throughout. His latest book, a thriller set in pre–World War II Europe that came out in 2020, was well reviewed by the New York Times.
The Disney heir protesting privilege
Private planes and taxes dominated local protests this year, including a disturbance at the Palm restaurant in East Hampton, where "five subjects dressed as sharks" chanted "Tax the rich!" before driving away in a Volvo. Abigail Disney, an heir to the Disney fortune, was also arrested this past summer along with 14 others after blocking the East Hampton airport's parking lot for around 90 minutes in a protest against private planes. It was undoubtedly a huge relief to the anonymous 60-year-old woman who called the cops over the summer to report that there were "too many airplanes flying over her residence."
But there were also some imagined protests: "Stuart Sarnoff reported that there were people protesting against him outside his house on Acorn Place on Saturday. Chinese 'whistleblowers' have charged that Mr. Sarnoff, a lawyer who is a partner in a prominent firm, is 'aiding the Chinese Communist Party' against them. Mr. Sarnoff, who was in New York City at the time, told police there were pictures on social media of people on his property, but officers did not find anyone there."
The rich are not like you and me
In the Hamptons, All Cops Are Butlers. There was the homeowner who called the cops on a contractor "who had not been removing his shoes as he'd been instructed to do." According to the Star, "The contractor agreed to abide by her rules in future." A Springs resident was forced to cancel his 911 call after learning that his dog had not in fact been stolen — his wife had hired a dog walker. Another homeowner reported that a man — who had "piercing eyes, a black mustache, spoke with an accent" — with a dog was "staring in the back door from the patio" of a Palomino Court house. It turned out the man was looking for another address on the street and was from a moving company.
And sometimes the perpetrator is just Mother Nature. A 64-year-old living south of the highway called the cops to complain about "a loud, fan-like noise coming from a southerly direction." Police concluded the caller "may have been hearing the ocean." A woman called the police to report an intruder that ended up being a bird that had been attacked by a cat.
This was my favorite scene in Anchorman
I want to know more about this evening that started with an adult soccer game and somehow ended up with those players fighting one another, armed with knives, rakes, and … cinder blocks??
An investigation is ongoing into a fight involving five people at an adult soccer game Sunday afternoon at Mashashimuet Park. 'A knife was displayed' by one individual, police reported, and others started 'gathering weapons such as rakes and cinderblocks.' One person was taken by ambulance to a local hospital for facial injuries. No arrests have been made.
But are the men okay?
By my count, at least four different men had such a difficult time keeping their pants on this year that Hamptons police had to stage interventions with each of them. There's the 60-year-old man who was stopped on Newtown Lane for walking around with falling pants. "He told them he was 'fine, and would hold onto his pants the best he could.' Officers advised him that 'a belt would be helpful,'" the Star reports.
He appears to be a completely different pants guy than the 56-year-old pants guy who was also stopped on Newtown Lane with his pants falling down. This pants guy actually had a belt — it just wasn't working. Police concluded that he had a "negative intent of exposure" and reportedly punched a new hole in his belt for him.
The third pants guy of the summer, a 59-year-old whose exact location was not noted by the Star, was advised to wear a belt the next time he came to town, even though we just established they aren't even effective for everyone. According to the Star, "The man is local, well known, and not a threat, police said. 'Just has pants that are too big.'"
The final man, a 32-year-old Hampton Bays man, didn't appear to be wearing pants at all, which earned him a rare trip to the station. According to the Star, he was brought in for questioning for — depending on whose account you believe — either applying sunscreen or masturbating and exposing his genitals.
Why is everyone doing crimes in the parking lot of the former Child Development Center of the Hamptons?
Just curious.
At about 2 a.m. on May 2, the occupant of a taxi with out-of-state plates was found sleeping in it in the parking lot of the former Child Development Center of the Hamptons off Stephen Hand's Path. He was asked to leave immediately, and he complied. (East Hampton Star)
On May 26 at around 9:30 p.m., police ticketed three men with open containers of beer who were hanging out in the parking lot of the former Child Development Center of the Hamptons building. The next night, another man, and an out-of-state taxi driver as well, were ticketed for the same offense in the same spot. (East Hampton Star)




On Friday night, for the third time in two weeks, police handed out open-container tickets to three men found drinking beer in the parking lot of the former Child Development Center of the Hamptons building. (East Hampton Star)
What about the children?
The children are our future. Here are the coolest crimes they committed over the summer: They were riding e-bikes and pulling "ring-and-runs" (we called these ding-dong dashes, I think?), throwing water balloons at passing cars, jumping off a bridge, throwing rocks off a bridge, playing with toy swords and guns, skateboarding on concrete, misplacing but definitely not shoplifting two bottles of shampoo from White's Pharmacy, and sneaking into Sel Rrose in a thwarted attempt to underage drink.
The worst outcome for most of these kids was that their parents were notified. But then there was the parent who called the police on her own kids. The Star reports:
A teenage get-together Sunday night on Arbor Path wasn't what a mother signed up for when she gave her two daughters permission to have some friends over. She returned from a night out to a house full of juveniles who wouldn't leave. She sprayed them with a portable lawn sprinkler, police were told, at which point they fled, though not before one smashed a garage window, which police recorded as criminal mischief.
And at least one child called the cops on their parents — specifically their dad, for not giving them the bike they were promised.
And a few senseless bird deaths
Out in Montauk, evidence suggests a serial bird slayer spent their summer systematically murdering seagulls. Some of the seagulls were buried in the sand headfirst; others were left to decompose in dramatic fashion. There weren't any seagull calls in the police records, but I did find a woman who discovered a decapitated swan on her property this past summer. I'm not saying there's a second Long Island serial killer, but if anything happens to me, you know where to look …
If you know anything about the seagull slayer, please reach out! And until next summer, stay safe — and stay off Alan Furst's lawn.