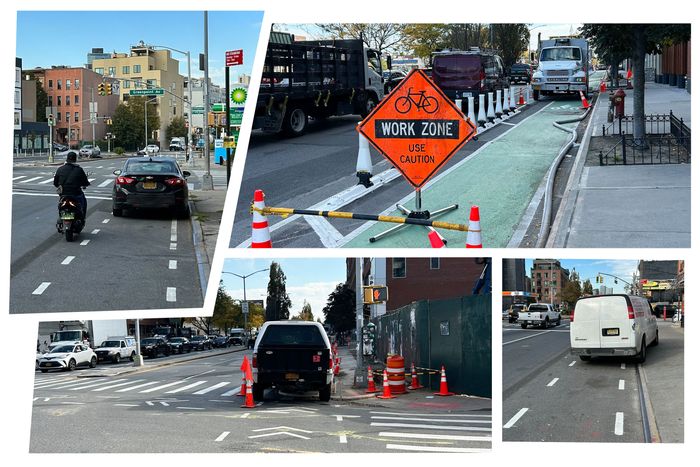 Photo-Illustration: Curbed; Photos: Clio Chang
The McGuinness Boulevard bike lanes, a much-disputed redesign that the city started work on earlier this month, seem to be a matter of interpretation. Riding the route on a Tuesday in late October, I watched as bikes, mopeds, scooters, and cars all vied for space in the freshly painted lane, all of them maneuvering around the half a dozen vehicles that had decided to use it as parking. A mom with her kid in a bike seat, heading south, rode onto the sidewalk to get around a van, then abruptly turned onto Greenpoint Avenue. "We don't want to be here longer than necessary," she told me, walking her bike before jumping back on as soon as she was off the block.
It wasn't supposed to go like this. The part of the boulevard in question, which spans from the Pulaski Bridge to Meeker Avenue and sees around 1,000 vehicles per hour according to the Department of Transportation, has a fairly notorious crash rate and has been the site of multiple pedestrian deaths in the past decade. So it was good news when, in May, after nearly two years of planning and contentious community input, the city put forward a plan for a road diet. The idea was to cut four lanes of traffic down to two and add bike lanes that would be protected by a parking lane–slash–pedestrian island. That was, until local businesses — led by the powerful Argento film-production family — launched a well-financed campaign they called "Keep McGuinness Moving."
Eric Adams was all ears. The city walked back the road diet, instead introducing a new design that largely preserved the four lanes of traffic in the section north of Calyer. The former parking lane has been turned into a bike lane. The reserved loading zones, meant to appease business owners, are gone. There is a mix of concrete and plastic bollards acting as a barrier for the new bike lane, and in an attempt to preserve parking, two of the four traffic lanes are now a "flex lane" that turns into a parking lane from 7 p.m. to 7 a.m. (Meanwhile, the section south of Calyer is still supposed to get the original road-diet plan in the spring — although the DOT now says it will undergo more "analysis.") Confused about how that all works? So is everyone else on the block.
"Yeah, I had some cars block me," says Tuni, a Citi Bike worker who was moving bikes around the docks off McGuinness. "I think the new lane is gravy, but it's a dangerous road." As he rode away, I watched him swerve into traffic to get around a car that was parked in the freshly painted bike lane. While there were already a mix of barriers installed between the bike and traffic lanes, there was still space for cars to park. (Some of this will hopefully get better as DOT puts more in and people have more time to adjust.) "Improvements are ongoing, and we are installing Jersey barriers and other plastic posts to help clarify the parking lane and keep the bike lane clear," Mona Bruno, a DOT spokesperson, wrote in an email, describing the install as mid-process. "As we continue these installations, we are carefully monitoring the project area to see how implementation is working and can adjust as needed."
Bronwyn Breitner, one of the founders of the pro-bike-lane group Make McGuinness Safe, says the current plan is "very, very far" from the vision that was promised. She's glad there's new space being set aside for bikes on the boulevard and knows it's still early days in terms of implementation, but it still seems like a bit of a mess. "It's not designed to be a local street. It's certainly not safer for pedestrians, since it's more confusing — now you're crossing four lanes of traffic just like before, and two cycling lanes," she said. "Plus it's a confusing flex lane." The very idea of a "flex lane" is chaotic, she says. "Who's going to be the person who, when the clock strikes seven, says, 'I'm going to park' as other cars speed around them? It's so insane."
McGuinness isn't the only mess made by Adams, and his chief adviser, Ingrid Lewis-Martin, when it comes to road design. The mayor has walked back a number of street-safety plans in the past year, such as the scrapped offset bus lanes in the Bronx and, more recently, the nearly completed redesign on Underhill, now allegedly paused. (And who could forget the Fort Greene Open Street debacle.) "McGuinness has become the playbook for how the mayor's donors can interfere in the community-engagement process and subvert all of the work," Breitner said. "If you don't like a project — a bus lane or a bike lane or whatever it might be — call Ingrid and she'll kill it," Councilmember Lincoln Restler, who represents Greenpoint, said at a hearing in September. "It's happening time and again, and it's a problem. And it has to stop."
The compromise, in the style of most compromises, seems to have left everyone just unhappy enough. As I biked around the area, there were banners hung up for Keep McGuinness Moving. "I've seen cars parked there, UPS, FedEx, everything," one store owner who was also against the original redesign told me. "It made it impossible to park and more dangerous for the cyclists. There are just certain parts of the city that are not meant to have cyclists." Everyone is also acutely aware that people are watching them as the lane drama drags on. After I took a photo of a DEP truck parked in the bike lane, I heard the driver call out after me as I biked away: "Call the Daily News!"