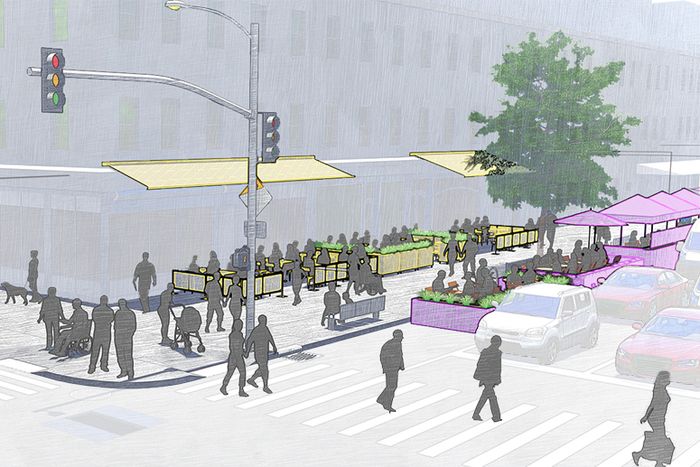 A rendering of the outdoor-dining guidelines proposed by the Department of Transportation.
Graphic: New York City Department of Transportation
The new streeteries are coming, and if the Dine Out NYC guidelines pass community review, we'll start to look more like other cities with outdoor restaurants. Late last week, the Department of Transportation issued its proposed regulations for the legally required commentary period. There are new renderings, too, showing us the types of structures that will likely be marching along the avenues next April.
As before, there are two types of setups. Those on the sidewalk will face minimal change. They're going to be allowed year-round, much as they have for decades, under umbrellas and awnings. The city is lowering the price of the permit, which suggests a stance of benign encouragement.
Then there are the roadway sheds, which are going to look quite different from most of the structures we've come to know over the past three years. No more flakeboard barriers fitted with inexpensive windows, no more big Lexan enclosures or arched bubbles. The new open-air-dining experience will put the emphasis on the open-air part. Apart from the big heavy barrier meant to defend against moving vehicles, the mostly waist-high structures will be rather lightly constructed and roofless but for fabric canopies (an umbrella is always an option too). A screen facing the traffic, above the heavy barrier, will be the only permissible full-height wall. Signage will need to be modest; your restaurant's logo won't be allowed to cover more than 10 percent of the exterior. No ads, either.
The overall intent seems to be that the sheds (which are no longer particularly shedlike; they are more like corrals) be more easily disassembled, and that'll happen from November 31 through March 31. (Right now, they have to come down by November 1; the proposal lengthens the season to eight months.) That will allow the streets to be plowed, should it ever snow again, and perhaps diminish the number of winter-storm blow-downs. Needless to say, we won't be seeing anyone try a two-story version again.