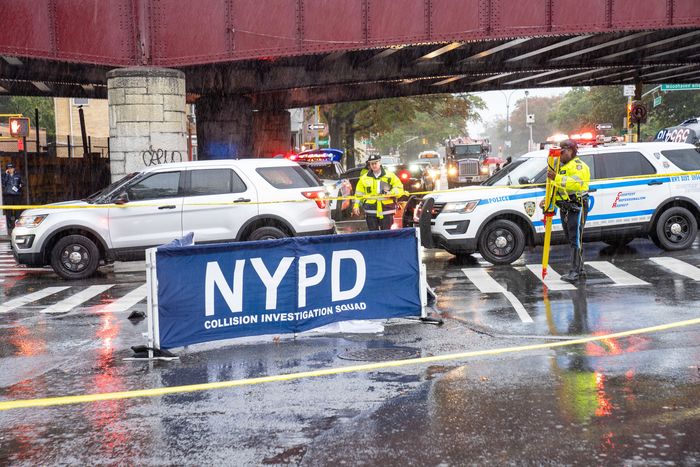 Photo: Theodore Parisienne for NY Daily News via Getty Images
Two back-to-back traffic deaths have made it a frightening week to get to school. In Fort Greene, 7-year-old Kamari Hughes was struck and killed by a woman driving an NYPD tow truck while riding his scooter alongside his mom on his way to school. Hughes and his mother were crossing Myrtle Avenue at North Portland Avenue when the driver hit him. Multiple witnesses say the driver didn't stop until people physically stood in front of the truck some 100 feet away. Left behind at the scene were Hughes's backpack and small green scooter.
Hughes died less than ten blocks away from the intersection where 3-month-old Apolline Mong-Guillemin was killed by a driver in 2021. Eric Adams, who was Brooklyn borough president at the time, stood at a podium at that scene and denounced the cycle of deadly driving. "Just two weeks ago, we mourned Tamy Guahiac, a 6-year-old girl killed by a reckless driver in Dyker Heights," he said. "I am tired of the endless stream of vigils."
Yet here we are again, on Adams's watch. A Streetsblog investigation from last year found that streets near the city's schools are much more dangerous during open school hours than the average city street. Crashes occur more often on school streets compared to regular streets, a statistic that increases near schools serving poorer students and students of color. During peak morning and afternoon travel-to-and-from-school hours, there is a crash outside of schools every 17 minutes.
Meanwhile, rather than filling its vacant school crossing-guard positions, the NYPD eliminated almost 500 open jobs before the school year began. (Doing so only saves the city $7.5 million.) But even getting these positions restored would only be a piece of the solution; many people don't want to be crossing guards, a low-paid position, for the very reason they're needed — because the streets are so unsafe. According to Streetsblog, 73 school crossing guards have been struck and injured by cars in the past decade.
Just last Friday, Krystyna Naprawa, a 63-year-old crossing guard, was directing traffic outside of a Queens elementary school on Woodhaven Boulevard and Atlantic Avenue when she was hit and killed by a person behind the wheel of a dump truck. According to her union, she had just helped a group of children cross the street. The intersection where Naprawa was killed has already seen ten crashes so far this year, injuring 13 motorists and one pedestrian, according to Crashmapper.
This is the backdrop against which Adams has weakened street safety measures and road diets, at the behest of business interests and donors. This summer, he and his chief adviser, Ingrid Lewis-Martin, rolled back a McGuinness Boulevard redesign after two years of community negotiations. He allegedly paused a traffic-calming redesign on Underhill Avenue and delayed a bike lane on Ashland Place. He must not have been that tired of the vigils.