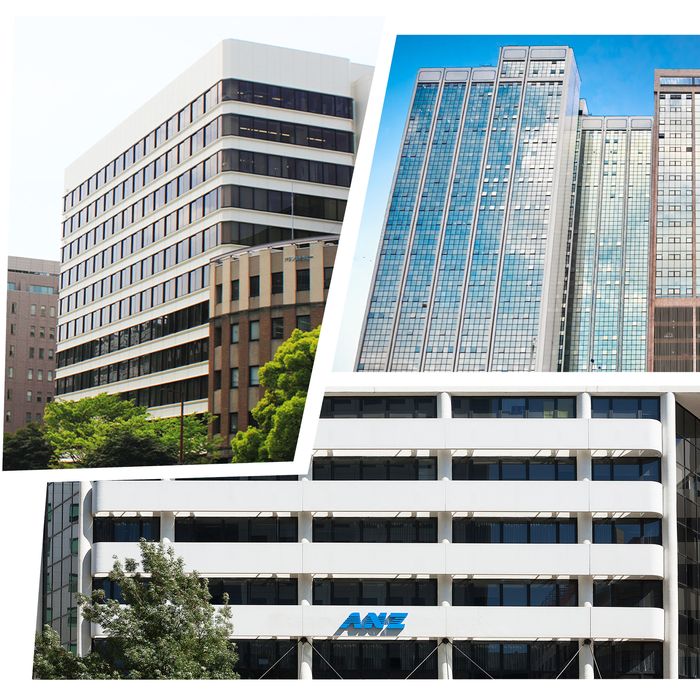 A Heatherwick hall-of-fame of international boringness, clockwise from top left: Fukuoka, Nairobi, Moscow, Canberra.
Photo-Illustration: Curbed; Curbed; Photos: Steve Lovegrove/Shutterstock, Getty Images, Courtesy of Heatherwick Studios
What do you expect to see when the wrapping comes off a construction site, revealing a new apartment building, hospital, strip mall, or subdivision? Thomas Heatherwick, the designer of flamboyant showpieces like Little Island and Google's tented Bay View campus in California, watches these unveilings like a boy opening a present he already knows will be socks. In his view, nearly all contemporary architecture is worse than bad or clumsy or oversize or energy-sucking. It is unforgivably boring.
Heatherwick has channeled that indignation into Humanize, a fat, lavishly illustrated screed against tedious architecture. Blah-ness is not a default setting, he says. Ever since the first megaloceros hunters painted the walls of their caves, people have lived and worked in ornamented structures, complex even in their simplicity. Not until the early-20th-century embrace of concrete, mass production, and modernism did humans fully explore the realm of boringness.
He lays boringness at the feet of architects, which is to say his employees, colleagues, and collaborators. (Although Heatherwick designs buildings himself, he isn't a licensed architect, so his own feet remain blameless.) The members of that profession — cult is the term he prefers — remain in thrall to an obsolete orthodoxy of modernism. Developed in the years before World War I and dominating a cratered world after World War II, the clean-lined, flat-surfaced, fuss-free modern aesthetic promised sanitary spaces and abundant light. Factories would churn out housing for all. Those new homes would banish dinginess. The movement delivered so thoroughly that, in Heatherwick's view, it scattered the globe with banality, and it's not done yet. More than 100 years after Le Corbusier's revolution, modernist design still retains a revanchist hold, especially in the upper strata of prestige. Saarinen chairs and Noguchi coffee tables remain popular long after they've become period décor. Great sheets of clear glass cover most new skyscrapers, even though they leak heat and massacre birds.
It's not easy to whip readers into a lather over dullness, or to analyze the phenomenon in nearly 500 pages addressed to the casual passerby. As a designer, Heatherwick can sometimes be a magician, pulling off unlikely displays with boyish panache. In the book, he comes off as more of an earnest dad, taking seriously a question about why old buildings are fun but new ones aren't. By the time he's done formulating an answer, he's laid out in layman's terms, short sentences, and large print how a stylistic movement impoverished a worldwide architectural ecology, making people sick and poisoning the atmosphere. This is hardly a novel argument. Mies van der Rohe, mid-century-modern architecture's high priest, still lived and presided when Robert Venturi transmuted his minimalist dictum "Less Is More" into "Less Is a Bore." Tom Wolfe made the same point at book length in his 1981 screed From Bauhaus to Our House. King Charles III spent a good deal of his princedom excoriating dour concrete creations and trying to keep them out of London. More recently, the conservative ideologue Justin Shubow tried turning anti-modern traditionalism into Trump-administration policy.
Heatherwick's contribution to this long saga of opprobrium is a tone of quiet hysteria mixed with patient explanation. Architects don't just like austerity; they have elevated it into a commandment. They don't just use technical terms; they utter mystifying, witchy incantations, intoning words like piloti (columns), parti (organizing principle), and fenestration (windows), along with façade and cantilever, which aren't as rarefied as he pretends. Their sins have resulted in a worldwide aesthetic catastrophe that deadens the spirit, numbs the mind, raises stress hormones, promotes cancer, and triggers an impressive range of other miseries, including "depression, anxiety, drug addiction, alcoholism, compulsive gambling, eating disorders, hostility, anger, poor social skills, bad grades and low work performance." If you're unhappy, chances are you're the victim of modernist architecture, he seems to believe. His prescription is to go look at just about anything by Gaudí.
To get the most out of Heatherwick's argument, it helps to ignore much of his own design work, at least for a while. He quotes one expert's opinion "that high-rises are less satisfactory than other housing forms for most people … and that they may independently account for some suicides." That's an awfully glib connection to make, especially for an architect whose centerpiece fantasia at Hudson Yards has been closed for more than two years because visitors were, entirely predictably, jumping off. That work, The Vessel, cost its commissioner, the billionaire Stephen Ross, $200 million, a figure that doesn't dovetail perfectly with Heatherwick's claim that turning an insipid design into a fascinating one requires only a 5 to 10 percent "human premium."
However mock-worthy Heatherwick may be, and however facile his generalizations, it's worth shifting attention from the spokesman to the speech. The man does have an argument worth attending. He contrasts the centurylong "blandemic" to millennia of construction in which visual liveliness was as fundamental to human existence as basic nutrition. Even thatched huts and tenements integrated frugality with beauty, qualities we have abandoned for the oppressive monotony of glass. Worse, we relentlessly scrub away the past's eccentric, inefficient, bumpy, cramped, and charming structures, replacing them with the architectural equivalent of Wonder Bread. But if such a profound shift has occurred in the nature of human shelter, then the obvious question is Why? Heatherwick distributes bits of blame to clients, critics, schools, and other deluded gatekeepers. He fulminates against the importance of profit and the obsessiveness of value engineers whose mission it is to cut out all the good stuff. He insists that he can and has sourced apparently deluxe materials on the cheap, implying that others could do so, too. He offers the London-based social-housing specialist Peter Barber as the rare architect who aims high on a low budget. In the end, though, he keeps returning to his favorite target: designers who aspire to be artists but prefer industrial-grade repetition to true creativity, who claim to find beauty in self-evidently ugly structures, and who stick the public with buildings that nobody likes. All of which makes me wonder, Do architects really have the power, or the unity of purpose, to impose their diabolical will on the meek?
I think he has it backward. It's true that the commercial appeal of high-end, high-gloss austerity endures. Modernism rolls on and on, partly because it is the preferred aesthetic of the elites but mostly because what was once called "the International Style" has birthed a network of raw materials, capital, and construction procedures. Apartment buildings and offices long ago evolved into industrial products: deracinated, basic, infinitely reproducible, comfortingly anonymous, and subject to precise calculations. It's not just that architects know how to design plain boxes in their sleep; it's that developers know how to budget for them, contractors how to schedule construction, suppliers how to source components, lenders how to assess their value, brokers how to peddle square footage, and tenants how to imagine what it would be like to live and work there. It's almost as if the whole thing comes in an Ikea flat pack, ready to go. Boringness is the elimination of surprise, which in the business of buildings is a crucial goal.
That was true in the past that Heatherwick romanticizes, too. Sears, Roebuck sold bungalows by mail, and Soho's elaborate cast-iron façades came from catalogues of parts. The difference today is that the industry has gone global, and not just because fancy architects flit from continent to continent seeding signature projects. Much as a blender in Dubai is pretty much the same as a blender in Seoul, construction follows a similar commodity logic. Wealthy cities and suburbs protect their residents' safety and quality of life with elaborate safety codes and zoning that wind up making deviations cumbersome and expensive. Those systems of regulation, economics, and habit can flex to permit fantastically weird one-offs like Frank Gehry's Disney Hall or Jeanne Gang's new wing at the American Museum of Natural History. They have a much harder time accommodating the idiosyncrasies of craftsmanship or pre-industrial tradition. One reason we don't put up buildings like we used to anymore is that it would be illegal.
Heatherwick eventually gets around to discussing the evil influence of money in architecture, which is a little like excoriating blood for its dominance of life. It's not news that developers shave costs to boost profits. Governments do it spread the money around. And clients cut expenses because they suspect that architects, like car salesmen, are constantly trying to pile on pricey features they don't really need.
Since his specialty is doing and making, he ends with an action plan to humanize architecture. Step One: Get rid of the cabal of wrong-headed twits killing the profession, or at least force them to reevaluate their lives. In his formulation: "A building should be able to hold your attention for as long as it takes to pass by it." That might seem like a low bar, considering how quickly a New Yorker in a hurry can scoot by the Empire State Building, say. But Heatherwick breaks the principle down further: A building should be interesting to look at from a block away, from across the street, and from outside the door. That gradual zooming in needs to be rewarded in an intensifying succession of detail; looking good on the skyline and dull at close quarters is a grave urban crime. The problem is that all those scoops and curls and shadows, those flecks of luxury and intimations of depth, represent just the kind of decorative line items that get stricken from a conscientious budget. It's not that modernists crave boringness; it's that they have given bean counters leeway to demand it.
How serious a problem is this, really? Not every home in 17th-century Agra was the Taj Mahal. Ancient Athens had its now forgotten slums. Dickensian London contained a plethora of structures that repelled a passerby's attention rather than hold it. This process of sifting leaves the past looking more gorgeous than it was because gorgeousness is mostly what we have left. Maybe our own era will look better in retrospect, when all the dross is cleared away. But that's the crux of the problem: building dross, letting it languish unloved, then eventually knocking it down to replace it with more dross constitutes an all-out assault on the environment. Until the construction industry can cleanse itself of toxic byproducts, we should be building only what we need and demolishing only what we must. As Heatherwick writes, "Buildings that are loved by the public are rarely pulled down." (That's only partly true, since "the public" is not always asked its opinion on the matter.)
The solution sounds easy: Find out what people will love, then design that. But the answer to that question is ever shifting, often surprising, and stubbornly resistant to formula. Heatherwick doesn't crave a return to classical tropes or neo-medieval pastiche. Instead, he wants new kinds of ornamentation, fresh forms of fractal complexity. (I've pleaded for the same thing.) To help achieve them, he offers a semi-objective test of vibrancy: the boringometer, a software tool his office developed to "measure the visual complexity of a building's design from the point of view of the passer-by." Presumably, he used it to vet the the imperial headquarters he supplied for Google at Kings Cross in London. And yet somehow that building has turned out so long, lackluster, and monolithic that it makes the book come off as an oblique expression of regret.