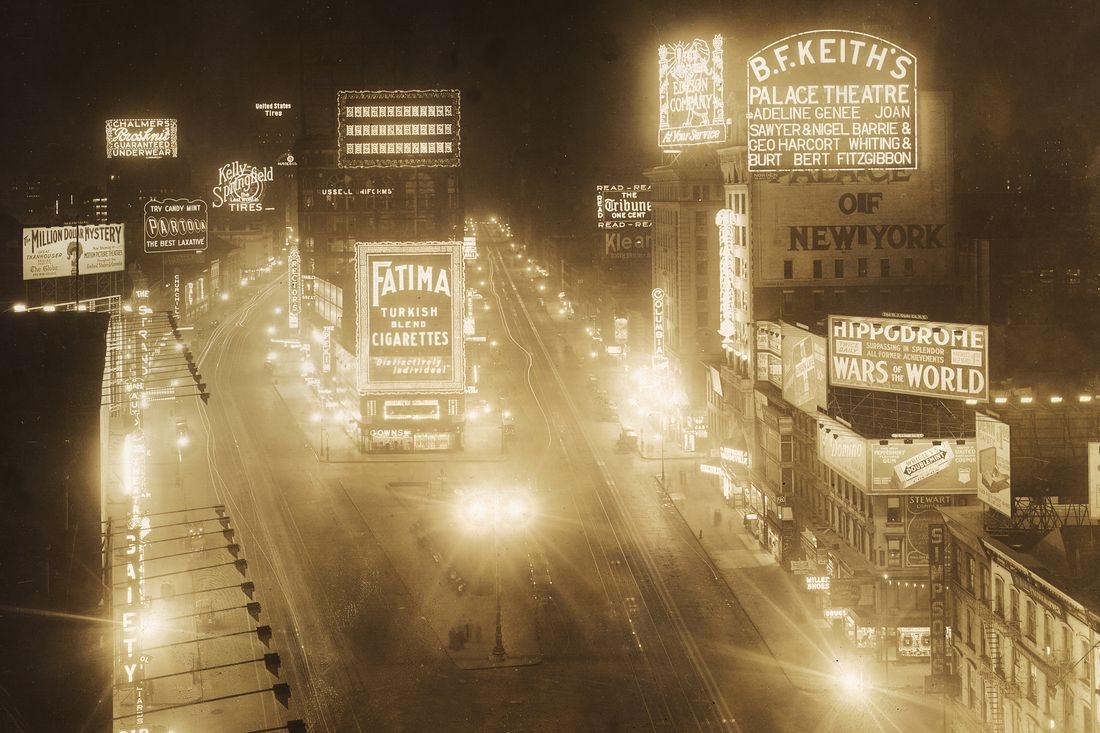 Photo: Edwin Levick/Getty Images
A New York Post headline in August declared, "Times Square Back to the Bad Old Days." Even more recent visitors to the area will find an autonomous 400-pound robot surveilling the subway station there. In the post-pandemic era, Times Square has again emerged as a symbol of urban malaise, marked by unusually low office-occupancy rates and declining retail rents. While the same can be said for much of Midtown Manhattan, the specter of Times Square returning to its blight-ridden '70s and '80s form has fed old fears and inspired wild solutions, from casinos to thrill rides in skyscrapers. Lynne Sagalyn, a professor emeritus of real estate at Columbia University's business school, has just published a history of the area, Times Square Remade: The Dynamics of Urban Change, that puts the area's current woes in perspective.
Sagalyn has spent over 30 years thinking and writing about Times Square. Her 2001 book, Times Square Roulette: Remaking the City Icon, focused on the ambitious rebuilding of the area that began in the 1960s but wasn't complete until the early 2000s. In that book, Sagalyn traced the transformation of the district from a seedy lowlife destination into a revitalized entertainment district with massive new office towers and bigger, brighter signs. Her latest book goes much further back to the neighborhood's emergence in the 1890s as the city's new theater district. I talked to the author about why that past matters now.
I was wondering what prompted you to write not one but two books about Times Square, a part of New York City that everyone knows but few people take seriously.
Well, the first book came because I wanted to understand the politics of the redevelopment of Times Square from the 1980s through the early 2000s. It was the biggest public-private project in New York City; you had the private financing of the public condemnation of real estate, which is really unusual. Essentially, private developers had to advance their own money for the condemnation and the acquisition of the parcels they wanted. And they would get paid back in a credit against property taxes. Normally development would be funded by a city or state-issued bond.
Twenty years later, my husband kept pushing me to go back and look at it again. But the aha moment came during the summer of 2015 when the tabloids went to town condemning the topless women in body paint hustling for tips in Times Square. The place had become congested with scores of these "desnudas" and costumed characters panhandling, sometimes rather aggressively. At first, Mayor de Blasio and his NYPD commissioner thought to tear up the plazas. That created its own uproar because the plazas were really popular.
What about the controversy drew you back in? 
It made people aware that Times Square was a particular kind of public space, and it really needed a protocol, which it barely has now. I say "barely" because, before the pandemic, enforcement of the regulations was a challenge.
What do you mean when you say it needed a protocol?
Well, unlike Duffy Square, a park space in Times Square where rules set by the Department of Parks and Recreation prevail and where commercial activity could be kept out, the pedestrian plazas in Times Square are streets, under the jurisdiction of the Department of Transportation. To quell the chaos, the city council eventually passed legislation permitting the DOT to establish time and place regulations over commercial activity consistent with First Amendment rights; commercial activity would have to take place in"designated activity zones" within the pedestrian plazas.
So why in your latest book did you go back even further, to the 1890s?
I became fascinated with the kind of speculation that goes maybe one or two decades ahead of real change. And that's a story that nobody has told about Times Square. Real estate development is underestimated as an agent of change. It's still mysterious to many people. People don't see clearly that one or two projects can set in motion a series of changes that will lead to new people moving into a neighborhood.
What were developers back then betting on happening in Times Square? As you wrote, speculation ended up transforming the area from Longacre Square, "a sleepy, sparsely populated district of horse dealerships, carriage and harness factories, and livery stables" to what it is, more or less, today. 
Here's an example: the two big hotels — the Hotel Astor opened in 1904 and the Knickerbocker opened in 1906. They each had a distinctive kind of culture. The Astor Hotel was the big business hotel. It was the place for conventions, but it was also the place where there were important social functions. The Knickerbocker Hotel created a sensation when it opened in 1906. Its lavish interiors, its murals by noted artists, and its elegant iron canopy reflected the architectural richness of the Gilded Age. They were pioneers in that they were the first big lavish hotels. Before that, in Times Square, there were just rooming houses.
Another example you mention is Oscar Hammerstein, who, in 1895, built a 10-story tall, 6,000-seat theater in the area.
He built the Olympia on 44th Street and Broadway, which was no man's land at the time. He was gambling on creating the largest theatrical venue in the city. The community of theater builders thought that was speculation because the theater district, the Rialto, had not moved above 34th Street.
And ultimately it flopped, closing in 1898. But another 44 theaters (not counting movie theaters) followed Hammerstein to Times Square over the next 20 years. This influx of theaters and the installation of huge electric signs known as "spectaculars" that, by 1918, had become the area's hallmark, made Times Square, in your words, "a lab for new forms of popular culture." What do you mean by that? 
It was a central marketplace for entertainment. It was the largest, most diverse audience possible that could congregate there, in no small part because of the transportation centrality. And you had, in the 1920s, entrepreneurs who had this enormous mass market mostly geared to the populists, not the elite. You know, at that time, legitimate theater was mostly for the elite. But what do you get in Times Square? You got the movie palaces first, then you got burlesque, and then you got, as the place goes downhill, grinder movies… And you got mystery and melodrama and signs as entertainment.
Are there aspects of the current-day Times Square that you can look at and say, 'Yeah, it's like that because of this thing that happened a century ago'? Is there a pattern that's visible to you?
Well, you still have the concentration of theaters. You still have the transportation nexus that began when New York City's first subway, the IRT, opened in October 1904 and had a pivotal station at 42nd Street where Broadway crosses Seventh Avenue. Times Square, I believe, is the busiest subway complex in the city, more so than Grand Central. And signage, starting with Oscar J. Gude's earliest spectacular, an enormous animated electric sign for Trimble Whiskey, erected in 1904 at 47th Street. I mean, signage is one of the things that even amazes New Yorkers. I've been to other places notable for their signage, like Piccadilly Square and the Ginza. Nothing is like Times Square.
And I think it's the physical shape of the Bow Tie, which is an anomaly, a space created by Broadway's diagonal intersection with Seventh Avenue. The geometry of this space with its twin goalposts of visibility at either end forms a natural stage for the theatricality of bright lights. Running from 42nd to 47th Streets, the long slight lines are exceptional.
Right now, if you ask the owners of the office towers in and around Times Square, they'll try to convince you that the apocalypse is upon us. What's your prognosis for the future of Times Square?
A lot of people are thinking the apocalypse is here already because the Midtown office market is suffering. I find the Doom Loop thesis a little too extreme.
What's happening now in the office market is that there's a flight to quality and newness. And what's happened in Times Square is that you're not  getting the A tenants, you're getting second-tier tenants.  And this is just the way the market works. Prices drop. And as prices drop, tenants who could otherwise not afford a class A space, which is now maybe an A minus space, can afford it, and they will move into Times Square. Landlords don't have a lot of options,  especially if they have a lot of debt.
Yet it's hard to tell from the street that anything's amiss. I've been keeping an eye on Times Square since the late 1980s, and my sense is that no matter what the economy does, no matter what plans are imposed on the place, there's something integral to the peculiar culture of Times Square that always survives.
The character of the place, both socially and physically, has an impact that's bigger than any single individual or set of individuals trying to shape it. People used to say, "Oh, 42nd Street will be Disneyfied," and I kept saying, "No, the place will shape Disney. Disney will not shape the place. "
And that's, in a sense, true. Disney tried to shape it.  Believe it or not, they wanted to gate 42nd Street.
Really? I didn't know that.
They wanted to gate it because all their places are gated. They like the total control. And of course, with Rebecca Robertson, who was running the 42nd Street Development project, it was "no" from the get-go.
But there's such a density of energy. There's such a density of uses, there is such a density of signage. These are very forceful vectors shaping a place. The overall impact of the place creates a force field that's greater than any individual that tries to put its mark on it.
What about the current spate of tabloid reports on the rise of pickpockets and drug users and miscellaneous criminals in Times Square, stories implying that the bad old days are here again?
Times Square is a natural habitat for those seeking to make money from hustling in its many forms, legal or illegal. It presents the greatest commercial potential for this type of activity because the density of tourists who may not, for example, be as on guard against pickpockets as New Yorkers, is so great. But the vitality of the place flows from the same density of people. And even in its darkest days, Times Square had vitality.