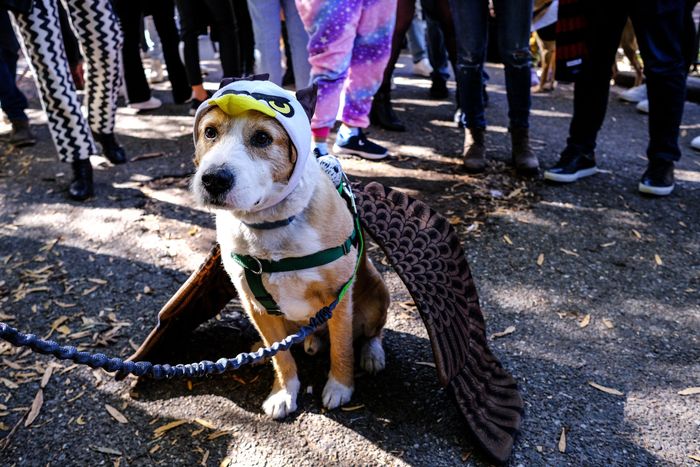 Photo: ZUMA Press, Inc./Alamy Live News
Rejoice, dogs dressed like ATMs: The Tompkins Square Halloween Dog Parade is officially back on after being sort of called off last week.
In response to widespread dog-owner despair and pressure from Councilmember Carlina Rivera, Mayor Eric Adams's office stepped in, reducing the permit required from almost $50,000 to $5,000 in coordination with the city's Open Streets program. Get Joy, a dog food company, is also now sponsoring the event and covering expenses. According to the New York Times, the parade will have an official route for the first time, from 14th Street and Avenue B to Seventh Street with the judging still happening in Tompkins Square Park. "This means the world," Joseph Borduin, the parade's organizer, told the Times. "I thought this only happened in movies." (Movies about civic dysfunction, maybe!)
The whole ordeal became news last week after the Tompkins Square Dog Run announced that the "parade has been canceled for the foreseeable future." The parade, which has, three decades in, become an elaborate neighborhood affair that can take dog owners months of preparation, is an annual fundraising event for the Tompkins Square Dog Run. But parade organizer Joseph Borduin told Gothamist that the logistics had gotten to be too much, especially with major construction happening across the park.
After looking into moving the parade onto the street and closing down nine blocks, Borduin said the city's Street Activity Permit Office quoted him $50,000 for necessary permits. "I'm just trying to raise money for the dog park, not pay the city and Parks Department all the money," said Borduin, who organizes the parade as a volunteer.
Borduin had been trying to work with city agencies as well as Councilmember Carlina Rivera's office to figure out a solution, but ultimately withdrew the applications after a SAPO representative said that Borduin, not Rivera's office, would be responsible for the huge bill. "This is the most unorganized and craziest thing I've ever tried to do," he said. With only weeks to go before Halloween, Rivera's office told Gothamist that they were still trying to secure the permit and eliminate the fees.
The comments on the Tompkins Square Dog Run's Instagram feed, faced with the uncertainty over the parade's fate, had a funereal quality about them, naturally: "I'm so sad," one read. "I had already started working on costumes." Another: "First Target is closing and now this." But at least one person held out hope that the parade would live on: "If we all come together, we can make something happen for our fur babies."
Something did happen for those fur babies, thanks, in part, to a dog food company.
This post has been updated.