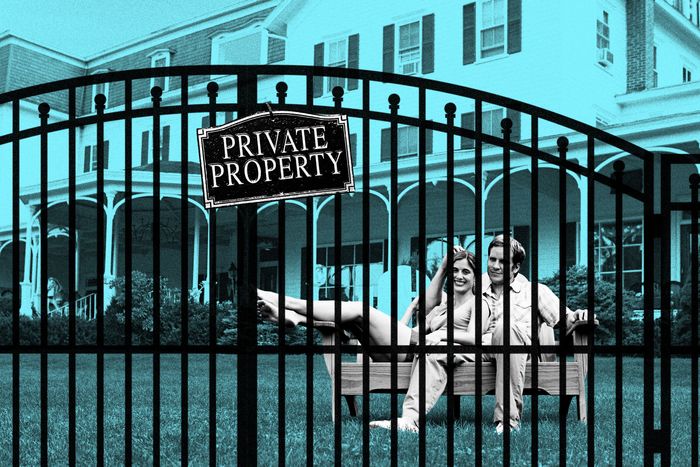 Photo-Illustration: Curbed; Photos: Getty Images
For a while in the early days of COVID, it felt as if everyone from the city was either Airbnb-ing at a house upstate or buying a house upstate to Airbnb. "People discovered there was this hack to buying a second home and having other people pay for it," says Jennifer Grimes, an upstate broker and the owner of Country House Realty. "You could get on the real-estate ladder even if you couldn't afford to buy in New York City." And even if you could afford to buy in New York City, why not earn a little extra money to offset the taxes? "Everyone was an Airbnb buyer," Grimes says. "Or at least it felt like everyone was."
Three years later, things have changed. There is waning interest in Airbnb-ing, brokers say, and it's not just because nearly all the towns in the Hudson Valley and Catskills have enacted regulations to limit the practice. Instead, what they're seeing is that high home prices and interest rates have pushed the sales market into an echelon in which buyers don't have to — and, moreover, often don't want to — rent out their homes to short-term visitors. "Before, it was like regular people Airbnb-ing to make their second home work," says a broker. "Now everyone that's buying a house here is rich. They're like, ewww."
Megan Jo Collum, an agent at Country House, says most of the buyers she was working with a few years ago were interested in short-term rentals, and she has witnessed the same shift in the current market: "A sentiment I've heard many times, and it does seem to come from higher-net-worth individuals, is 'No way. We don't want strangers in our house.'" Even buyers who are willing to try Airbnb often abandon the idea once they find out they'll have to buy in, say, Saugerties, instead of Woodstock if they want to make a go of it, says Lisa Halter, a broker and the owner of Halter Associates Realty. "People will say, 'Oh, it was just an idea, but I really do want to be in Woodstock.'"
The three-day office week hasn't helped much: What might have been a weekend place pre-COVID is now more like a 50-50 split for families who can afford to carry a second home within shouting distance of the city.
And then there's the glut of Airbnb inventory already out there, which can make the math unattractive for all but a handful of owners with glossy properties. "It's a sea of mediocrity," says one broker of the mid-tier Airbnbs. "The extraordinary houses will still get top dollar, but the rental market is so saturated. You're competing against all the other houses that people bought." And buyers were snapping up everything that hit the market in the low-interest-rate era. Weekend visitors paying $600 a night before the cleaning fee want a modernist showpiece with pale-wood interiors, not a suburban-style ranch near the highway. (And number of upscale inns and hotels have opened in the past few years, where someone else makes the bed every morning and guests don't have to hunt around for keys on a dark porch when they arrive at midnight.)
All of this has, of course, led to some buyer's remorse. Grimes says she recently noticed some of her agents were re-listing houses people had only just bought. "People were not making the money they thought they would. It was a bit of a gut punch." Although not too much of a gut punch, she added: Prices in Ulster County, for example, did go up 56 percent between 2020 and 2022, after all.