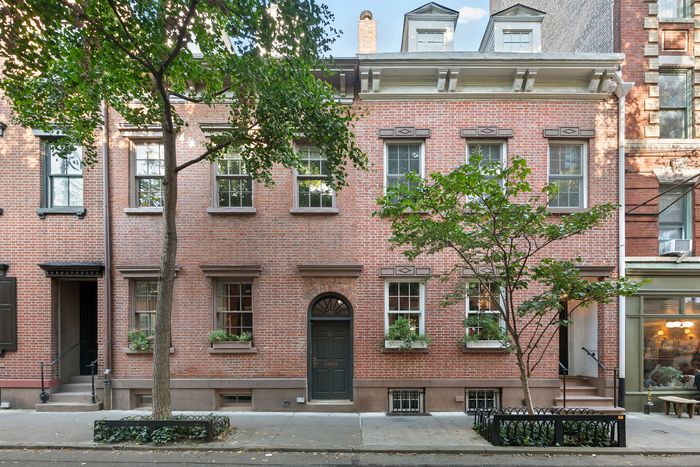 Two townhomes that face Bedford Street in prime Greenwich Village are on the market together and could be combined into a single, 37.5-foot-wide home. No. 66 is in the middle, and 64 is on the right.
Photo: Zoe Wetherall/Duplex Imaging NYC
The narrow 19th-century townhomes that give the West Village its charm tend, unfortunately, to be a bit quaint and narrow for the buyers who can afford them. So over the past 20 years, the Über-wealthy have taken to merging teensy but preposterously expensive neighboring homes and combining them into "Frankenmansions" — compounds with more lavish floor plans than their exteriors suggest. There's 105 and 107 Bank Street, where work is ongoing; 273 and 275 West 11th Street, occupied by Sarah Jessica Parker and Matthew Broderick; and the two homes on West 4th combined by Chipotle founder Steve Ells. Others have tried to achieve scale in a landmarked neighborhood in different ways, with one hedge-funder creating a 15,000-square-foot family home and 50-foot lap pool out of a former school on Christopher Street.
And then there's the currently on-the-market 64–66 Bedford Street, an assemblage of two 1840s townhomes on a lot that stretches 145 feet back to Seventh Avenue South, where the entrance to a private driveway is barely noticeable in an ivy-covered brick wall. The drive once led to an auto-body shop that, in 1982, was purchased by a previous owner of 66 Bedford Street who turned the service center into a guest home complete with kitchenette and bathroom. This is included in the sale as well, meaning a combined 5,500 square feet of interior space and 2,000 square feet of yard and driveway is suddenly available as a package deal on what happens to be the oldest block in the entire neighborhood.
"That's one of the most unique pieces of land for a townhouse that I've ever seen and, I think, quite frankly that anyone will ever see," says Matthew Lesser, the broker, who has been selling townhouses for 19 years. Right now, Nos. 64 and 66 are configured as separate four-story homes with their own kitchens and stairways. That's because Lesser's client, the investor Barry Schwartz, bought 66 and the former auto shop in 2006, then in 2011 when his neighbor at 64 was selling, bought the home next door for guests and family, carving out a passageway at the parlor level to cross between the two. "His intention was not to use this as a compound as we're selling it now," says Lesser.
The site has two advantages for compound creators. First, the levels of the floors and the windows already line up, so taking down a wall between them is a "much more manageable project," according to Lesser. Second, those who can afford compounds may be hoping to avoid paparazzi, and thanks to the onetime auto shop, the private drive has a curb cut — something that can't be added to landmarked homes. "That's highly unique," Lesser says. Also unique: the location, a stretch of Bedford Street that was once home to Chumley's and William S. Burroughs, to the legendary Shopsin's and the charming, 9½-foot-wide townhome occupied by the poet Edna St. Vincent Millay, which is perhaps most famous for being the city's thinnest.
Lesser's firm sketched out potential plans to show how taking out the extra staircase, kitchen, and central wall between the two homes would allow space for a gym, laundry room, study, media room, dining room, and foyer, plus four larger bedrooms. Those plans also suggest a buyer could add more glass to the rear wall to let in light and views of the gardens and drive. "It truly gives you a suburban feel back there," he says.
Updated 4:11 p.m.: The article originally identified the founder of Chipotle as Richard Ells. It has since been updated to identify the founder as Steve Ells.