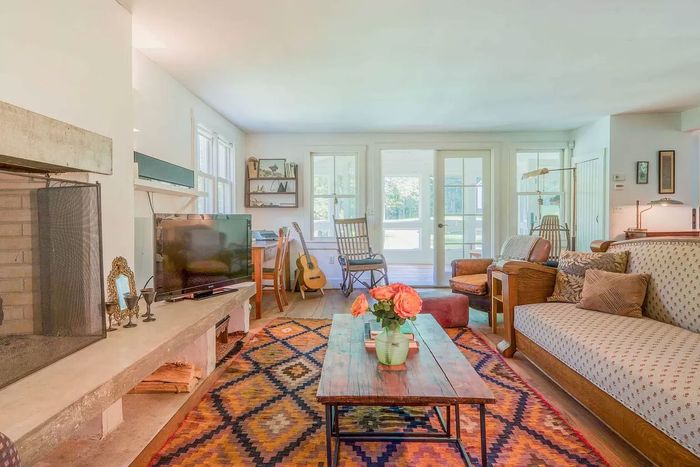 Actors Willem Dafoe and Giada Colagrande are selling the 1920s farmhouse they bought in 2008, as he was filming
Antichrist.
Photo: Brown Harris Stevens
In the film Antichrist, Willem Dafoe plays a psychiatrist who treats his wife by taking her to a cabin in the woods, where they torture themselves and each other. Which is why it is mildly surprising that Dafoe and his real-life wife, Giada Colagrande, didn't think it was a nightmarish idea to spend the summer he was filming, in 2008, buying their own country home.
That house is now up for sale and seems sunny and cheery in all the ways Antichrist is not. Across the ground floor of the two-story, 1920s farmhouse, a wall of windows marks a heated sunroom. In the living room, there's a working fireplace. Upstairs, a bathroom has been luxe-ified with a soaking tub. There are radiant floors throughout "so the winter can still be barefoot season," according to the listing. "It's really comfortable," says broker Nancy Felcetto. "I was there the other day, and I had to go back the next day, and I was like, 'Why didn't I just bring clothes and stay here?' It's a very comfortable, easy kind of house."
But there are, still, some Antichrist-like features — a rustic barn, actual woods (the couple bought five acres next door), and a one-story outbuilding, which could easily serve as a haunted one-room schoolhouse down to its peeling white paint, though the listing describes it as a "quintessential writers cabin."
When Dafoe and Colagrande bought it in 2008, this stretch of Ulster County was pulling in celebrities — including Daniel Craig and Rachel Weisz, Uma Thurman, and renters Mary-Kate and Ashley Olsen. The Dafoes arrived after selling a less practical getaway a ten-minute drive west in Accord — the so-called Rubber House, a modern, ecofriendly 1981 home that got its name for its cast of insulating neoprene. Dafoe told Interview Magazine that the Rubber House "seduced" him, but it wasn't what he was looking for" at the time — "something rustic, like an old farmhouse." Perhaps now he's been seduced by another farmhouse. Or maybe it's just that Dafoe and Colagrande just have enough real estate already. They own a $4 million penthouse in the West Village at 68 Jane Street, and they split their time in her native Italy, where they live in Rome. 
Or Dafoe is bored, and selling an underused house is a welcome distraction. This fall, Dafoe had three movies premiering at Venice, but the SAG strike meant he couldn't attend. And he hasn't worked in months. He told Vanity Fair that it's been hard to sit on his hands: "I'm like a child that wants candy."