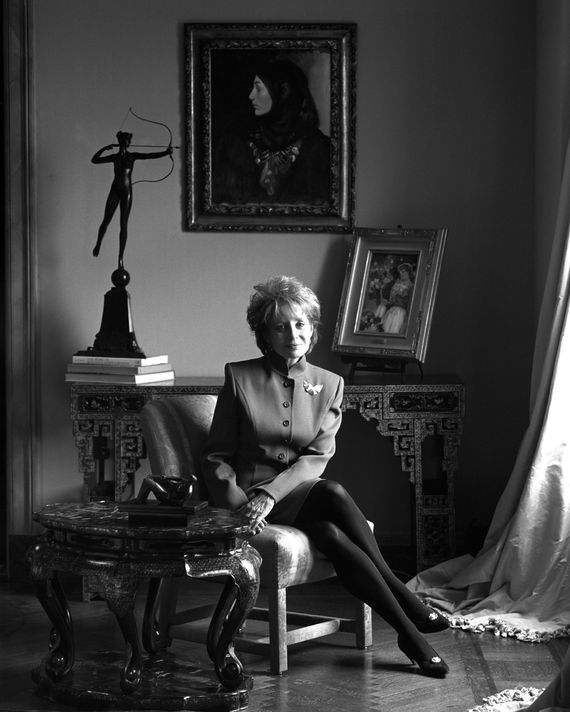 Photo: David Turner/WWD/Penske Media via Getty Images
When Barbara Walters moved into an 11-room apartment at 944 Fifth Avenue in the late 1980s, she brought an Eames chair and a plan to make a home of her own after her recent divorce from Merv Adelson, an entertainment mogul whom she married (and split from) twice. With the help of interior designer Mario Buatta, Walters filled the rooms with a collection of fine art, antique furniture, and knick-knacks from her travels and those gifted to her by friends and acquaintances like John Lennon and Yoko Ono. It became a showcase for her career and a place to host 30-person dinners with Andrew Lloyd Webber, Colin Powell, Bette Midler, and other friends from media, politics, art, and fashion (Oscar de la Renta himself upholstered her dining chairs). She would live here until her passing in December 2022. Her apartment was listed this spring at nearly $20 million, and auction house Bonhams is presenting an online and in-person sale of her things. The online bidding, which closes in four days, began yesterday, and the in-person auction will take place at Bonhams's Madison Avenue space on November 7.
Walters was especially keen on objects that reminded her of key moments in her own life — a painting above her bed, explained Bonhams's head of department for American art, depicted a scene of Boston Swan Boats that she remembered from her childhood. Besides her collection of JAR earrings and exuberant jewelry, including a 13-carat diamond engagement ring, and artwork, like a painting by John Singer Sargent and prints by Alexander Calder and Henri Matisse, there's also an assortment of items that offer a more personal look into the life of a woman whose job was to peer into the lives of others. Here are some pieces we're especially interested in:
Rosewood Eames chair and ottoman
Est. price: $2,000-$4,000
The iconic chair rendered here in bright-red leather appeared in a 1975 Architectural Digest tour of Walters's previous apartment, shared with her then-husband, Adelson. It's much more contemporary than most of the furniture in her solo space — still, a great chair is a great chair, so this one made the move with her.
Estimated price: $100-$200
Walters worked closely with Buatta, the maximalist interior designer beloved by New York socialites and the legions who took their cues from them. He helped oversee the decoration and furnishing of her apartment, and produced custom pieces like this cushy floral chair. There's also a pair of them to bid on, in case one feels insufficient.
Estimated price: $800-$1,200
Anna Hicks, who heads the department for furniture and decorative arts at Bonhams, points out that this bronze desk set is one of a number of pieces that reference astrology — another, an engraved silver cigarette box, was a gift from Michael Douglas and Catherine Zeta-Jones, who both shared the same birthday with Walters.
Estimated price of Champagne glasses: $200-$300
Estimated price of serveware: $500-$700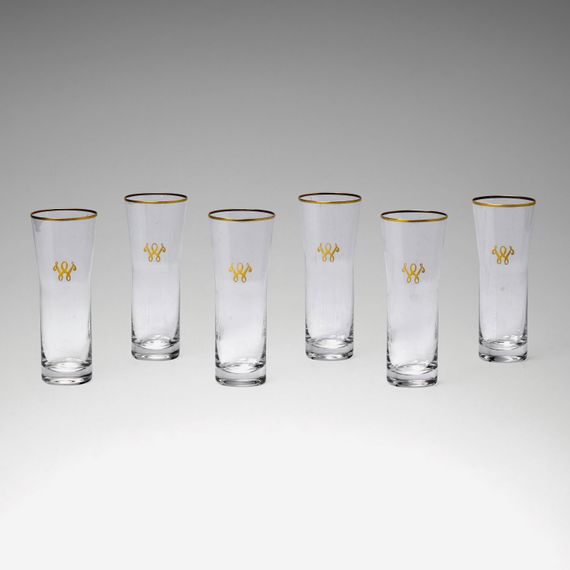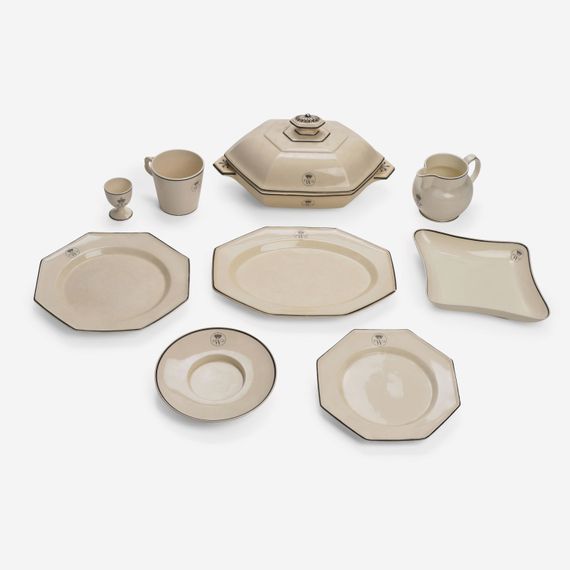 Walters loved a monogram, and her initials appeared on serving ware, glassware, and silverware throughout her home. Notepad holders, napkins, even a Harry Winston necklace all bear her signature "BW." This creamware service is a mixed set and includes Wedgewood and Minton designs (the lot includes 30 dinner plates, 13 dessert plates, eight trays, and a single egg cup, among other items). The gilt monogram on the gold-rimmed Champagne glasses is simpler — just the letter W.
Estimated price: $200-$400
It's unclear where this set was made or when Walters acquired it. While not the most valuable lot in the collection, it is ridiculously charming. Hicks agrees: "We had to give one of her fans the chance to buy this," she said.
Estimated price: $100-$200
Floral prints abounded in Walters's home, along with ornately carved wood furniture and paintings depicting elegant, glamorous women adorned in fine clothes and jewels. Even the smaller accessory pieces, like this rattan magazine rack, hint at Walters's love of the decorative arts.
Estimated price: $200-$300
While Walters favored pieces with an ornate aesthetic, she didn't reject more modern silhouettes: This chrome and brass table is one of a handful of contemporary pieces she purchased in the later part of the 20th century.
Estimated price: $200-$300
Walters liked to display objects collected on her travels and gifted to her by various friends and organizations — the Verdura mantel clock, with Art Deco–inspired detailing, bears an inscription of thanks from a friend named Nancy (possibly Nancy Reagan, though there's no definitive proof), and the Tiffany & Co. piece, sleek and rounded with a white dial, was a gift from the United Jewish Fund.
Estimated price: $200-$400
Walters used this set on a daily basis to get ready for meetings, dinners, and parties. It's unclear where and when it was purchased, but it's another piece that stayed with Walters for some time — the auction specialists think it would have been acquired relatively early in her career, and it appears in photographs of her red sitting room, a space with walls painted in a crimson shade chosen by Buatta.
Estimated price: $100-$200
Made for her 80th birthday party to celebrate her life and legacy, Walters took these pillows home and gave them a spot on the sofa in her red sitting room. The kind of thing other celebrities might hide away (or refuse to own in the first place), these are kitschy, fun, and self-aware.
Estimated price: $1,500-$2,500
Hicks said that Walters had this prominently displayed on the sideboard in her dining room. Like other pieces throughout her home, it has a sense of whimsy, particularly the skinny, bird-like feet that hold it up. Perhaps she would have used this to serve her famous scrambled eggs (she shared the recipe with Martha Stewart in 1996). It would have made a good conversation piece for the ultimate conversationalist.