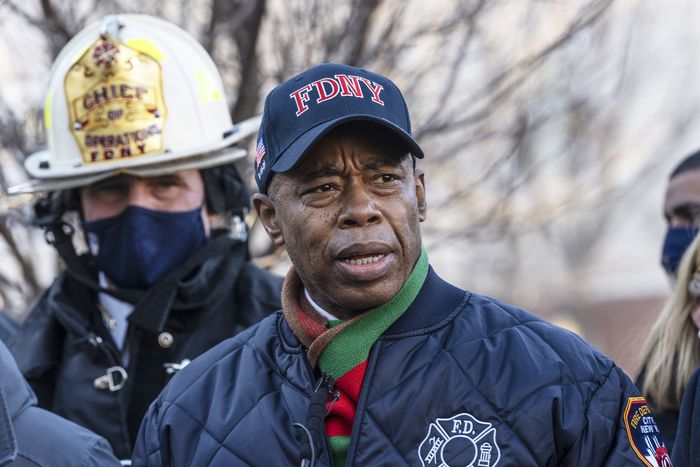 Photo: Lev Radin/Anadolu Agency via Getty Images
The New York Times reported this week that the FBI is investigating whether Eric Adams, when he was Brooklyn borough president, pressed the fire department to sign off on opening the Turkish consulate in Manhattan despite lingering safety issues. Was it a shocking violation of safety protocol in service of a relationship with a foreign country? Or, at the very least, "an unusual intervention," as the Times put it?
As it turns out, trying to jump the fire-department line is kind of standard practice in the city. New York's fire-inspection process is so broken, a former executive at a prominent real-estate firm told me, that "everyone meddles in it. I have meddled in it."
"You submit a plan, they send it back with revisions, you have to resubmit, it goes back to the bottom of the pile, and you wait another six months," he said, adding that it can require multiple rounds of back and forth, in which a small request that takes a week to fix — move a sprinkler a few feet, say — can result in six more months of waiting. "It's always the last thing that has to be done before opening."
Adams's intervention in the Turkish consulate's approval process came shortly after he won the Democratic primary in July 2021, all but guaranteeing he would be elected mayor in the fall. Turkey was eager to have its president, Recep Tayyip Erdogan, preside over the opening of the consulate during the 2021 U.N. General Assembly, but fire-safety issues continued to crop up over the summer, according to the Times. 
Then Adams contacted the fire commissioner in late summer to ask that the Turkish government be allowed to occupy the building, at least temporarily. "As a borough president, part of my routine role was to notify government agencies of issues on behalf of constituents and constituencies," Adams told the Times. "I have not been accused of wrongdoing, and I will continue to cooperate with investigators."
"This is business as usual in New York City," says another executive at a large development firm. "People can pretend this is the equivalent of high treason, but it is, in fact, a pretty normal mode of operation." There is, he pointed out, a whole industry that does this for a living — expediters — whose job it is to cut through red tape to get applications to the top of the pile. Another compared it to going to an elected official's office and asking them to help you move your passport along: utterly mundane.
New York City is renowned for red tape — something that Adams has harped on in the past — especially when it comes to fire inspections, real-estate executives said. You're dealing with multiple agencies, not just the Department of Buildings. And if there's a restaurant involved, you're also dealing with Con Ed. Commercial buildings, one said, are often held to a higher standard than residential ones — for good reason — they're more densely packed with people who, unlike tenants, often aren't familiar with the building layout. Add that to the fact that a consulate would be hosting events and may also have had hotel-like rooms for diplomats to stay in, and you have a whole hodgepodge of uses, all with different requirements.
"It's a source of great frustration, and people definitely try to navigate around it," says a city employee from a previous administration. "I don't have a lot of love for this mayor, but it doesn't strike me as anything unusual" (though adding in the "campaign fiscal stuff" changed the context "in a pretty dramatic way," the employee clarified).
The executives and city workers I spoke to explained that while calling in a favor to move an application along is very common, if actual safety issues were ignored for a sign-off (and it's unclear if they were), "that would be a whole other ballgame," as the city employee put it. The employee added that while there has been reform around allowing small businesses with minor regulatory violations to open or operate if they fix them within a certain window, applying that to fire safety would be incredibly dangerous.
In the end, the consulate's opening ceremony took place as planned, after a temporary certificate of occupancy was issued, the Times reported. Despite "numerous" unresolved fire-safety issues, the building promised to employ guards on fire watch until they were addressed. (It was, they noted, still operating under a temporary certificate of occupancy.)
"The world is in shock — 'Oh my gosh!'" as one developer told me of what he perceived as a nonscandal. "And we're all rolling our eyes."