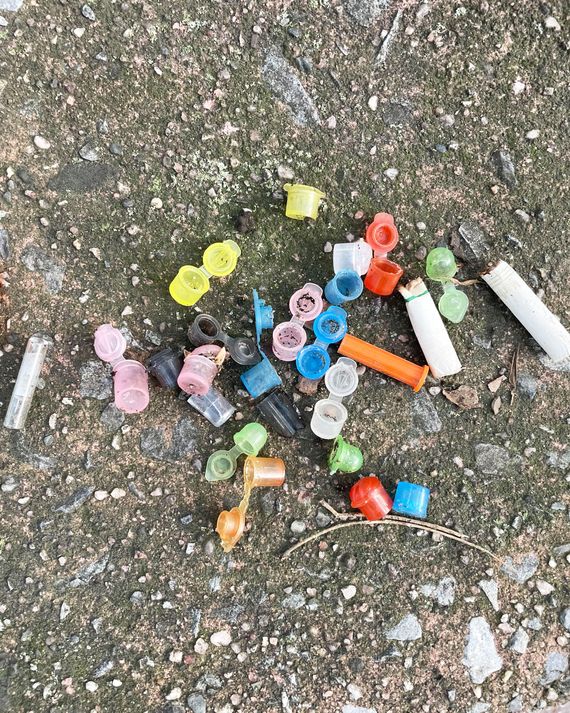 This article was featured in One Great Story, New York's reading recommendation newsletter. Sign up here to get it nightly.
The news of the fentanyl found at Crispus Attucks Playground traveled fast. Screenshots of the initial message sent by the Brooklyn Waldorf School to families on October 4 — "some children did find a full fentanyl capsule and, as it was appealingly candy colored, had hoped to take it home," the school wrote — were bouncing around text threads from South Brooklyn to Park Slope to Ridgewood within hours, accompanied by pictures of the colorful little canisters, no larger than a penny. The New York Post was tipped off not long after ("Fentanyl vial that looks like candy found at Brooklyn playground"). Then, the Fort Greene Park Conservancy sent out an alert about "potential fentanyl 'trash cans'" scattered in the park. More screenshots, more text threads, and more Post stories followed. Suddenly, Brooklyn parks, and Brooklyn parents, were in crisis.
"It escalated really quickly," Eloïse LaRochelle, a mom with a young child in Bed-Stuy, told me on a mild day in October. The news of "fentanyl trash cans" wasn't exactly new. LaRochelle had found identical canisters in Potomac Playground and in a park on Decatur Street a year prior (in fact, she had snatched a pink one out of her then–1-and-a-half-year-old's hand as she tried to shove it into her mouth) and did a little Googling. Her original message to the Bed-Stuy and Clinton Hill parents groups on WhatsApp, sent in the fall of 2022, didn't mention the word fentanyl, but LaRochelle did link to a blog she had found from the Drug Enforcement Administration that called the canisters "trash cans" and warned they were often "haphazardly packed with deadly fentanyl." ("Apologies for the alarming — and perhaps alarmist — topic," she wrote.) But the response was mostly muted. Parents found more containers, almost always empty, and talked about park cleanups, day-care viruses, and requests to help locate a missing Curious George plush.
That changed in September after a 1-year-old died and three other children were sickened following exposure to a kilo of fentanyl at a Bronx day care. Brooklyn parents, ambiently aware of drug paraphernalia around playgrounds and terrified by the news of the day-care death, started spotting "fentanyl trash cans" everywhere. The drug panic spread: Senator Chuck Schumer's daughter texted her building's group thread suggesting they reach out to elected officials to get the police to do something about drug use in the area. Google groups forwarded the Fort Greene Park alert as an "urgent warning." At an NYPD Build the Block meeting in Bed-Stuy, worried parents showed up to demand the police intervene somehow. "It's pretty horrific to have your kids come home with fentanyl containers," one parent told the Post.
Something needed to be done, but no one could really agree on exactly what that should be. At the request of parents, City Councilmember Chi Ossé's office scheduled a community meeting. Some parents wanted to talk about parks funding and working with harm-reduction groups as a possible solution to the drug-trash problems. A contingent of attendees suggested locking the parks at night, only to learn that many parks were being locked but that one of the locks was being cut by a basketball-loving coach who wanted more time for practice. Parents attempted to problem-solve over text: In one thread, a mom mused that maybe the dropped containers were more of a design problem than a drug problem, per se — perhaps they could be outfitted with elastics for people to wear around their wrists? Some parents called for more cops to patrol the neighborhood, noting that their nannies would no longer walk by certain subway stations. Others suggested it was weird to see adults without kids in the playground — should they maybe be arrested?
LaRochelle and a group of what one might call the Original Drug-Container-Noticing Parents watched as the issue spiraled out around them. "There's so much language around keeping our kids safe," said Stephanie Cozzi, a Bed-Stuy mother who's on the neighborhood parents thread. This was, of course, part of the point, but it also made it sound more like a moral panic about interlopers, rather than a more routine concern about drug trash in the neighborhood. (As Raphael Pope-Sussman, a Bed-Stuy resident and father, told me, "There can be a tendency to speak about people who are using or selling drugs as apart from the community.") There wasn't a perfect consensus — some parents calling for calm still saw the need to involve the police when it came to drug dealing — but one of the solutions they had landed on among themselves was a bit simpler: a park cleanup. For two weeks after the Crispus Attucks sighting, parents organized a signup sheet for one person to comb the playground each morning, discard what they found, and report it to 311 — both to figure out the scope of the actual problem and to do something practical about it. (To some of the organizers' dismay, the information they gathered was cited in the Post.)
They also gave themselves a mini crash course on drugs. Some got Narcan training, and people shared more reading about fentanyl and fentanyl exposure, which didn't make anyone feel good about having drug paraphernalia in the playgrounds but at least helped them realize that their toddlers weren't at any real risk of overdose by casually touching something. Meanwhile, information was trickling in about the initial wave of reactions: The Fort Greene Conservancy tested 25 of the containers found in the park, and none was positive for fentanyl. Police told community members the containers were mostly traced back to crack. (The Brooklyn Waldorf school did not respond to emails asking for more information about the container it found.) It appeared that Brooklyn was simply encountering a redesign of the classic dime bag. "I would say it got incendiary quick," said Shaun Willis, director for recovery services and community outreach at Phoenix House, an organization that runs a recovery center in Bed-Stuy. He pointed out that fixes that actually involve people who use drugs — like buyback programs that financially incentivize returning used paraphernalia — would probably be a better solution than, say, wristbands. (A syringe-buyback program in Boston saw a 50 percent reduction in complaints related to needle cleanup.) The Parks Department echoed a similar call for calm when reached for comment: "We appreciate New Yorkers' vigilance, especially amid a national overdose epidemic. However, we urge all New Yorkers to remain calm and leave conclusions about substance exposure to the experts."
De-fentanyl-ing the situation seemed to take the issue out of the realm of the five-o'clock-news horror story and return it to more mundane levels of dysfunction. Parents still wanted the city to do something, but the problem felt more in proportion to other challenges people face in city parks: broken or nonexistent bathrooms, trash, rats. Which made the range of possible responses more familiar too. "I think it's really cool to see a community that not only wants a solution to this problem but is open to learning how to explore the solution altogether," Ossé said of the cleanup patrols and harm-reduction education happening among local parents. LaRochelle, who hadn't been trying to stir up the fentanyl of it all with that first group text, has gotten more interested in the minutiae of park politics. She assumed that the funding disparities that existed between playgrounds — like how Fort Greene Park has a conservancy and, say, Hattie Carthan doesn't — was "just the way it is," but she has learned that's not the case. Jessica Masters, who started the 800-person Bed-Stuy parents group, suggested using the chat to fund harm reduction locally. (Willis tells me his line is open.) In the meantime, they're still doing park cleanups while advocating for more trash cans — the normal kind.