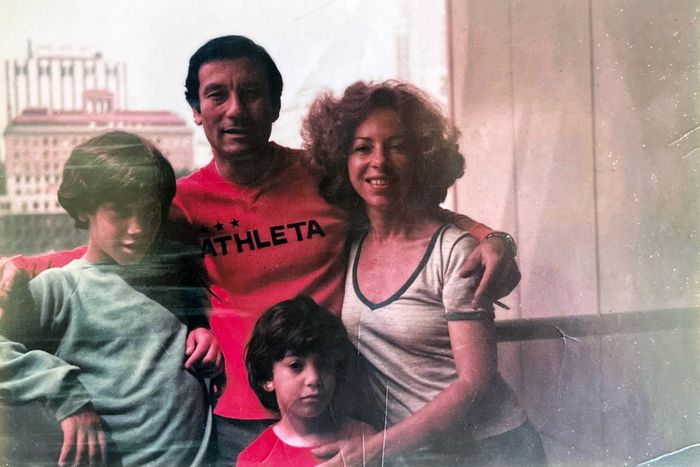 The Enock family posed on the balcony of their Roosevelt Island apartment shortly after they moved there in 1976. From left: Chris, David, Matthew, and Wanda.
Photo: Courtesy of the Enock family
For almost 150 years, Roosevelt Island was a place where New York quarantined its sick, its mentally ill, its criminalized. Which is why it was an unexpected sight, in the 1970s, to watch shiny, modern apartment towers begin to rise. From a First Avenue balcony on the Upper East Side, two young boys had a perfect view of the construction. And their parents weren't just curious about who might live on the strange island — they were willing to go themselves.
In 1976, the Enocks became the first family to move into the island's first co-op — members of a generation that signed on to take part in a mass experiment in how the city could radically rethink housing for the middle class. A 1976 article in this magazine quoted another early Roosevelt Island pioneer who called the island "the cutting edge of social progress" and showed Wanda Enock sitting at her kitchen table, nose deep in a textbook. "They were willing to explore things and push boundaries," remembers their son Chris Enock: Wanda was studying for a new career in psychology; David, a designer, was busy with marketing campaigns for high-end shoe brands, designer furniture, and even Pepsi.
With a master plan drawn up by Philip Johnson and John Burgee, and high-rises designed by their protégés, the development of Roosevelt Island wasn't just an experiment in how to rethink the aesthetics of urban living, it was an experiment in racial integration and social equality. No one had built neighborhoods there before, so there were no racial or ethnic enclaves (yet), and every unit on the island was rented or sold through affordable-housing programs designed for low- and middle-income New Yorkers. The Enock family's co-op, Rivercross, which opened with 376 units, was built through the Mitchell-Lama program and required only 10 percent down. "Rivercross tenants think they have bought New York's equivalent of Utopia," declared the New York Times, which interviewed a young Wanda, who claimed that island life had encouraged her to give up smoking: "We all feel more creative, calmer," she told the paper.
To Chris, who moved there when he was 12 years old, the island felt like freedom — not just because it was half-empty with room for exploring and abandoned buildings to sneak into, but because he could start over with a new group of friends. "That never happens in life — that everyone is thrown together and is new at the same time," he says. In that respect, the experiment "pretty much worked." And the apartment worked for the Enocks. Compared to their Manhattan high-rise, Rivercross felt oversized, as if it was built for some other city where land was cheap for the taking. The hallways were so wide they felt grand. Their old building in Manhattan didn't have much in the way of amenities. But Rivercross had a swimming pool that was 60 feet long, playrooms, party rooms, a courtyard, and a gym. And inside, there was a foyer just for shaking off boots and hanging coats. Then there were the huge, wide windows, which didn't gaze over the river from some aloof height. The Enocks opted for a third-story unit because it meant the river was always seemingly at eye level. They could watch boats slide by, the shifting tides and shifting weather. With four bedrooms, Wanda could take over one as an art studio. "It would be hard to pry yourself away," says Chris, who spent a decade off-island before moving back when he had his own two sons, giving his parents another reason not to leave: Their grandsons lived across the street.
David passed away in 2020, and Wanda died last year, leaving their apartment to their sons, who are now selling. That's a common pattern on the island, says Kaja Meade, their broker: Every single sales listing she has had on the island came from families like the Enocks, who arrived in the 1970s and left a unit to their children or are retiring elsewhere. People who buy sometimes joke with her that they'll only leave feet first.
Rivercross left the Mitchell-Lama program in 2014, making it feasible for owners to cash in — though 45 percent of the sale earnings will go back to the building. Meanwhile, market-rate buildings have opened nearby: In 2006, a former asylum was transformed into luxury rentals, and a complex of nine new apartment towers was finished last year. There's even a hotel, built to serve visitors to Cornell's new tech campus on the island. With all those newcomers, the mood on Roosevelt has shifted. "The whole island is not as unified," Chris Enock says. Still, he sees the kids he grew up with around all the time; like him, many moved back to raise families. Now their kids are friends: "The hope was that it would all pan out, that it would be a great place to raise kids. It was — definitely. It was."