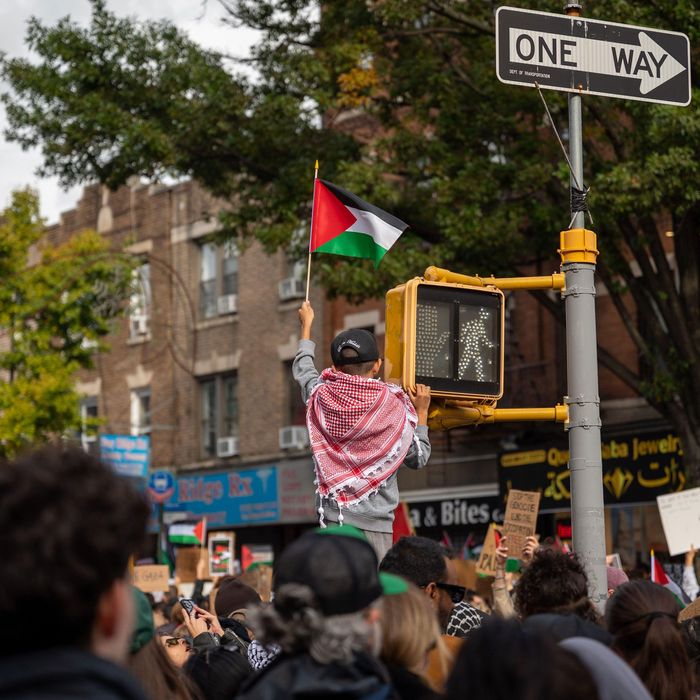 Photo: Matthew Rodier/Sipa USA/Alamy Live News
Friday in Bay Ridge. Gray skies and a diffuse feeling of mourning. The rain didn't interrupt the strict rhythms of the holy day. Here, in Little Palestine, the shops along Fifth Avenue — Paradise Sweets, Al-Aqsa Bakery, King Halal Market, Brooklyn Kebab, and Brooklyn Baklava — locked up a little before one o'clock. Many of their windows displayed the same black, white, and green poster with "Gaza" written in red. The adhan pumped out of the mosque, wedged between the faux-Beaux-Arts facade of the Alpine Cinema and the humble brick of the Arab American Society of New York's headquarters. A police officer stood outside the mosque. To protect the people, he said, but he wouldn't say more. Inside, next to the mihrab, a television screen rotated through images: A photo of Al Aqsa mosque in Jerusalem with a muhajaba crying in front of it, piles of rubble that had been entire blocks in Gaza city, an apartment building on fire, notices for upcoming protests, and a map showing the entire swatch of land from the Mediterranean Sea to the Jordan River labeled as Palestine.
The imam's sermon oscillated; he mourned for the Palestinian dead, condemned the Arab states for their inaction in the decades leading up to the current violence, and reminded everyone to stay civil while protesting. After the jummah prayer, he led a funeral prayer for the martyred. As the worshippers filed out of the mosque to collect their shoes and umbrellas, the imam made an announcement encouraging the congregants to attend a demonstration Saturday, beginning at 72nd Street and Fifth Avenue. By the shoe racks, there was a collection box for donations for Gaza, though it is unclear how the aid would arrive there. Outside, a second cop had joined the first. Teens, escaping the rain, huddled under the marquee of the Alpine Cinema, and the shop owners milled about for a while, smoking and chatting before returning to work.
Everyone in the mosque had likely spent the better part of two weeks watching a stream of new atrocities and deaths coming out of Palestine. Hospital bombings and chemical attacks; starvation, depredation, and contaminated drinking water. And in the United States, a parallel flow. Hate crimes, arrests, layoffs, FBI visits, and ICE detentions. (Both ICE and the FBI declined to comment on specific incidents.) Wadea Al-Fayoume, a 6-year-old Palestinian American boy, was stabbed 26 times by his family's landlord who screamed "you Muslims must die." Wadea's mother, in critical condition from the attack, was unable to attend his funeral. Neither Palestinian death nor anti-Arab racism in the United States is new, but the last two weeks have amplified their background hum into a high-pitched wail.
It was an act of terror that brought Arabs and Muslims into the collective imaginary of the United States, and the consequent hatred, violence, and surveillance are familiar to the Muslim Americans in Bay Ridge. September 11 gave law enforcement a longer reach. The NYPD's counterterrorism department deemed the local mosque, the Islamic Society of Bay Ridge, a terrorist organization in 2003, which allowed informants to surveil and record congregants without any evidence of wrongdoing. When that program was revealed in 2013, it seemed just another unsurprising feature of the surveillance regime established by President George W. Bush, who signed the Patriot Act into law. It took Barack Obama until the end of his second term, when he was on his way out, to dismantle the National Security Entry-Exit Registration System, a post-9/11 registry that tracked arrivals from 25 mostly majority-Muslim countries. He also failed to deliver on his promise to close Guantánamo Bay Prison, where the evidence against some of the inmates was simply the specific model of their Casio wristwatches. The Trump years saw a rise in anti-Arab hate crimes, the passage of the Muslim ban, and the Supreme Court ruling to uphold the ban. And throughout it all, the United States continued to bomb Iraq, Yemen, Somalia, Libya, Afghanistan, and Pakistan.
That climate of surveillance and censure has seeped down from the state into all aspects of public life, and now classmates, colleagues, and CEOs have also become surveillants and punishers. Dima Khaledi, the director of Palestine Legal, a national advocacy group protecting the constitutional rights of people who speak out in support of Palestine, told me that her organization has received "close to 200 calls for legal support" from all over the country in the ten days after the attack. "The kinds of things people are experiencing are ranging from physical assault to people being fired from their jobs," she said. Her voice sounded exhausted and sad: "Everybody we know is on the clock, around the clock, and that's what's necessary right now. The need is immense and the attacks are relentless. People who are trying to stop a genocide from unfolding are also having to respond to prove their humanity."
Even in more peaceful times, the Arab community in Bay Ridge, which is concentrated between 67th and 86th Streets on Fourth and Fifth Avenues, is insular and defensive. As Sumaya Awad wrote in 2017, "In a small neighborhood like Bay Ridge, no one is a stranger. If you are, you're likely an NYPD informant." It's a feeling that has only been amplified since October 7. Most of the people I tried to speak with on the street declined to be interviewed. One man, an Egyptian, only agreed after finding out that I was Egyptian, and even then it was on the condition that I not use his name, because he "didn't know me."
Anticipating this, I'd already arranged to speak with Zein Rimawi before going to Bay Ridge. Rimawi moved to Bay Ridge from Jerusalem 40 years ago and helped found the Islamic Society, and he has since become a spokesperson for the Palestinian and Muslim American community in Bay Ridge, one of the largest in the country. He asked that I meet him at An-Noor social center, on 72nd Street and Fifth Avenue. It is an inconspicuous building with an inconspicuous interior, an ordinary storefront between a 99-cent store and a jewelry shop, and it is the center of Muslim life in Brooklyn. Muhajabeen came and went, sitting on folding chairs at the tables covered in polyvinyl, making small talk. Qur'anic recitation played softly. People filtered in and out to say their salams to Rimawi or just to use the bathroom. Rimawi's desk occupies the back corner of the room, and a ring of chairs encircles it.
Rimawi, dressed in a monochrome gray outfit and slippers, is sharp and generous in his speech, delivering a blend of anecdotes, history, and rhetorical questions in a digressive cadence familiar to any Arab with a political uncle, which is to say, any Arab. Over the years, politicians have sought his endorsement to secure the Arab vote. He told me that when Eric Adams had come to him during the mayoral race, Rimawi had laid out the promises he wanted in exchange for an endorsement. "The first was that he treat Muslims the same as other groups. He said 'of course.' The second was that he give young Arabs and Muslims the chance to work for him and the city. Third, we asked him not to interfere in foreign affairs. He said, 'I'm not a congressman.'" After the meeting, Israel attacked Gaza and Adams tweeted that New York's bond with Israel is "unbreakable." Rimawi withdrew his endorsement. "He wants to split the people of New York into two halves. Why are these people trying to bring the war in Gaza to America? The president. The governor. The mayor. One of the politicians even said to level Gaza!"
He listed retaliations he'd heard about: an 18-year-old in the neighborhood whose nose got broken by a group driving a car with Israeli flags, a Council on American Islamic Relations party that got canceled after the hotel received a bomb threat, a boy kicked out of his university. His daughters and wife wear hijab and were scared to leave the house. I asked if this was how it was in 2001. "This is dirtier. You know why? Because the fear after 9/11 came from the general public," he said. "But right now, the incitement is coming from the leadership, and that is dangerous." He, too, was mourning. "The day before yesterday, not in Gaza but in the West bank, in Ramallah, they killed my wife's relative, a young man, 31 years old, who was at a protest," he said. "Why isn't it the right of the Palestinians to live in peace, with freedom and safety? Why is it their fate and their children's fate that they must live from war to war to war?" he asked. "The only reason I can understand is that the opinion of the American government and the Western governments is that the Palestinians don't have a right to live and that they're lower than animals. That is the opinion of the American government and the Western governments."
A while later, Rimawi was joined by Nerdeen Kiswani and Abdullah Akl, youth organizers from Within Our Lifetime, a Palestinian-liberation organization in New York. They called Rimawi "uncle" and talked in a rapid-fire blend of Arabic and English as they planned Saturday's protest. Rimawi urged them repeatedly to run for political positions, which they dismissed, a routine which seemed well rehearsed.
After their meeting concluded, I sat with Akl and Kiswani at one of the tables, and Rimawi brought over a blue tin of cookies. Kiswani had grown up in Bay Ridge, Akl in Sunset Park, and they attributed the high turnout at their events, which included several years of Nakba anniversary rallies, to their connection to these neighborhoods. "We're not just a community and an identity, we're a physical space. And so we see the people who show up to our protests every day in our doctor's offices, when we go grocery shopping, at the restaurants that we eat in. That connection makes us all accountable to each other. And when we're accountable to each other, it's easier to be collectively accountable to a larger cause, like that of Palestine," said Kiswani. Since October 7, WOL has held rallies in front of the Israeli consulate and in Jackson Heights, but the rally in Bay Ridge was special. "Having a rally here makes it more accessible for families — for elders particularly — who are directly experiencing the losses of what's going on in Gaza. That's why it's important for us to create a space to collectively mourn and rage." It wasn't always this way; Kiswani doesn't remember any rallies happening when she grew up in the neighborhood, and, as she told Thrillist earlier this year, she knew a lot of Palestinian kids who would tell people they were from other Arab countries, not Palestine, because "just saying you're Palestinian is the scariest thing in the world."
Kiswani founded Within Our Lifetime in 2018, while she was still a student at CUNY. Even before the present conflict, she has been a target of harassment for her advocacy. "I was the class speaker at my graduation last year in 2022," she said. "And I faced a barrage of attacks and incitement, from City Council members to Zionist institutions, who were calling on me to be expelled the entire time that I was in law school," she said. "They've had City Council hearings where they've compared me to Nazis like David Duke, simply because I support Palestinian liberation."
Like Rimawi, Akl felt that elected officials legitimized the harassment campaign. "What Eric Adms did was go out with his tweets, with his public statements, with these public press conferences, and it really put targets on the backs of anyone who supports the call for liberation of Palestine, anyone who even has a humanitarian feel for what is going on in Palestine," he said. "He said that everyone who goes to these rallies are terrorist sympathizers," Kiswani added.
There were blue skies on Saturday, the first time in six weeks, and by 3 p.m., the crowd attending the rally stretched from An-Noor on 72nd all the way to 68th. This was the fourth protest that WOL had called for since October 7, and the largest up to that point, full of community members, Arab youth with their parents, and their allies. Akl and Kiswani stood on the hood of a truck, leading everyone in chants and introducing speakers. At one point, Kiswani got on the megaphone and told the crowd, "I want to remind you where we are; we're in the heart of the Palestinian American community," to howling approval. As Asr prayer approached, Akl made an announcement urging people to go to the mosque and pray, but the dense crowd on the avenue prevented the brothers and sisters from walking back. After conferring with a few people, he made another announcement, that they would face Mecca, to the east, right on Fifth Avenue, and pray there. Then, they turned south and marched.
I left the march before sunset. Later in the night, it dwindled to about five hundred protestors who returned back to 67th street and 5th Avenue, where they were kettled in by police officers. The protestors shouted, "Move cops, get out the way. We know you're Israeli-trained," before the police started making arrests. Minor skirmishes broke out, and at least one officer punched protestors indiscriminately, making it the only pro-Palestine rally with incidents of police brutality. (An NYPD spokesperson said "the officer seen in the video is reacting to active resistance by criminals within the crowd.") Police made nineteen arrests for disorderly conduct. There's a video of a line of police crawling up Fifth avenue, telling demonstrators that they need to disperse. The cameraman tells an NYPD white shirt, in Arabic, "Go home," before repeating himself twice in English. Off camera, another demonstrator shouts at the police telling the crowd to leave: "We live here, you guys go home."