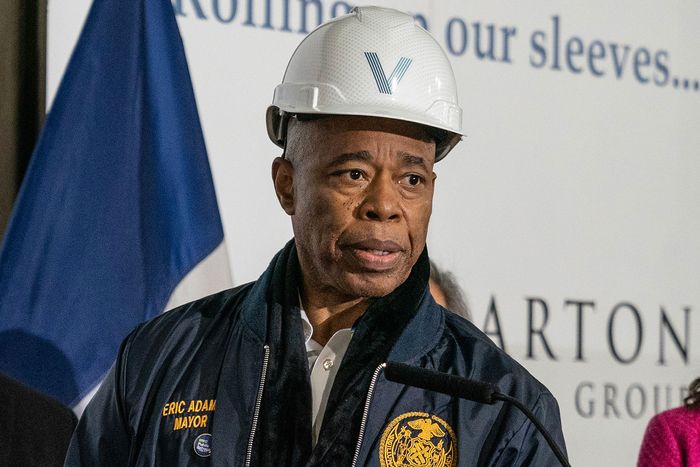 Photo: Lev Radin/Pacific Press/LightRocket via Getty Images
A Brooklyn construction company, KSK Construction Group, is at the center of the federal investigation into Eric Adams's 2021 mayoral-campaign finances. The FBI investigation, which became public when agents raided the Crown Heights home of Brianna Suggs, his chief fundraiser, is looking into whether KSK was used to funnel illegal Turkish-government contributions to his campaign in a straw-donor scheme, the New York Times reported. Federal investigators also searched KSK's Williamsburg offices, according to CNN,  and are looking into whether anyone at the company, which was founded by Turkish-born owners, received any kickbacks from the campaign. 
So far, no arrests or indictments have been made, and Adams has denied any wrongdoing (the mayor himself is not being investigated at this time). "I feel extremely comfortable about how I comply with rules and procedures. I hold myself to a high standard, I hold my campaign to a high standard, and I hold my staffers at City Hall to a high standard," he said in a statement on Thursday. However, the mayor has also gone on the record to boast, "I'm probably the only mayor in the history of this city that has not only visited Turkey once, but I think I'm on my sixth or seventh visit to Turkey." Two of these were paid for by Turkish-state-affiliated groups.
Why are federal investigators looking into this construction company?
At a May 7, 2021, fundraiser organized by Erden Arkan, one of KSK's owners, 11 employees from the company donated $13,950 to the Adams campaign, Crain's reported. Nine of the 11 contributions were in the identical amount of $1,250; most were eligible to earn matching funds for the campaign, according to the Times. According to a story in The City, the Campaign Finance Board asked his 2021 campaign multiple times who had connected the campaign to these donations, but no one ever responded. One of the employees listed as having donated to Adams told The City that he did not recall donating to the campaign and that he did not believe he had ever donated to a political campaign in his life. In fact, only one of the 11 employees had made a political donation in the past, Politico reported, and that person was Arkan. "It is a red flag to have all these individuals making contributions for the first time, on the same day, from the same employer, with no history of political giving," John Kaehny, executive director at the watchdog group Reinvent Albany, told Politico.
That fundraiser netted a total of $69,720 from 84 donors, which Adams's campaign used to obtain nearly the same amount in public matching funds, according to The City.
KSK also failed to register as an intermediary, Gothamist reported, which anyone hosting a fundraiser for a political candidate is required to do. (A spokesperson for the mayor told Gothamist that Adams's campaign had compensated KSK for the event, making it the host, but failed to provide any receipts.)
What does KSK Construction build?
The company specializes in glass-and-steel-framed luxury condos and hotels, buildings of no particular distinction that most people would not recognize — 14 West 14, a glass-and-steel 12-story building in Union Square with a City MD at the base, is typical of the firm's work. It was particularly active in Williamsburg in the aughts, according to Crain's, building a lot of the glassy condos that now dot the neighborhood. The Metropolitan, the Lucent, and the Aria number among its residential projects there, according to its website. More recently, the firm has been involved with 255 Houston, a 14-story residential building, and 511 East 86th, a 25-story passive house project on the Upper East Side. Its hotel projects include a Hilton Garden Inn in Queens and the shuttered McCarren Hotel in Williamsburg. It's also the general contractor for the seven-story New York Korea Center, the future home for the consulate general of South Korea. It currently has at least 33 active projects in the area, according to Gothamist.
How long has it been around?
The company was started by former employees of a company called Kiska in the early aughts. Erden Arkan was one of the owners of Kiska; his wife, Itir, is a retired teacher who worked at Marymount School of New York, according to the Daily Mail.
What do we know about the firm's reputation?
The firm is known as an "active player" in the industry, according to Crain's. "These were not, like, 30,000-square-foot projects. They were real projects," a city developer told the publication.
Kiska, the company Arkan headed up before KSK, was involved with two city bribery cases, including one involving the reconstruction of the Third Avenue Bridge in the mid-aughts, according to The City. That case involved a Kiska executive negotiating a $400,000 kickback to a DOT employee who agreed to sign off on $6.6 million of additional charges.
In a more minor scandal from 2008, an EDC employee's son accepted five free nights in a Turkish hotel suite associated with Kiska on his honeymoon. At the time, Kiska was involved in the first phase of the High Line's construction.
More recently, in 2021, the family of a worker who was crushed and killed during the construction of 570 Broome Street, a project the KSK was involved in, sued, alleging negligence, the Post reported. That lawsuit is ongoing.
A principal at KSK, Ulgur Aydin, was also being investigated by the state for making racist remarks about a developer's wife and children after the developer refused to pay for what he believed to be shoddy work on a Carroll Gardens condo complex.
What about Erden Arkan?
Arkan has lived a life mostly out of the spotlight. His LinkedIn profile shows he graduated from Istanbul Technical University in 1971, and he and his wife otherwise seem to enjoy posting photos from international vacations to Japan, Greece, and Turkey, according to the Post.
Their real-estate holdings are typical of wealthy New Yorkers but not over-the-top opulent: The couple paid $2.1 million for a condo at 570 Broome, which his company constructed, and also own a one-bedroom condo in Williamsburg, which they rent out for $4,200 a month.
What are the company's links to Turkey?
In addition to the owners being born and educated in Turkey, KSK received tens of millions in loans from Turkiye Vakiflar Bankasi, a bank owned by the Turkish government, the Daily Beast reported.
The Turkish bank, which is controlled by the country's sovereign wealth fund and the Ministry of Treasury and Finance, not only bankrolled KSK's projects but "also provided loans to companies controlled by KSK executives, managers, employees, and other people with strong ties to the firm," according to the publication.
This story is developing. For anyone with more information, please send an email to tips@curbed.com.