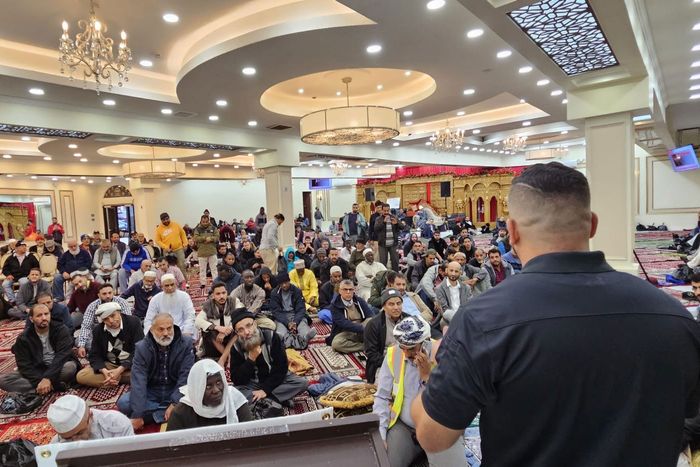 NYPD Captain Hariton Marachilian at the Bronx Muslim Center in Little Yemen.
Photo: Yahay Obeid
On Friday, October 21, as the rain started to break shortly after noon, members of the Bronx Muslim Center gathered in the ballroom of a restaurant on White Plains Road. The mosque is the anchor of Little Yemen, a roughly five-by-ten-block enclave in Van Nest, but it's also small, and the Friday crowd has outgrown that space. Several dozen members had arrived early to meet with Hariton Marachilian, who also goes by Harry, a New York City Police Department captain and the president of a fraternal organization called the Middle Eastern & Turkic Society (MTS). The Israel-Hamas war had put their community on edge, and the murder of Wadea Al-Fayoume, a 6-year-old Palestinian American who lived outside Chicago, was something like their worst fears come to life. The crowd, all men, included business owners, a young recent immigrant working at a nearby sweets shop, and several fathers with their sons. A Muslim member of the Morris Park Patrol, a neighborhood security group, stood by the entrance holding a handheld metal detector. They wanted to talk about safety — what the police were doing for the neighborhood and what they could do for themselves. "My kids would go to school four blocks away. Sometimes they would go with a neighbor; sometimes they would go alone," Foad, a father of five who owns a business nearby, told me. "Now it's a different story. My wife walks them."
Yahay Obeid, who handles community outreach for the Bronx Muslim Center, had invited Marachilian to speak. "My wife asked me the other day," he said, "'You saw what happened — what should we do?'" Organizing a meeting like this had, at least, felt like something to do. Marachilian came with two Yemeni American police officers. One wore an MTS shirt that had the group's name spelled out with block letters filled in with national flags and a smaller thin-blue-line flag on the sleeve. Speaking both in Arabic and English, Marachilian urged members not to be afraid to go to the police with their concerns or suspicions. "We are here to support you, so anything you need, please feel free to reach out. If you are the victim of a hate crime, don't be scared or ashamed to report it," Marachilian said.
As Marachilian opened the floor to questions, it became clear that a lack of reporting wasn't the main issue on people's minds. Instead, the people present described feeling like the local police didn't listen when they called or, as one person put it, "didn't know what to do" when their stores were robbed or their neighbors were threatened. How were they meant to help them now? One person asked, in Arabic, about issues concerning a lack of follow-up from the 49th Precinct. Why, when he reported a hit-and-run, wasn't anything done? Obeid repeated the comments in English, adding that his own pregnant sister had also recently been hit by a car and also received no follow-up after reporting it. "This is exactly what we want to know," Marachilian told the room. "Nothing was done by the police. Why is that? We'll never know. But it's my job to follow up on that."
Since the October 7 attack on Israel by Hamas, there have been growing concerns in New York City, and across the country, about violent crime targeting both Jewish and Muslim Americans. Immediately after, the NYPD increased patrols around synagogues and in Jewish communities. Civil-rights advocates told the Intercept that they have received reports of FBI agents visiting mosques, and Abed Ayoub of the American-Arab Anti-Discrimination Committee described the feeling inside many Muslim communities right now as one of déjà vu: They feel exposed and vulnerable to danger while also being acutely aware of being perceived as the danger.
A number of residents of Little Yemen are newer immigrants, brought over by family members because of the civil war. Others lived through the surveillance and racism of the post-9/11 city and every iteration of it since. Both make for complex relationships with law enforcement, which Obeid hoped the meeting might help to untangle. But the request in the room wasn't for less policing — it was for policing they felt actually did something. Speaking with me earlier in the day, Obeid agreed that  "a lot of crime does go unreported" in the community. Part of that, he thought, was a language barrier. But there was also a feeling of What's the point? "Nothing is followed up on," he said, "from hit-and-runs to break-ins to you name it." Last year, amid complaints about repeated break-ins into local businesses, the Morris Park Community Association contracted a security company to launch an overnight patrol. "You see the guy who shoved the lady into the train. He's been let out so many times. Where does it stop?" Foad, the father of five who no longer lets his children walk to school without their mother, asked. "Does a person have to kill somebody to be dealt with — or treated, if they're mentally ill?"
Foad also described an anxiety that seemed bigger than anything he — or, really, the cops — could control. He was afraid that the rhetoric he'd been hearing on the news and seeing in the papers, like elected officials and tabloids inciting hysteria around a "Global Day of Jihad," could "mess with people's emotions." That kind of ignorance has repercussions, he told me. It could make your own block feel unfamiliar: He thought back to the murder of Wadea Al-Fayoume. "It was their neighbor, their landlord. Somebody they knew," he said. "You're scared when your kids go on the subway, somewhere further from the neighborhood. But you never think that harm is going to come your way from somebody so close."